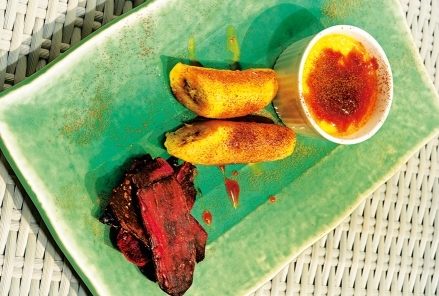 This dessert is inspired by kolak, a banana and sweet potatoes dish cooked in coconut milk, cinnamon and pandan leaves. This version is similar in taste but totally di!erent in texture.
Coconut Brulee with Cinnamon, Warm Banana and Sweet Potato Crisps
Serves: 8
Ingredients:
4 cavendish banana or pisang ambon, peeled and halved
50g butter
1 teaspoon cinnamon powder
4 tablespoons palm sugar syrup
For the coconut brulee:
300ml cream
2 tablespoons sugar
50ml coconut cream
2 whole eggs
1 egg yolk
50gr freshly grated coconut
40gr palm sugar
1 teaspoon cinnamon
For the coconut crisps:
2 medium-sized purple or white sweet potatoes
1 liter oil
Salt to season
Method:
Preheat oven to 150°C. Put the cream and sugar in a pan and simmer, then add them coconut cream and grated coconut and remove from the heat.
Whisk the aggs and egg yolk together in a bowl for 2 minutes and gradually whisk in the cream mixture
Pour into 6 ramekins and place in a roasting tin or ovenproof container half-filled with hot water. Place the roasting tin in the oven and bake for 25 – 35 minutes or until just set. Leave to cool completely and refrigerate for a minimum of 4 hours before serving.
To prepare the crisps, peel the sweet potatoes, wash, dry and slice thinly. Season with salt.
Pour the oil into a pan and heat it until really hot. Cook the potatoes for 30 seconds or until crispy. Place on a plate with a kitchen towel to absorb excess oil. Set aside.
To prepare the banana, heat a frying pan and melt the butter before adding the banana. Leave to cook for 1 minute or until golden brown and turn over.
In the meantime, sprinkle the palm sugar over the coconut brulée and caramelise with a blowtorch or put the ramekins under a very hot grill.
Divide the bananas and place one each on eight serving dishes. Drizzle each banana with a teaspoon of palm sugar and place one coconut brulée on each plate. Sprinkle with cinnamon powder.
Serve immediately.