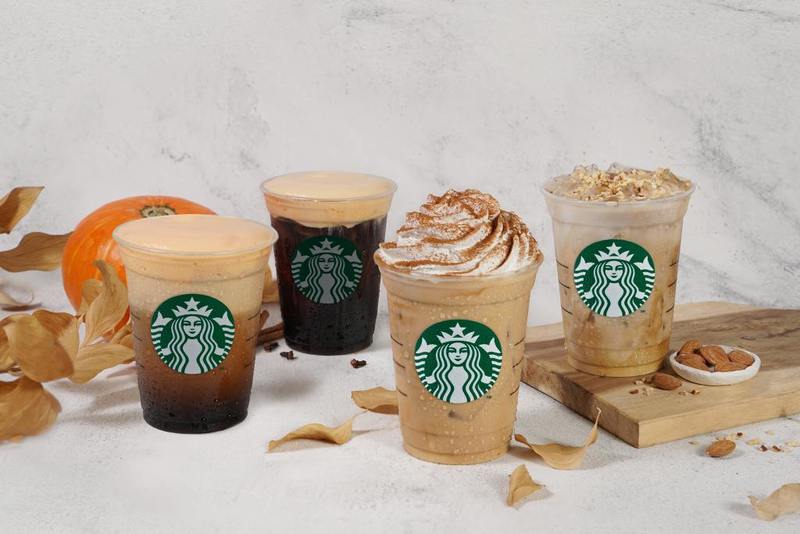 Available for a limited time only, through 7 September to 1 November 2020, within every Starbucks outlet in Indonesia, the new Autumn line of beverages features a plant-based version of the brand's classics and a revamped Pumpkin Spice favourites, back by popular demand!
The Starbucks Seasonal Handcrafted Beverage line features a range of non-dairy drinks, introducing Almondmilk Hazelnut Latte, a totally fresh beverage that is set to be the next trend. Compelling to lactose-intolerant friends out there, the latte offers the perfect amount of creamy, nutty, mellow goodness reminiscent of Autumn mood.
The drink features a harmony of naturally creamy almond milk, Starbucks signature espresso and deliciously rich and nutty hazelnut syrup, topped with a sprinkle of crunchy almonds for an added layer of nutty bliss. Available hot, iced or blended. Another new one for the iced line is the Starbucks Pumpkin Spice Cream Cold Brew, a delicious new take on Autumn's most-adored flavour—pumpkin spice.
The new beverage is an irresistible pairing of Starbucks classic cold brew coffee with traditional flavours of real pumpkin and sweetened vanilla syrup, topped with light pumpkin-flavoured cream cold foam for a super-smooth, velvety finish. The result is a well-rounded beverage that highlights the flavour of the season with a balanced, subtle sweetness. A new classic born from Starbucks passion for coffee craft, the Starbucks Pumpkin Spice Nitro Cold Brew is a twist on the beloved Starbucks Pumpkin Spice Latte.
Served cold and straight from the tap, Starbucks Pumpkin Nitro Cold Brew is infused with cascading vanilla sweet cream and golden pumpkin spice sauce, topped with pumpkin cream cold foam for a velvety coffee that is more sippable than ever.
The wait is over! The beloved Starbucks Pumpkin Spice Latte is back to celebrate the return of Autumn. Starbucks' signature espresso roast and milk pairs perfectly with the comforting notes of pumpkin, cinnamon and nutmeg. Mixed with rich pumpkin-flavoured sauce and topped with whipped cream and cinnamon powder, this iconic Starbucks treat is sure to spice up your day.
starbucks.co.id