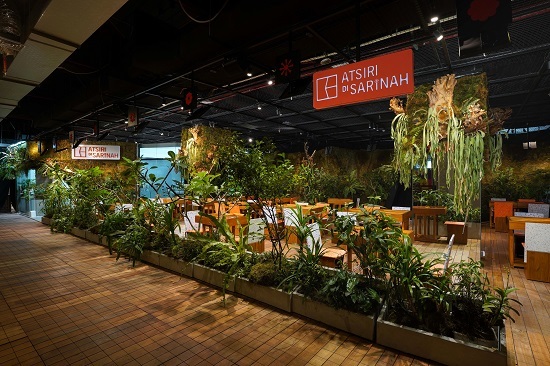 The skills, knowledge and products form an aromatic plant educational tourism destination located at the foot of Mount Lawu, Karanganyar, Central Java, have been brought to the capital to introduce the concept of a more balanced urban lifestyle where the health of body, mind, and spirit is very important and in fact, urgency in the midst of the hustling and bustling atmosphere which accompanies the Jakarta lifestyle./Photos: Atsiri diSarinah, Dody Wiraseto.
But first let's go back to the origins. Indonesia is a home to tens of thousands of types of living plants, many of which have benefits as food, medicine, and essential oils or atsiri. The atsiri history begins in a village called Plumbon, right at the foot of Mount Lawu, Tawangmangu, Solo, in Central Java, when village was found to have an abandoned factory complex, with an intact facade and some remaining facilities of what was known as a citronella (lemon grass) distillery facility built back in 1963.
The distillery—intended to be the biggest in Asia in those days—was called Citronella Factory, a silent witness of the economic cooperation between Indonesia and Bulgaria. Indonesia's dream to become an essential oil producer that is recognised in the global market and realize the dream of both increasing the economy through agriculture and help the smallholder industry, has blossomed and grown since then. Plumbon village was selected as the site location due to its natural potential that was suitable for the planting of essential oil ingredients, like citronella. Plentiful water, which is essential for the distillation process, was also available in large quantities from a river close by.
The factory went through a series of ownership exchanges, until in 2015 PT. Atsiri Indonesia decided to officially take over and revived it into an edu-recreation complex which also includes meting and conference facilities, research and development, a production house, and a market place for essential oils. With a strong belief that the complex and its surrounding villages are reminders of Indonesia's wealth and potential, social responsibility called for preserving and reviving the know-how and innovation related to essential oils in Indonesia.
Rumah Atsiri Indonesia is now a world-class aromatic wellness destination which has opened its doors to visitors since 2018. It has become a hub for various activities related to essential oils and wellness which always strives to develop derivative products and provide hospitality facilities to support the harmonization of body, soul, and spirituality through aromatic experiences. It consists of an integrated complex consisting of museums, production houses, parks, restaurants, glamping, shops, and other supporting facilities.
At the end of 2021, Rumah Atsiri Indonesia decided to expand the spirit of aromatic wellness outside Central Java and of course, Jakarta was a prime destination for several reasons: as a bustling capital city, Jakarta is always full of hustle and bustle, therefore balancing the health of body, mind, and spirit becomes more important and more urgent for its citizens. In addition, it wants to be closer and easier for the people of Jakarta to access aromatic experiences, especially for the younger market. For these reasons, apart from the romantic side in appreciating the long history behind it, Rumah Atsiri Indonesia in Tawangmangu, which stands on an area of 2.4 hectares, is brought to the center of Jakarta, precisely on the 5th floor of Sarinah to complement the vision and mission of the two. Sarinah, with its new look, is the ideal place for the aromatic wellness playground for the people of Jakarta.
Atsiri diSarinah presents a miniature of the Rumah Atsiri Indonesia in Tawangmangu covering an area of 300 square meters which is younger, playful, and experimental. Here we can taste the wellness experience into the integration of the three units, namely: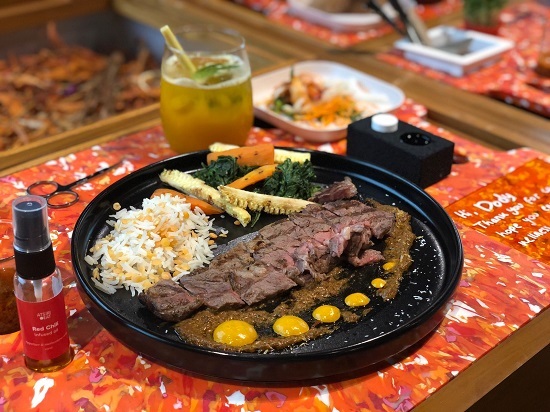 Atsiri Eat (restaurant), become a destination for diners seeking a dining experience. A choice of set menu or a la carte menus from organic ingredients will come with carefully prepared menus according to the wellness plate ratio. Thick with sustainability concept which presents through the use of existing furniture which is the result of recycled HDPE plastic, ranging from restaurant chairs and dining trays.
Atsiri Mini Museum, an interactive experience with essential oil education areas contains information related to essential oils, starting from information about some plants that are often used in essential oils, video mapping of flowers and plants to exploratory areas to find out the scent of the visitor's persona through the Aura Room.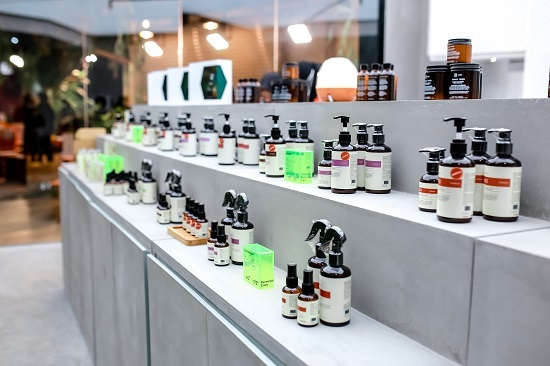 Atsiri Shop, sells hundreds of Rumah Atsiri's aromatic wellness products consisting of hand sanitizers, essential oils, body care, tea from local plants, and knick-knacks. This store allows visitors to make their own product mix according to their personality and preferences.
Atsiri diSarinah opens daily from 12 pm to 9pm.