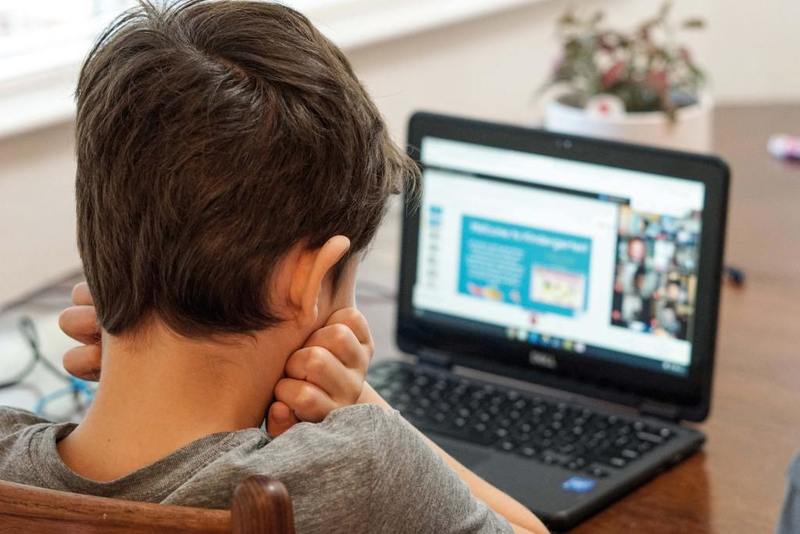 The coronavirus has turned life upside down, everything we know and feel comfortable with is lost. Suddenly we're put into a new world that until now we are still trying to adapt, including how children learn to follow Pembelajaran Jarak Jauh or PJJ (distance learning) established by the Ministry of Education and Culture since March, when the policy was put into effect in teaching and learning activities for formal schools.
It's indeed a very big challenge for students, to the level of senior high schools, not only for children but also for parents, teachers, and the government. Not all children have the same learning method, especially children from kindergarten to elementary school who are discovering their own learning methods. PJJ only uses one learning model, while children should explore as many learning models as possible.
A psychologist from the Psychology Development Centre Jejak Kaki, Gloria Siagian divided the challenge into three:
TECHNOLOGY APPLICATIONS
What is predicted to be our world in about 15 years, is suddenly being forced into 2020. Everyone looked to the day when the internet and sophisticated applications would facilitate formal learning, but both teachers and students today are not yet ready to face this. We can imagine the children can only see the teacher through the screen with monotonous explanations without any other interaction, uploading assignments with the set time. Even though kids are used to gadgets, this is different. Parents are stressed and children become depressed.
LEARNING ASSISTANCE
Distance learning's burdens are more on parents as they must fully assist and guide their children. Parents must supervise whether the children are actively learning and are doing their assignments well. This becomes an additional burden for working parents especially, where they must be good at managing and dividing their time for children and work. This is further exacerbated when parents are called back into the office whilst the children must remain at home for distance learning. How do they control and accompany the children to study at home?
MENTAL CAPACITY
During the pandemic, parents rely a lot on the internet to find information. When a lot of information comes in, parents become anxious and become irritated easily, which also has a big effect on the child. Because naturally humans will become a pattern for finding ways to feel comfortable, then they seek information and when that information becomes uncertain, it is emotionally tiring. If parents are struggling with the effects of this pandemic, it will affect their children too.
---
"PJJ is different from home-schooling, which is more flexible and the lessons are more diverse. Parents also know that they are committed to learning together with their children. When formal schools apply a learning system based around PJJ, there is no face-to-face, and there will be many disadvantages psychologically. Children cannot socialise, psychologically that's a necessity. Socialising is key in improving their empathy skills.

The challenges are many, especially for schools that only focus on developing the academic system of education, there will be missing areas that should be developed. Children need motor training to hone their emotions, emotional intelligence and that can be done by meeting other people."
How can parents face this challenge? According to Gloria, those who are willing to adapt and struggle can get through this challenge. Indeed, this is not an easy thing, both for children and adults. What is needed is to remain empathetic, patient, and adaptable. For this reason, Gloria suggests parents must:
BE LIKE WATER
Before you do anything, remind yourself you must be flexible. Water is flexible. If you put it in a box it will become a box, if you put it in the freezer it will turn into ice and if you heat it, it will become steam. It can move according to what happened. Because what we need is acceptance that we are indeed in an extraordinary situation that we must face.
ORGANIZE, TRAIN AND PRACTICE
Time management is very necessary for children and our lives. Because we like regularities and patterns, we will be anxious if they do not exist in our lives. We must keep our children organized even when studying from home. Wake up, have breakfast then learn. The regularity will make them comfortable, like a fence that helps them feel safe. And when it comes to technology, we also need to organize, train and practice for children. It is impossible for us to be good at computers if we don't study, practice and practice. We also must make a schedule and an adjustment process for new regularities. Children have a strong flexibility trait. In fact, parents are less flexible. For parents who work in an office, train the caregivers starting from how to turn on a laptop, connect to the internet, etc. according to the instructions.
NEW TECHNOLOGIES
This is very important to apply to children. Children do not really understand how to learn with online situations. Even though learning with technological tools, children must learn technology ethics. They must know when they must mute the computer (when the teacher is explaining) and when they must speak. Parents should also calm children when the computer hangs. If parents panic, children panic too. Teach even the smallest things and explain what is happening because it is important for children to learn about self-regulation.
DREAMS vs REALITY
We have big dreams that our children are extraordinary until finally we see the true reality that this is how children learn. Previously the teacher saw our children learning. Now parents must see for themselves. As parents, there is no need to detail how children learn, they cannot intervene too far because children have their own learning preferences. Realize and admit that there is a lot of distraction at home, this is an abnormal condition. If in school classes, we can expect the child to get good grades or a full level of understanding, but if this is the case, parents must be flexible and empathetic enough to children because - once again - the level of children's learning is different. It needs to be understood, it is not because our children are not capable, but this is because of extraordinary conditions. Do not add unnecessary stress to the child.
REDUCING TENSION
Parents must be the first to reduce tension. If parents are mentally ready, they will be ready to accept a child's emotional outburst. Children do not have emotional experiences, it's not because they are self-centred. Parents must be able to accommodate the child's emotions. Look for relaxing things, like drinking some tea, so you can relax and be ready to be there for your child. Parents can only control themselves for themselves to be more peaceful, to be able to focus on a child's needs, the needs of the surroundings and the environment.
Teach the children to raise a sense of empathy, starting from small things such as paying attention to neighbours who need our help and trying to be in their position. If we empathize with each other, hold hands, we will see that the Covid-19 pandemic is a blessing in disguise not a living in the disaster. This is a choice and will influence our behaviour towards ourselves, children, and the environment.