Deutsche Schule Jakarta (DSJ), Jakarta's German School, celebrated its 60th anniversary on 20 March with colourful festivities that took place at the school's auditorium and featured music performances by students conducted by Indra Yudha, including "Pomp and Circumstances" by Edward Elgar, "Eine Kleine Nachtmusik" by W.A. Mozart and "Rock Around the Clock" by Max C. Freedman and Jimmy de Knight.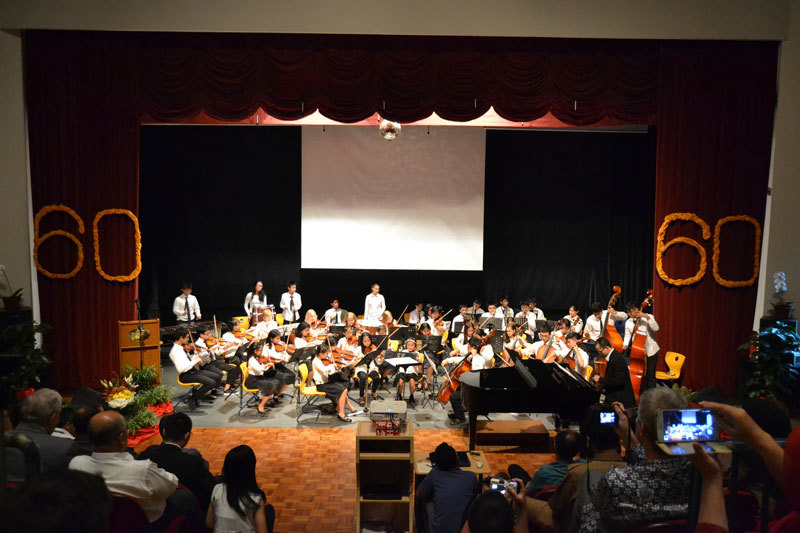 DSJ is more than just a school: it has become a place for cultural exchange between students from Germany, Indonesia and many other countries across the globe, where shared values such as peace and democracy can be applied and taught to children.
DSJ is registered as a Joint Education Unit with a German and Indonesian curriculum that offers education for preschool to high school, under a board of trustees of the Deutsche Internationale Schule Jakarta Foundation.
The school can look back at a long history over the past six decades. It was initially located in Bandung, where German expatriates took the initiative to establish a group to provide schooling facilities for their children. The inauguration was conducted in March 1957 and started with 25 students in three classes. A year later, the number of students had already increased to 60. In the beginning, children with Indonesian citizenship were not allowed to attend the German school, however, Indonesian was the first choice of foreign language.
In October 1967, the school officially moved to Jakarta - back then to Jl. Sam Ratulangi in Menteng, which is now the German cultural center Goethe-Institut - bearing the name Deutsche Internationale Schule (German International School) Jakarta. Starting off with 22 primary students and in the period from 1969 to 1970, the number of students quickly increased to 159 only a year later. In 1980-81, the school accommodated 250 students and had reached maximum capacity. At that point, the school board decided to find new premises to cater to the growing number of children.
In October 1998, DSJ moved to Bumi Serpong Damai, Tangerang, which remains its location until today. Since the 2005/2006 school year, Indonesian students are admitted to DJS with the introduction of the Trilingual Plus programme (Germany, English and Indonesian).
The existence of the German school and its long history has been recognized by many parties, including government officials as well as other public figures both from Germany and Indonesia, among others the President of the Federal Republic of Germany Dr. Heinrich Luebke (1963), German Chancellor Dr. Helmut Kohl (1983), former presidents of Indonesia Prof. Dr. Ing. B.J. Habibie (1999) and Megawati Soekarnoputri (2003), the German Chancellor Dr. Gerhard Schroder (2003) and the German Minister of Foreign Affairs Dr. Frank-Walter Steinmeier (2008) who has only recently been sworn in as the President of the Federal Republic of Germany.