On
March 10

, the Fine Arts Theatre of the Jakarta Intercultural School (JIS) was home to an unforgettable evening as it hosted the concert "A Voice That Cares". Initiated by Ayoni Thompson, one of the members of Popular Musicians Union and JIS, and in collaboration with Wisma Cheshire, a foundation that provides a home and skills training for the disabled, the concert showcased the talents of those who are often not heard or forgotten.
The star of the evening was 18-year-old Christian, a blind pianist with an abundance of talent, whose dream is to have the opportunity to perform with an orchestra on a big stage in front of a grand audience. Christian, who had shared this dream with Ayoni, also told her that he wants to attend Berklee School of Music in the United States someday. Ayoni then was determined to help him achieve his dream and organized this concert.
On Friday, Christian not only showcased his skills playing piano but also leading his Angel Orchestra. Christian and the Angel Orchestra performed a couple of popular songs and a medley of Indonesian folk songs like Rasa Sayange(Molucas), Bengawan Solo (Central Java), Butet (North Sumatra), Rambadia (North Sumatra) and Sinanggar Tulo (North Sumatra) as well as Celine Dion's "To Love You More" and "All By Myself".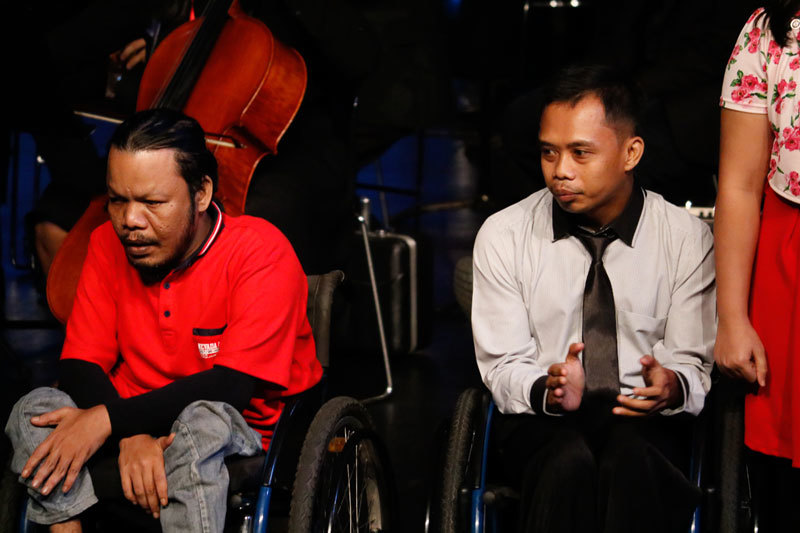 JIS students – all members of the clubs Popular Musician Union and Sing It Forward, including Ayoni Thompson – also enlivened the atmosphere on stage by playing music and singing, while Arisa Inagaki presented the moving dance "Reflections".
JIS students are strongly encouraged to give back and find small ways to make a difference within the community. All proceeds from ticket sales and donations will go towards Wisma Cheshire for the establishment of a scholarship fund.
Photos by Jaden Thompson