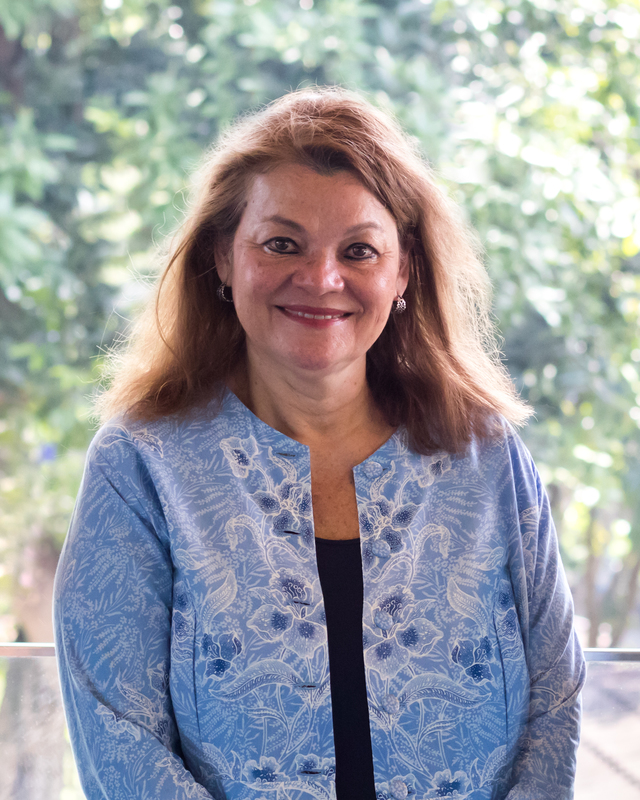 Welcome to this exclusive interview with Maya Nelson, who is the Interim Head of School at Jakarta Intercultural School. She may be the Interim Head, but she has a long term attachment to the school, she's a graduate of JIS and she was a teacher, so she has a deep and vested interest in securing the future of the school. From Now!Jakarta's perspective, we have a deep interest in it as well, because this is the centre of the international community's education. They're the leaders, innovators, the people that we look to make the education standards better, and have done that amazingly over many years, and are continuing to do so now in a time of great difficulty when they've been forced to work off campus for so long and then developed hybrids and all sorts of different ways of trying to keep education going. We think they've succeeded, they think they've succeeded, but we're going to hear a lot more about that from Maya herself.
AGS: So, Maya congratulations on your appointment as Interim Head of School, we hope it's not just short term, but interim and extended into the future. What do you think you bring to the position that the school isn't already there? I've already mentioned the fact that you're both an alumnus and a teacher at the school, so you must have a real insight as to how it works. What do you think you bring to it now?
MN: Thank you, Alistair. Good to be here with you today. I'm honoured to serve as the interim head of school. As a long time educator I've experienced leading in many different international schools around the world, particularly in Asia, and I'm most recently from Hong Kong, where I served as a principal for many, many years. My time here is, if you want to call it that, an attachment. I did go to school here. I graduated from this amazing high school. I came back as a teacher and now, yes, I am the Interim Head, but before I became the interim head of school, I was an Elementary Principal at both Pondok Indah and Patimura and I was a parent of a student. So my goal in life is to fulfil every role that you can have at the school!
I think it's a little bit serendipitous, but it's such an honour and such a delight to be here. And and I think that what I can bring to JIS is my perspective and my observations through many different lenses of how I have seen this school. You know, from many decades ago to most recently, intimately working with the elementary programs, working with the school-wide programs as a deputy head, and seeing it as a parent of a child who just graduated last year, and then of course, as a long-term educator, I've had decades of experience teaching, of leading, of working in international schools around the world and understanding what best practices are. So I feel like with the amazing team of faculty and staff here, and my leadership, we hope to continue to lead the school forward and enhance all that we're doing here today.
AGS: Thank you very much for that very good explanation, but you actually do have a very good reputation as a school with top level education, has this suffered because of the pandemic? I know it's been very difficult to keep things going and keep everybody engaged. Have the online programs worked as you hoped and planned, and how are things going now?
MN: I think when we look at where we are today, I think our online program developed into a very strong program. Worldwide I think, like many schools in the last 20 months, our teachers have had to pivot and change and grow and learn and figure out new technology that they never knew. And where we were about 20 months ago, March 9th, 2020, when we started, this is very different from where we are today. We have an online program. We're very fortunate that we have a hybrid program where students are both online and in school for part of the time, which so necessary for the children and the world. But during the online part, what we learned is that it can be done in many different ways. We moved to making it totally synchronous so that the students were online when the teacher was online.
And it was very much a real-time experience. Our teachers learned how to use breakout rooms creatively. They learned how to use various tools, the technology that can be used with kids and often our kids will know how to use it much quicker. Of course they are of that generation, but our teachers have had to learn and adapt and they have done a fantastic job and not only keeping up, but I think becoming leaders of this program that we have. I know that all the pieces that we're doing to support student learning is looked upon as stellar, even from other schools in the region. We've also worked really well together internationally. We've worked with schools in Indonesia and with schools internationally so that we can learn from each other so that we can help each other out through this very difficult time.
And what we know is that we have a school that's leading, that continues to do all they can to support students online, as well as now, here on campus. And that we probably know more than we want to do. Know more than we want to know about technology and online. But yes, I think that our program is great. Other things that we've been able to do is we've learned that our students can learn whether they're here or when they're sitting in Central America or in the middle of the U.S or in some European country. We're all connected. And we've learned how to stay connected as best as we can online.
AGS: But having had this experience of extended online distance learning, which you've obviously done very well, how important do you think face-to-face learning is now that you've got hybrid, you've got some of the students back on campus?
MN: I think face-to-face is super critical for kids. I think that what we know is learning is interactive. It's connective. We need to be with one another, we need to collaborate, we need to have relationships. So what we need as humans is the ability to somehow or another belong to other people and to learn from other people. What school does, whether you are four years old and in a playground and the sandpit, or you're in 11th grade, trying to figure out what you're going to do this weekend, all of those social opportunities, give us a learning about language, about where we stand and sit in their environment, who we are in the world, what our standing is and what the next step is, what we're supposed to do.
It gives us an ability to grow our attention to things. It gives us a chance to practice our social skills, all those pieces go missing when we're online. That is the hard part that we can't replace very easily if we only lead a life that is totally online. I think that we also know that there are a lot of things that have to be done in a constructivist manner. Meaning you have to have a hands-on program. Many kids, not all, but many kids need to be able to immerse themselves in a physics lab to be able to understand the concept of something that's there. Just like children may need to be learning with manipulatives in front of them to be able to understand a mathematical concept that's shown to them in third grade. At all age levels, we need a level of being able to interact with the materials, to be able to understand it better than just to have a flat platform. Even though our teachers were showing the experiments online, our teachers were asking kids to participate. Our kids were doing the art projects while the teacher was doing the art projects and as all of those things are happening we certainly have learned that there are positive elements of online. And there are some that are not as supportive of what I think child development, adolescent development needs.
AGS: I think you're absolutely on the right track. I mean, I only went to an "on campus" school. So I think did 99% of the world, so we all know the difference, but I think people are appreciating getting back in contact with each other, as well as with the teachers and the faculty now international schools by necessity have to be expensive and that sometimes makes them exclusive and possibly ignoring groups that can't afford them, or just don't qualify through physical or learning disabilities. How is JIS dealing with that? Because that's a very important problem that the world faces.
MN: It is. And I think what we also know is that the world sometimes is not totally represented at schools, right? And what we want at JIS, and I think what JIS has always stood for is being an inclusive environment. I know that that's what I felt when I was in school here. I know that that's what brought me into the profession that I'm currently in, is my time here on this campus and my time with the people in this country and experiencing what the educators around me allowed me to experience. So we're so pleased that we have a program here, Alistair that really is a continuum of services for all students. We believe that every child is unique. We believe that every child will have their own strengths and their own areas that they need to develop. And so currently, if you look at our support services program, which we are very proud of, we have, for example, learning specialists that are trained in how to work with children with learning disabilities.
That could be something as specific as dyslexia. We have speech language therapists who can work on articulation or who can work on fluency or language development issues. We have teachers who work with second language English speakers. We have counselors and we have a school psychologist, which is really something that's quite rare in schools, but we have a team of experts where their training and their experience allows them to uniquely develop programs to meet the needs of all our children. Of course, within that there are always limitations, and so we're really happy that we're going to expand that even more. One of the things that we've been working on is how can we support families here in Jakarta who might not have children in the same school? How can we support families coming in from other countries who may need to look at two different schools if they have a child that has a neuro-diversity that requires more intervention? So next year in August of '22, we're so pleased to be opening up a JIS Learning Center and in that program we will have specialized teachers who will work with children who have more of an intensive need for an educational program.
AGS: So who will that learning center be open to Maya? Will it still be only JIS students or is that something that can be spread to more of the community? It seems like an extremely good idea.
MN: Yes. It can be open to anyone who applies. So there's an application process open to people from anywhere in the world. This can be for students who are currently living here. We've talked to some parents who are here and they don't have a program for their children. Their children may be tutored at home because their needs require something that can't be easily found, or we even have, students who are in other schools or in their home countries, and their parents have an opportunity to work here, but they can't come here unless they have, an educational program for their child. So this is open to anyone, but of course there are criteria. And there's a limitation, it's a very intimate program, meaning we only will take five to eight children to begin with, but our hope is to expand it. Our hope is to have several levels of students in elementary and then to expand it into the middle school and high school. For us, what's so important is we will want the children who come here to know that they're a part of this community. They are here with us and they don't have to leave at any time, unless of course their parents get transferred or something, but this is their home.
AGS: A program like that is much needed, you can spread it through the rest of Jakarta, and you can influence and inspire other schools to do the same thing because there is no such thing as an homogenous education with everybody being the same. In my day we were shoehorned into one system and you all had to come out the other end one way or the other! Is that something you're going to be able to share with the Indonesian authorities who are obviously in great need of inspiration because they've got a huge task to do?
MN: I certainly hope so. You know, part of what we do as educators, is we learn from one another, and JIS teachers continue to grow and our ability to give professional development, not only to the faculty and staff at JIS but to others in Indonesia is critical. That's part of our role, I think we have to give back, and we're only as good as the people who are around us. So I think what we know, what we learned from this needs to be shared out. In international schools, I have to say many years ago, when I was first here, programs like this didn't exist and even 20 years ago, programs were not often seen in international schools because we really were for a niche kind of family traveling overseas.
Between who travels overseas and who moves around, as well as our understanding of brain development and our understanding that children have various neuro-diversities, no two children are the same and we need to be able to honor those and support them. I think that more and more schools even internationally have opened programs. So what you can see, there are some programs in different schools around the world, of course, in countries like the United States or Australia, these schools are part of the public school system, because they have to cater, they have to give a program for all students, but our hope is that we're going to open this, that this will grow and that we can support our neighboring communities and the neighboring schools and even the greater community of educators and learning what we can do for students who have different neuro diversities.
AGS: it's a great story, so let's push forward to make sure that it works and we'll do whatever we can to help you. Maya, we are delighted to have spoken to you today. The position of JIS as a leader in education is very important to the whole community. And we love that you're innovating and I'm telling everybody that the importance of education becomes even more important. We've got people in Glasgow talking about climate change. That's driven more and more by young educated people who understand the world more, and that they're coming out of institutions like JIS because the education is broad and deep and meaningful.
On behalf of NOW! Jakarta, I'd like to thank you, but also all of the other teachers that you represent and all of the other people who make you just such a great school to go to, we thank you for being with us today and wish you the very best of luck with your new learning center and with everything else.
MN: Thank you so much, Alistair. It's been a delight talking to you. And for anyone that wants to have more information about our learning center or even our school, we have a great place here. Come join us. Thank you.
For the video interview, click https://www.youtube.com/watch?v=Ka57wrL6IBw