In our space-starved city, creating the best environment for children to thrive can be challenging for parents. At school, many experts agree that physical environment plays a crucial role. In modern education systems, gone are the days where students sit in rows of desks, passively listening to the teacher. More and more education professionals are now advocating creative learning environments, which benefit students' all-round development.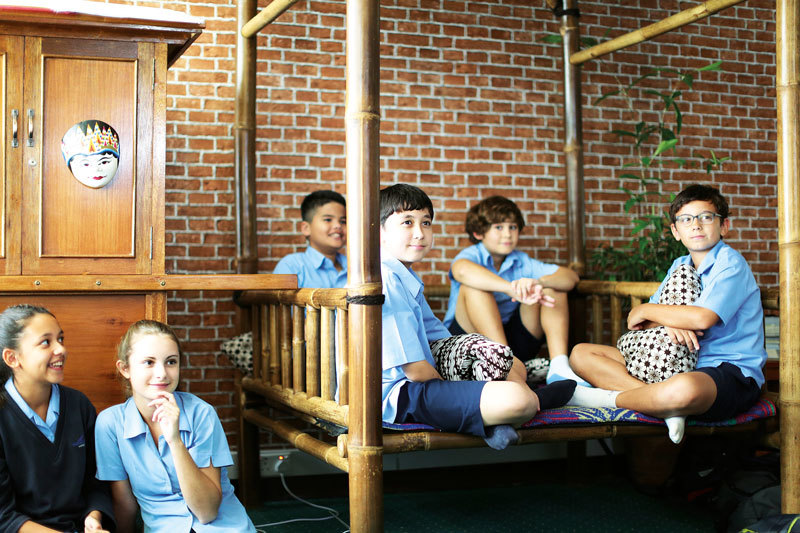 To find out more about the concept, NOW! Jakarta caught up with Rachel Edwards, Head of Secondary at British School Jakarta (BSJ). Nestled in a serene part of Bintaro in south-west Jakarta, on extensive grounds with plenty of fresh air and open space, BSJ provides a healthy and flexible learning space for its students.
"As our student population grows, we want to provide them with inspirational learning environments. We aim to create modern and flexible areas with more open spaces, because we believe they provoke curiosity and creativity in students, in contrast to traditional box-like classrooms. Students need the freedom to talk and collaborate," said Edwards.
"Transparency is essential. Teachers learn best by watching others teach, so we ensure that we can see what is going on inside a classroom. Wherever possible, BSJ prefers using portable partitions instead of permanent walls. Lightweight furniture with wheels is also very convenient, as teachers can move things easily to create spaces that are as dynamic as they want them to be," she continued.
This trend was undoubtedly triggered in part by technology. "In this digital age, we have to be flexible about where we work, and so do the students. To get the best of their potential, students need to feel safe and comfortable while studying, but their environment also needs to mirror the real world. In our learning spaces, we pay attention to colours, because they influence brain performance. We also encourage natural lighting, as daylight can increase productivity, comfort and health."
With such a dynamic learning approach, the role of teachers is shifting. No longer the only source of knowledge or information, today's teachers instead take on the role of mentors who curate learning, guiding students through the materials and process.
"We can build amazing learning areas, but if teachers do not adjust and teach in different, modern ways, it would be a waste of time. Lots of schools are investing in professional development to help their teachers adopt the latest methods. In enquiry-based teaching, for example, learning is driven by a process of investigation that is owned by the students. They come up with questions and then work together to find solutions and present them. It is all about collaboration and problem solving, with the teacher as a facilitator," Edwards continued.
Parents ought to pay close attention to learning spaces when looking for a school for their children. "As a parent myself, reviewing a school's learning environment is a top priority. Starting with the basics, I would make sure that the school has proper signage, so that new students won't get lost. I would want to know that there are social spaces and also quiet spaces, where the children can study peacefully. And I want the environment to be bright and inviting, so that they will feel welcomed, comfortable and confident. I believe those are some crucial things to be considered when picking a school for your child," she concluded.
British School Jakarta
Bintaro Sektor 9,
Jl. Raya Jombang-Ciledug
Pondok Aren, Tangerang 15227
T: +62-21 745 1670
www.bsj.sch.id