Technology has a myriad of great benefits when applied positively in human life, especially in education. Integrating technology into the classroom is definitely an effective way to reach diversity in learning styles. When a school uses technology and modern systems to enhance and complement learning, students can have a whole new learning experience. A school simply cannot fail to provide access to useful information updates through the magnificent wonders of technology.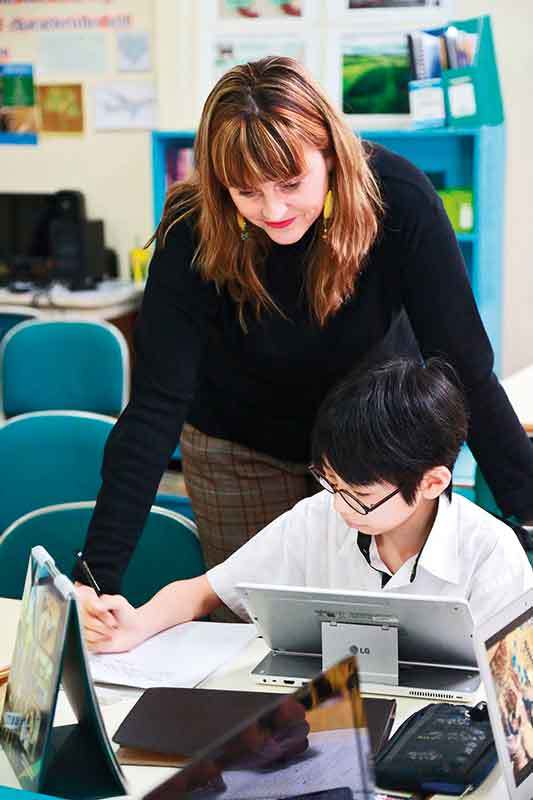 Close your eyes and imagine if you will:
Are there students exchanging ideas, shouting opinions, brainstorming together?
Who is the figure in the centre? A teacher? Artificial Intelligence?
Will there be books? Scribbles of pencils? Sounds of rustling papers?
Is there even a classroom?
While it has undoubtedly displayed a length of benefits from every aspect of life, one has to pause and ask, "but at what stake?". Striking the perfect balance of technology and human touch in education will probably remain as the castle in the air. The idea is neat, but getting there is another case.
As a school with four different campuses, AIS relies heavily on technology and its advancement in bringing the community together in synchronized harmony. It continues to look for ways to improve learning outcomes through continuous upgrade of network infrastructure and other pillars of technology. AIS has long introduced electronic media with smartboards, e-Beam and 42 cm flat screen multimedia technology in the classrooms. The school also has applied the concept of new iPad initiatives, gradual transitions from hard copy texts to ebooks and apps as well as AIS online library system for students' convenience.
Yet, the emphasis on the personal experience of learning through social interactions and daily communication is larger than ever. Skilled teachers act as the bridge that coach students in their studies and provide feedback to students without letting technology de-personalize learning itself. At the same time, the AIS community fosters a sense of personal growth and balance to a child's overall development.
Indeed, AIS, cherishes the idea of conventional human connection in teaching. It allows one-on-one student enrichment to shape a child's development at the Student Service Centre and conducts classes in a rich and diverse setting with student groups.
AIS believes in nurturing tech savvy kids without having to let teachers take the backseat of the classroom. As a result, a child can have the inner social manifestation while also being aptly skilled through the benefits of technology.
So, what will a classroom look like in 2040? AIS is optimistic that brick and mortar schools will be intact, so will the overflowing interactions of ideas, spirit and energy. Children will have state of the art technology that enriches the studying process, with a teacher guiding and challenging them every step of the way.
AIS Indonesia
Multiple Locations, one in Jl. Kemang Timur No. 81
South Jakarta 12730
Phone: +62 21 7179 2949
IG: @ais.school
FB: Australian Independent School - AIS Indonesia
Email: [email protected]
https://www.ais-indonesia.com/