Globally renowned fashion brand Calvin Klein made great progress towards telling an evolved lifestyle story. Over the years, successful expansion has resulted in today's Calvin Klein. The arrival of Raf Simons as Chief Creative Officer signifies a momentous new chapter for the brand. This year, Calvin Klein achieved another huge milestone, especially for its watches and jewelry products.
Calvin Klein's watches and jewelry offer beautifully designed pieces of Swiss quality and with a strong and instantly recognizable brand aesthetic. According to Carlo Giordanetti, the President of Calvin Klein watches+jewelry, the style has been inspired by the zeitgeist which revolves around four main design directions.
The core identity is pushed one step further with stunning pieces built for the athleisure lovers and the revival of the most iconic shapes for a timeless style, allowing consumers to make a clear statement about their personal style.
An elegant, sexy and powerful black shade embraces some pieces throughout the collection. Metals are oxidized or coated and finished with brushed surface treatments for added depth and texture.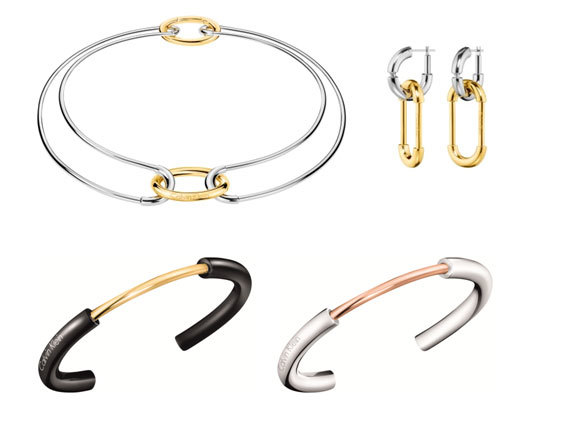 The watches and jewelry 2017 collections pursue the success story of the iconic Calvin Klein minimal line, which celebrates the unisex, minimal, sleek signature style of the brand with colours, finishing, playful or subdued dials.
The Calvin Klein minimal unisex watch line and its iconic mesh strap was part of the very first collection of the brand in 1997 and has been a success story since. This line very much represents the Calvin Klein watches essence: exquisite minimal design, ultimate comfort, unpretentious class. New declinations this year include chromatic versions of arestrained and sophisticated design and tone-on-tone combinations. The unisex aspect of the collection is very present with the his&hers visual of the campaign featuring the vibrant and passionate couple Kiki Willems and Jonas Gloer.
Both the watches and jewelry collection are available in blue, green, red and muted colours. Especially for jewelry, Calvin Klein also offers a Tubular shape collection for a more casual look and Logomania, which brings out the statement of the brand DNA and identity and also makes for an elegant and sporty look.