The latest edition of Jakarta Fashion Week 2019 has served as a platform for progressive causes. In addition to showcasing designers' recent collections, it has drawn awareness to issues regarding individuals with disabilities and also women's health.
Through collaborations with designers, cultural institutions and foundations, some of the runway shows have also highlighted programmes to help victims of the recent natural disasters in the country. With its connection to culture, fashion is believed to be an effective platform to encourage social movements.
Here are few highlights of shows that highlighted campaigns:
British Council Features "Disabled Models for Inclusive Society" Campaign
On 21 October, Jakarta Fashion Week 2019's second day kicked off with a presentation by The British Council which featured five disabled models who modeled collections by Teatum Jones and Sean Sheila.
As part of the British Council UK/ID 2018 series, Festival Bebas Batas (Festival without Borders), designers presented a more inclusive fashion show where one models graced the runway in wheelchair. There were other models with physical disabilities.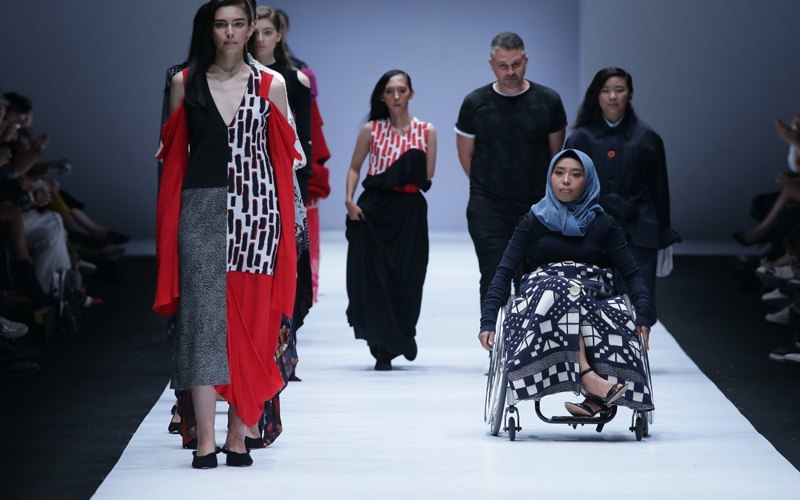 Teatum Jones and Sean Sheila have been promoting in the issue of inclusivity through their designs and runway shows. They frequently work through collaborations with related stakeholders to deliver a message highlighting differences in culture, language and disabilities.
Susi Pudjiastuti Walks for Donggala and Palu
Maritime Affairs and Fisheries Minister Susi Pudjiastuti wowed fashionistas with her appearance in Anne Avantie's "Badai Pasti Berlalu" runway show at Jakarta Fashion Week 2019.
She previously participated in Avantie's show during Indonesia Fashion Week 2018 in March. This time, however, the Minister did not walk just for fun. She carried out a fundraising initiative to help disaster victims in Palu and Donggala, Central Sulawesi, following the earthquake and tsunami in the region.

To much applause, Minister Susi elegantly strode down the runway wearing tenun attire,a turban, and thigh-high boots, and wearing sunglasses. The designer, Anne Avantie, handed over 10 fishing boats to Minister Susi who symbolically received the aid on fashion night. The boats will be donated to local fishermen in Palu and Donggala who have been facing challenges to their trade in recent weeks.
Iwan Tirta Private Collection Raises Awareness of Women's Heart Disease Issues
In collaboration with the Indonesian Heart Foundation, Iwan Titra Private Collection, at Jakarta Fashion Week 2019, raised awareness of women's health through "Go Red for Women" campaign.
The audience wore red in support of the campaign while 10 foundation ambassadors walked on the runway wearing elegant batik from the Iwan Tirta Private Collection. The fashion show also presented 36 looks from the collaboration with three emerging Indonesian designers, Mel Ahyar, Chossy Latu, and Auguste Soesastro.
Esti Nurjadin, Chairperson of the Indonesia Heart Foundation who opened the show, addressed the issue of the risk of heart disease which is a major cause of death among Indonesian women. First coined by the American Heart Association in 2003, 'Go Red for Women' aimed to build a movement to inspire women to fight heart disease.
.