At Ella & Glo, you can find bags, scarves and jewellery, however making and selling its own brand of footwear is this brand's bread and butter. Its eponymous boutique, which is located at Darmawangsa Square mall, is packed with footwear from high heels to flats, and some of them are adorned with crystals that give those shoes a touch of glamour. There are, indeed, various styles to choose from. Each shoe is handmade in Indonesia using quality materials.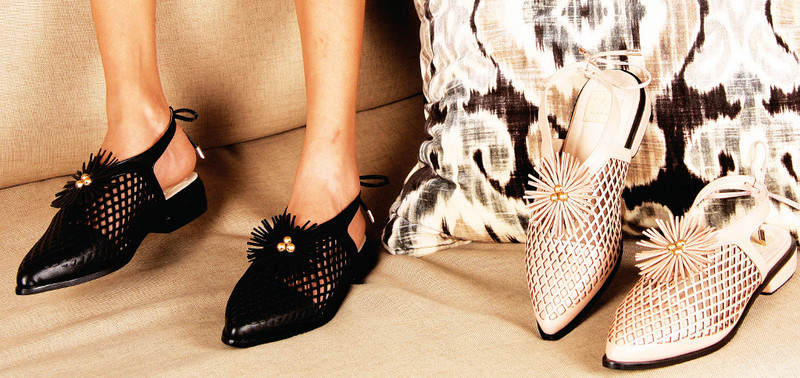 Ella & Glo handcrafted footwear is a breath of fresh air in a crowded market saturated with mass-produced shoes. As each design is available in limited numbers only, it seems unlikely that you will meet women who wear exactly the same Ella & Glo shoes as yours at an event.
Ella & Glo is the brainchild of Dian Purba, a shoe lover who turned her passion into business. Ella & Glo is affectionately named after Dian's daughters, whose middle names are Emmanuella and Gloria. Through her brand, she aims to showcase high quality Indonesian-made stylish shoes that not only are pleasing to the eye but they also comfortable to wear.
Dian has neither a formal education in design nor experience in the footwear industry, but that did not stop her from launching her own shoe brand. Even though her educational background is in finance and economics, creating stylish footwear is Dian's forte. She is the principal designer at Ella & Glo and with the help of her assistant, Angella Hutagaol, Dian designs Ella & Glo's fashionable products.
Ella and Glo has just launched its new collection that features various laser cut footwear, including beautiful flats and high heels with laser cut floral applique. The new designs, thanks to laser cut technology, are more detailed than those that were previously made.
For those who look for shoes that combine a modern look and an ethnic feel, check out this brand's "Colours of Indonesia" collection, which offers products made of printed batik fabric.
This brand uses various materials to make its shoes, such as among others genuine leather, artificial leather, tweet, lace, fine mesh and various printed fabrics, from leopard motif to printed batik; there are even exotic footwear that are made of wicker.
Starting off as a brand that offers ready-to-wear shoes, Ella & Glo has expanded into made-to-measure footwear business too. Dian founded Ella & Glo in November 2015; while Ella & Glo offers ready-to-wear goods, Ella & Glo Atelier, which was established approximately 6 months ago, offers made-to-measure items, from casual footwear to elaborate bridal shoes.
Custom-made goods are surely much more comfortable as they fit very well. "Ella & Glo Atelier is actually a service that we provide to our clientele," says Dian. Ella & Glo Atelier's clients range from brides-to-be and their female family members, fashionistas who love bespoke shoes, people with irregular sized feet, and people with feet problems like bunion sufferers.
As for prices, ready-to-wear footwear is priced from IDR 700,000 to IDR 1,800,000, however, limited edition shoes cost IDR 2,500,000 per pair; custom-made items started at IDR 2,000,000 per pair.
This brand also won its clientele's hearts by offering repair service to reasonable wear and tear to your footwear. Whether the service is free of charge or not is case-by-case, depending on the damage. For example, if a pearl falls off, the customer can send the goods to Ella & Glo and the pearl will be sewn back on the shoe, free of charge. And this brand also offers return policy, however all products must be return in their original condition (details are written on its website).
Dian believes that shoes transform your body language and attitude; hence she says, as a confidence booster, a pair of shoes should be a combination of quality, comfort, style and beauty. "A good pair of shoes is like a sole mate," says Dian. In a nutshell, she wants to give women confidence through her footwear, whether it is in the form of high heels or flats, depending on their preference of style. "If I have to sum up in one word what my brand is about, that word would be confidence," says Dian.
When asked about the challenging part of running a shoe brand, she says that finding highly-skilled shoe artisans that meet her standards on shoe making is one of the biggest challenges in running a shoe company which offers high quality shoes.
Speaking of quality shoes, Ella & Glo's products are currently available at Fashion Link store, which is famous for its curated beautiful, high quality Indonesian-made goods. Also, starting January 2019, its footwear will be available at the premium Central Department Store that is located in Grand Indonesia and Neo Soho mall, as well.
Since Ella & Glo's inception, Dian has had a mission to establish a shoe brand which showcases high quality craftsmanship from Indonesia. Hence she ensures that not only are her handmade products pleasing to the eye, but they also adhere to high quality standards – Ella & Glo is certainly a brand to watch out for.
Ella & Glo:
Darmawangsa Square Mall, ground floor # 66
T: +62-21 7278 6661
WhatsApp: +62 812 1249 8314
Webstore: ellaglo.com
Instagram: @ella.glo
Ella & Glo products are also available at:
Fashion Link: Senayan City Mall, second floor.
Online shops: www.zalora.com and www.ellaglo.com