2018 will be the season of comeback and trial - at least, as far as the fashion industry is concerned. A number of designers showcased their latest collections from Paris to New York, influencing the prediction of fashion trends for 2018, from oversized daddy's sneakers making a comeback and plastic becoming the new chic.
For those who dare to experiment a new look, the fashion trends this year could become an inspiration for any occasion, creating a fresh image for your whole appearance. NOW! Jakarta has compiled a list of fashion trends from industry insiders.
Lavender/Ultraviolet is the New Pink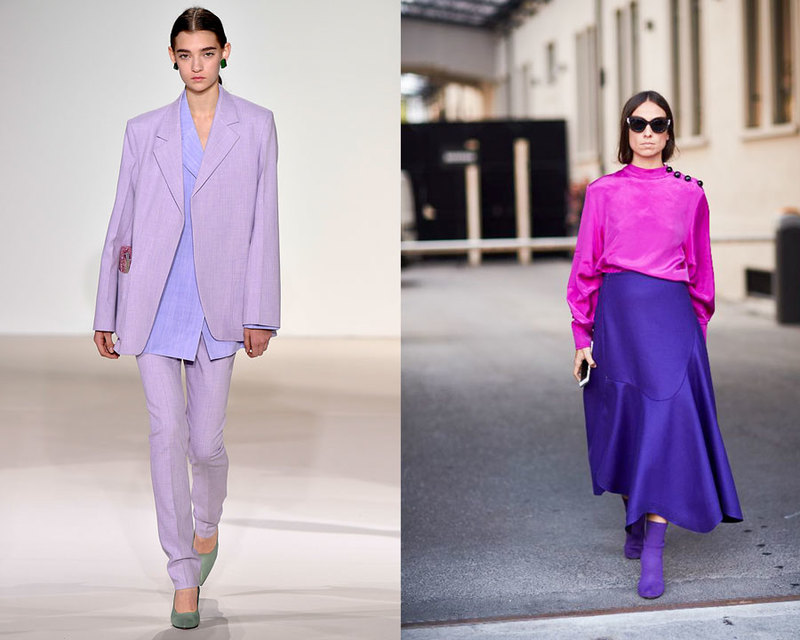 In December, color authority Pantone announced its selection for the 2018 Color of the Year: Ultra Violet. As Pantone is always a guide for many industries, including fashion, you can be sure to see this enchanting purple shade on the runways. It offers designers a versatility of expression that could already be seen on the Spring 2018 runways of Rochas, Zadig and Voltaire. The romantic shades popped up at nearly every show, from J.W. Anderson and Peter Pilotto to Emilia Wickstead.
Ultraviolet with pinkish hues and pastels will probably among the most popular tones for designers. Mix-and-matching with colourr block styles is also predicted to become a trend this year, drawing on the everlasting style of the 90s.
Sheer Dress with Beret Hat is the New Elegant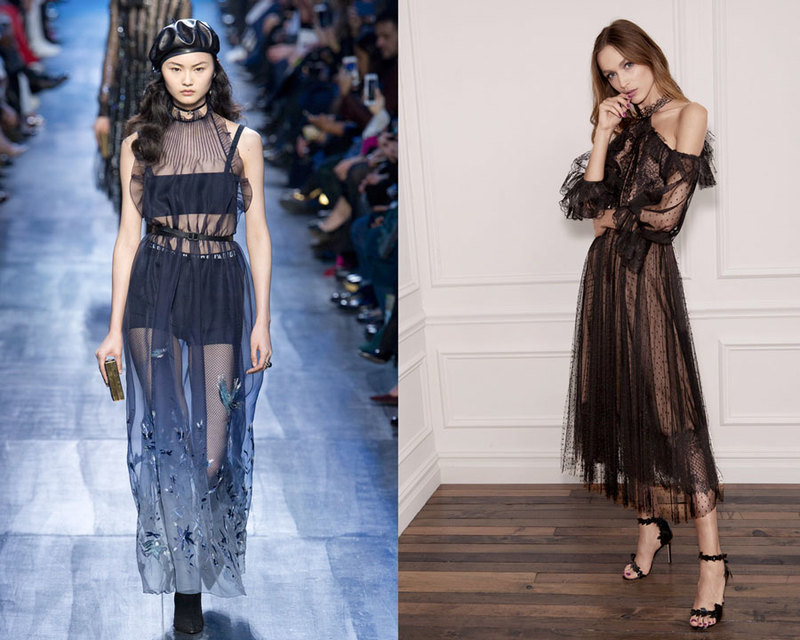 Sheer, skin-revealing fabrics is the new imagination of sophistication. Sheer, mesh and other translucent fabrics may have once been strictly considered for evening dresses, but could be found anytime and anywhere in 2018. Think of Molly Goddard's fantastically voluminous dresses and Dior's dreamy maxi skirts as the new elegant representation of a confident woman playfully revealing her body exposure. As the part of Dior Fall Winter look, the beret hat - commonly linked to artists - is the perfect match for a sheer dress.
Plastic is the New Chic
Plastic has now become a part of fabrics that the fashion industry uses for clothing. Since the Raf Simons Calvin Klein and Chanel Spring Summer 2018 collections were released on the runway, PVC plastic jackets, trench coats covered with plastic, plastic boots and plastic bucket hats have led to people considering wearing plastic to cover their skin. Miu-miu coats have been produced for retail stores such as ZARA as the warranty that plastic will be a possible clothing trend for the daily look, especially during spring time.
Mash Up Print is the New "Shocking Statement"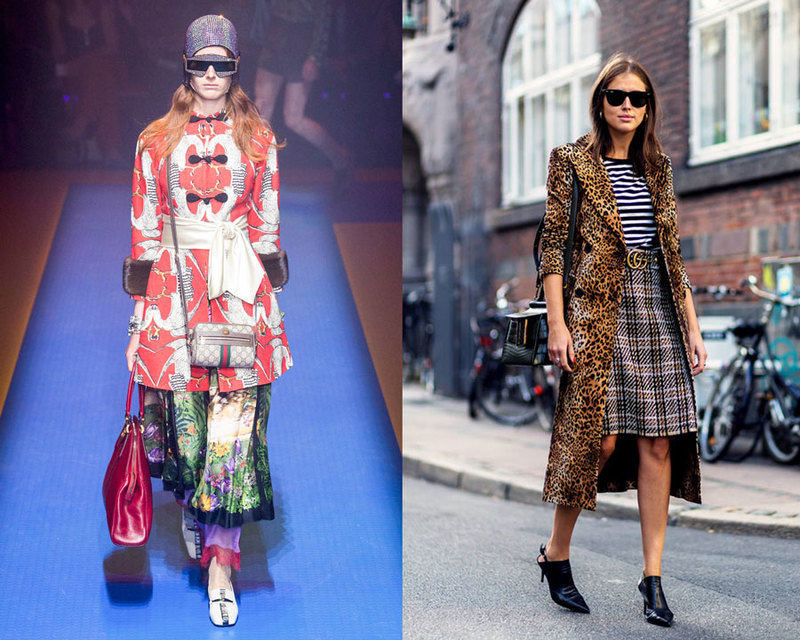 Another trend which will dominate the Spring/ Summer look this year is the mixing of different prints and patterns in the same outfit. Some very good examples from Gucci, Marni, Mary Katrantzou, Dries Van Noten and Maison Margiela deliver the message that instead of simple is the best, rich is sometimes more. This look may be daring and tricky, but creative-minded fashionistas will have no problem putting together different prints to create a stunning look.
Fringe and Sequin are the Disco Comeback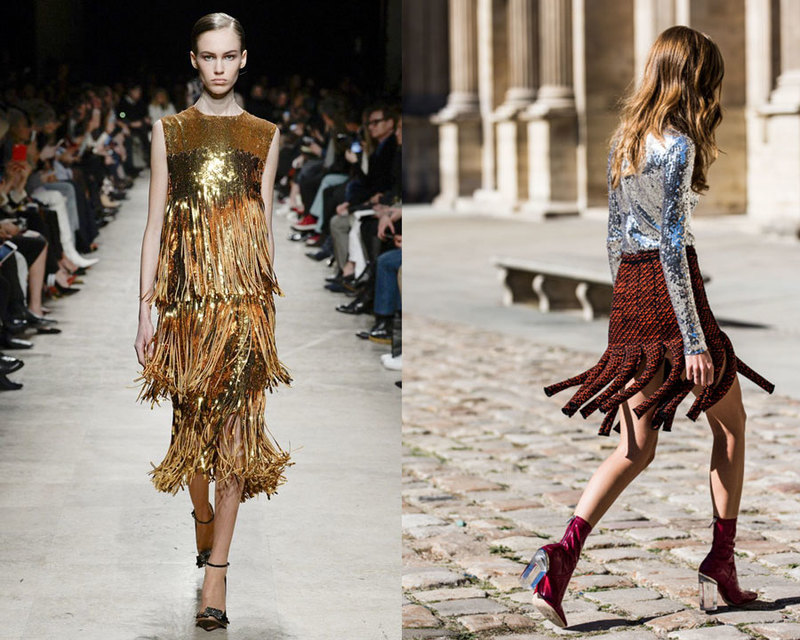 Decorative fringes on clothing will swing and shake from dusk till dawn as it is used in a variety of styles, from rugged suede jackets to party dresses. Vionnet, Bottega Veneta, Marco De Vincenzo and Salvatore Ferragamo are stellar examples of the fringe comeback, many of which have been inspired by the boho-chic look. Fringe can become a glamorous detail on your look, even more so when sequins are incorporated as well. In 2018, the fringe boho-chic trend gets festive and futuristic, rendered in tinsel and other stringy metallic materials.
Daddy's Sneakers and Buckle Shoes are the New High Heels
For those not in the know, daddy's sneakers are shoes that look a lot like the tennis shoes your dad would wear - and guess what, they are now in fashion. Showcased during Balenciaga and Louis Vuitton fashion shows, daddy's sneakers are poised to conquer the fashion world for a simple reason: they make a momentary impression yet are still comfortable to use. In fact, daddy's sneakers are the new high heels as people also successfully wear them with dresses or skirts. The elegant and sharp buckle shoes also stage a comeback, only with a differently-designed fastener. Dior Fall-Winter 2017/2018 and Versace Spring-Summer 2018 have already showcased stunning examples of shoe buckles that work both functionally and aesthetically.