Supported by Indonesia Fashion Forward, a development programme initiated by the Jakarta Fashion Week council in 2012, five local designers will now take their work to the global fashion stage.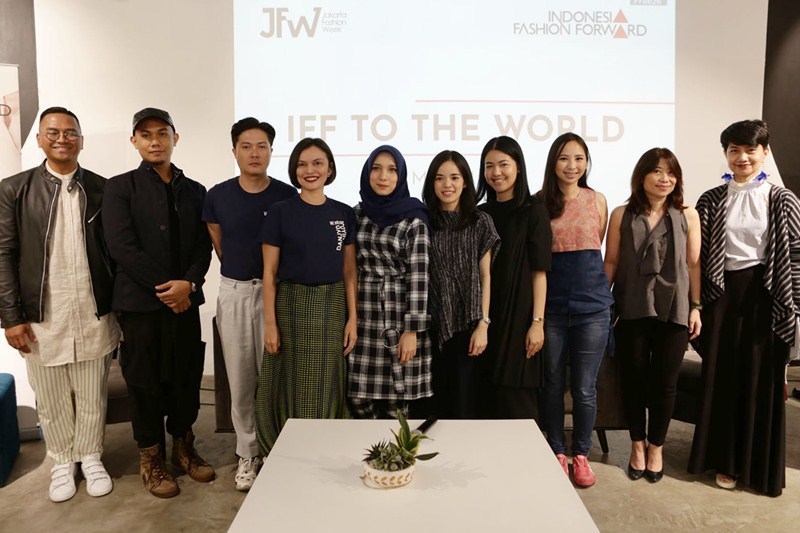 Through partnerships with global fashion agencies and creative institutions, Indonesia Fashion Forward has helped designers make their way to the international market.
This year, five brands helmed by local designers have got the opportunity to feature their designs to audience which includes fashion publications and prominent individuals in the industry. Jenahara and PVRA will showcase their collection at Fashion Kode from 14 -16 March in Seoul, South Korea.
Designers Putri Katianda and Kara Nugroho, who are the creative minds behind PVRA, will showcase traditional looks with more modern sartorial constructions, inspired by Minangkabau traditional bridal dress and accessories. Jenahara will present 15 designs in a collection that incorporates hijab fashion, or modest wear, with streetwear.
As a long-time partner of Jakarta Fashion Week, Japan Fashion Week Organization opens the doors to Indonesian fashion designers and give them a runway show at the prestigious Tokyo Amazon Fashion Week this year. Danjyo Hiyoji and Eridani— whose designs are influenced by Japanese tailoring silhouettes like Issey Miyake and Yohji Yamamoto—have been selected to showcase their latest collections at Shibuya Hikarie from 18-20 March.
Eridani takes inspiration from the Japanese character Taketori Monogatari, from "Tales of Princess Kaguya." Traditional Japanese silhouettes such as kimono, yukata, haori, and hakama is expected to feature draping construction, one of Eridani's trademark designs.
Dana Maulana and Liza Mashita, who have professional experience in Japanese savoir faire - will bring together print, streetwear details and hand-embroidery into fitted tailoring.
Earlier this year, SOE Jakarta exhibited its collection at the NOMET Showroom at 20 Rue De Pant Aux Choux, as part of Paris Fashion Week from 1-4 March. SOE Jakarta will also undergo a residency programme in Japan with Indonesian designer Paulina Katarina during Amazon Fashion Week Tokyo.
In February, Michelle Tjokrosaputro, creative director of Bateeq, travelled to London with PVRA's designers Kara Nugroho and Putri Katianda to participate in the Fashion Scout event which was held during London Fashion Week.