Plaza Indonesia Fashion Week ended with a refreshing Spring-Summer 2018 collection from talented Indonesian designers, many of them predominantly deconstructing local fabric with modern twists as part of efforts to preserve culture. Featuring shows that moved audiences and inspired them with their runway models, it made for an unforgettable fashion event.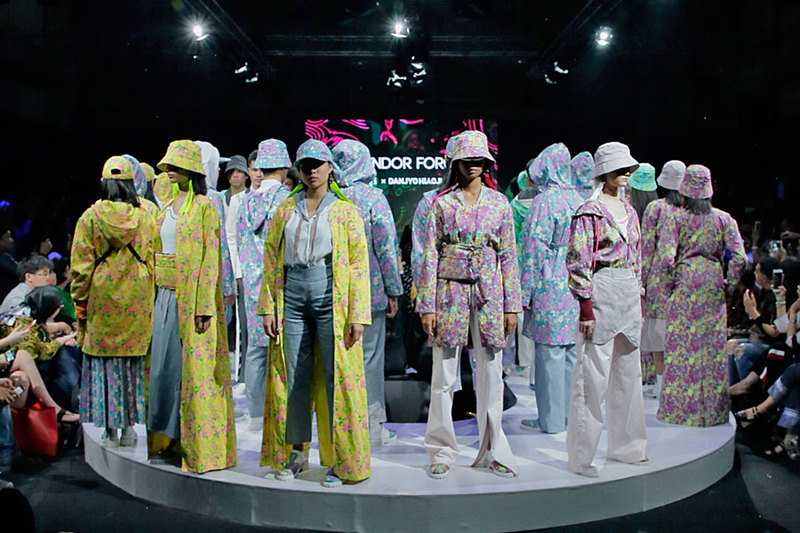 Many designers featured batik, floral prints and checkered patterns, adding vibrant colour and light layers to highlight the spirit of the Spring-Summer fashion at PIFW 2018. Blue in different levels dominated the colour scheme at PIFW this year. On the other hand, few designers went further by being trailblazers for their own runway show appearance.
Down Syndrome Model at Alleira SS 2018 "Amorous"
In commemorating Down Syndrome Day worldwide on 21 March, Alleira Batik surprised the audience with a special appearance of three young models who caught the eye of the audience. Walking with the arm on the hip, Madeline Stuart, the first professional model with down syndrome, walked confidently down the runway. Her first appearance modelling Alleira Batik was at Paris Fashion Week.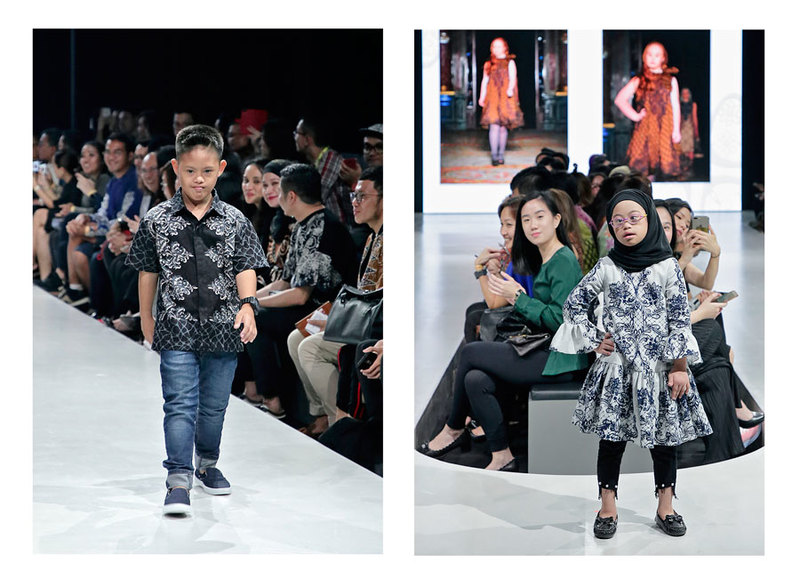 To showcasing such diversity the House of Alleira Batik hoped that the fashion industry would be more inclusive by opening the door for those with dreams of being in the fashion industry.
For the Spring Summer ready-to-wear collection, Anita Asmaya Sanin, the creative director of Alleira featured the art in making batik by opening a dialogue between the traditional geometric and modern exclusive flower pattern of the house, without losing the nature signature of batik gradation. The collection featured a fresh colour tone combined with elegant impressions in dark colours in each silhouette, such as brown, beige, navy, black and a touch of terracotta, providing a detailed contrast of femininity and warmth.
Phosphorus Clothing at Lucky Trend x Danjyo Hiyoji SS 2018 "Splendor Force"
As one of popular high street fashion labels in Indonesia, Danjyo Hiyoji never stops surprising their young fans with the spirit of today and tomorrow. Inspired by the young urban movement, DANJYO HIYOJI elevates and maximizes the technological character of the garment.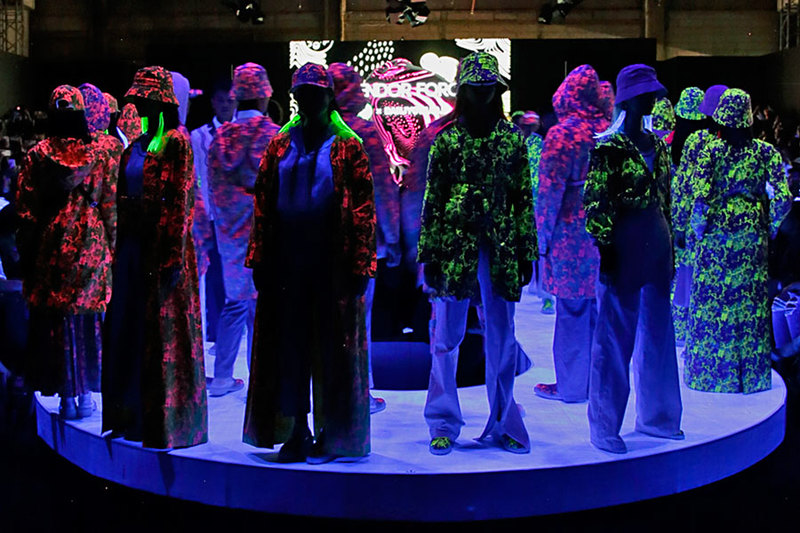 In collaboration with textile company Lucky Trend Urban Motion (PT. Lucky Print Abadi), Danjyo Hiyoji's recent collection "Splendor Force" featured 30 pieces in colourful hues including sporty, playful and quirky ready-to-wear styling. By using multiple fabrics such as cotton, CVC, twill, burn out, sheer, rayon, spandex and poplin, the designs were truly daring. During the final walk, the fabric glowed in the dark in phosphorus, making it feel more futuristic.
Designer duo, Dana Maulana and Tiza Mashita presented the collection in three parts, starting with Surface Sensory, Ultra Fantasy, and HI-POP. Each part of the collection highlighted the millennial generation — which is playful and energetic— in the form of shocking yellow, pink and mint, as well as misty lilac and mauve. The colours were combined in deconstructed army uniform patterns with vibrant twists.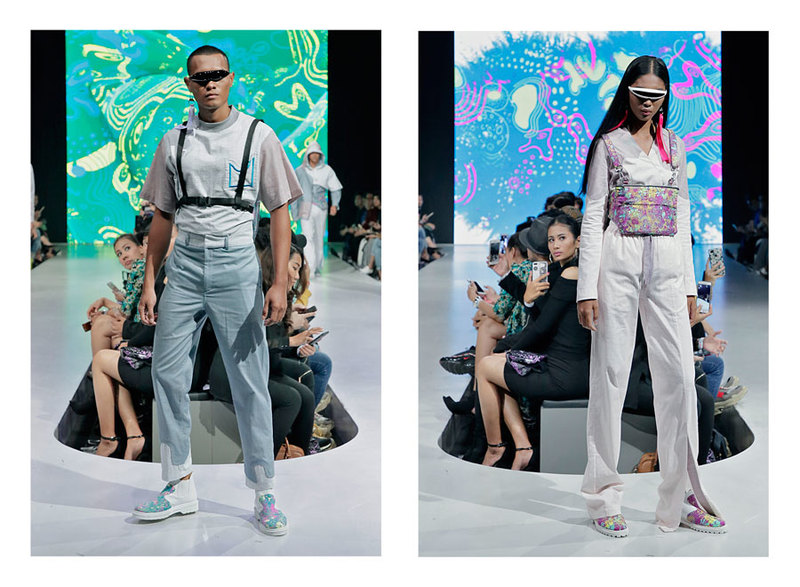 Surface Sensory reflects the true nature of human beings by using natural fibre clothing material. During the Ultra Fantasy session, technology was highlighted as the part of the new generation which translated to metallic touches. Hi-POP is a symbol of human evolution and exploration, inspired by modern painting and nocturnal life effects.
For more photos of the Plaza Indonesia 2018 Spring Summer 2018 collection, click on the photo gallery at NOWJAKARTA.co.id