On the last day of Plaza Indonesia Men's Fashion Week (PIMFW) 2018 in late September, Indonesian designers and labels showcased their experiments with denim for the menswear 2018/2019 collection. Denim appeared in deconstructed high-streetwear designs with distinctive artistic approaches.
The PIMFW 2018 highlighted this year's show with "Denim Culture", as a result of a collaboration with international denim brand Lee Cooper which supplied 600 yards of recycled denim textiles to be used by designers.
Designers seemed to step out from the classic James Dean's '50s blue jeans and white shirt look but did not go with the masculine gold miner look or even repeat the expensive style of couture combination with denim — a style that appeared on the cover of the November 1988 issue of American "Vogue".
All designs were predominantly created in streetwear cut-out, yet still held denim's character in enhancing a casual look. It was targeted at younger fashionistas and men who are not afraid to dress up and go wild with elevated denim attire rather than regular jacket and jeans. It showed a vibrant spectrum, a few edgy and daring collections. Further, it opened a discussion about gender less fashion.
For those looking for a fresh denim look, you may check these designer pieces to be adapted for your new style.
Rama Dauhan
Rama Dauhan started the denim culture curated show with a smooth adaptation that embraced denim's casual feel. Naming the collection 'Maitreya' Musim Hujan (other name for Fall-Winter) 2018/2019, Dauhan presented casual looks that took inspiration from the idea of wearing a white top with denim, and deconstructed it entirely with his artistic direction.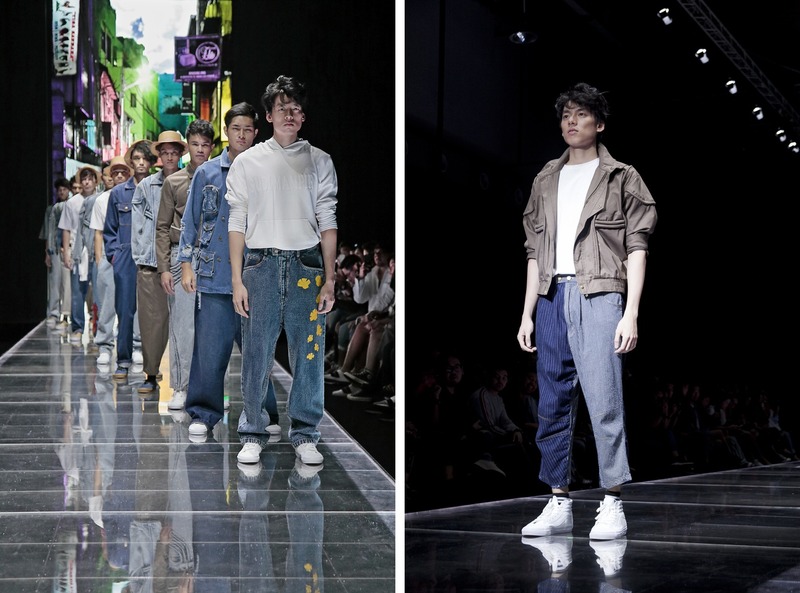 Dauhan deeply worked with washing technique such as ice wash, enzyme wash, garment wash, bleaching, spray PK, splatter PK, and destroy processing which created different colour washing. He also used embroidery, light printing and drill cotton to accentuate his design. Using a combination of white, blue, and chanterelle brown, Dauhan's RTW collection came up with more volumised pieces, which can be seen from oversize tops, wide cut khakis and cargo pants. It's easy to wear and versatile enough to make you eat at a street food restaurant.
Amot Syamsuri Muda
Since the brand launched in 2017, La Salle College of the Arts, Singapore graduate, Amot Syamsuri Muda, caught the attention of the industry with his designs that challenged gender norms. Set up in club pink lighting, Syamsuri Muda showcased "CO·EX·IST", an offbeat combination and odd proportion collection that portrayed a fearless and youthful feeling, an uplifting show which highlighted individuality and nonbinary genders to the runway.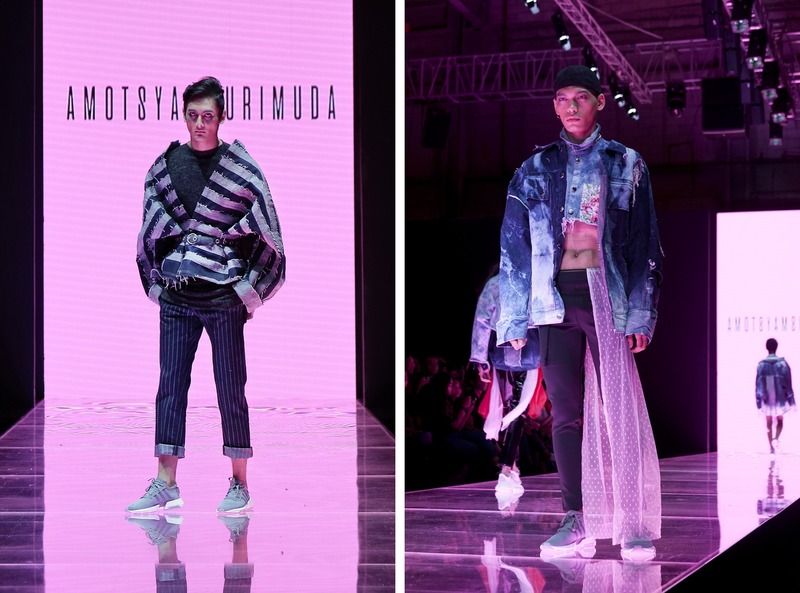 Syamsuri Muda was heavily influenced by the 1975 Documentary by Albert and David Maysles "Grey Garden" where the idea of clothing as armor could fabricate a certain personality. He is far from the traditional menswear look, He concentrates on distressing and discharging the clothing, chooses to be more rebellious by incorporating denim with more feminine fabric, sheer and tulle - channeling 1990s clubwear and embracing a more feminine look - offering a confident redefinition of masculine dressing.The denim is tailored in frayed edge and letting the fringe on.
From a total of 21 looks, the non binary gender statement was shown in crop top denim jacket and t-shirt, reminded the era in 70s to 80s where crop top has been known as a protective gear of American football or cropped jerseys and later popular in LGBTQ community. The masculine character from denim infused with feminine crop cutting makes Syamsuri Muda a trailblazer in menswear design in Indonesian fashion.
Ray Alan
In a curated show, Ray Alan showcased RTW collection with "Meliorism" which combines laser wash denim with floral design. A total of 15 looks were presented which accentuated denim with printing patterns that illustrated colours like paisley, Hawaiian floral, and Herman Rorscach's inkblot. More luxurious nuances were represented by indigo and navy denim that worked well with bright cobalt, olive green, and light silver. He completed the looks with bucket hat and waist bag.
Rigio
Founded in 2017, Rigio set debut show at PIMFW 2018 by bringing unisex clothing to audiences. Naming the collection "Hustler", it elaborates workwear with homeless style and turned it into metropolitan attire. Creative minds, Riza K and Sergio Berlino showcased 15 looks which drew the axis between casual and preppy tailoring. Taking inspiration from street styles of 2000, the Jakarta-based brand emphasised layering with soft Asian style to create comfortable RTW clothing.
ALLTHETHINGSIVEDONE
Alek Kowalski and Dewi Asthari brought their collection from East Coast Surabaya to the capital by presenting rhythmical uniform pieces with dimmed runway performance. Their collection were seamlessly ready to wear, which was mostly produced in Japanese menswear tailoring in a style drawn from Issey Miyake's early works that is suitable for winter.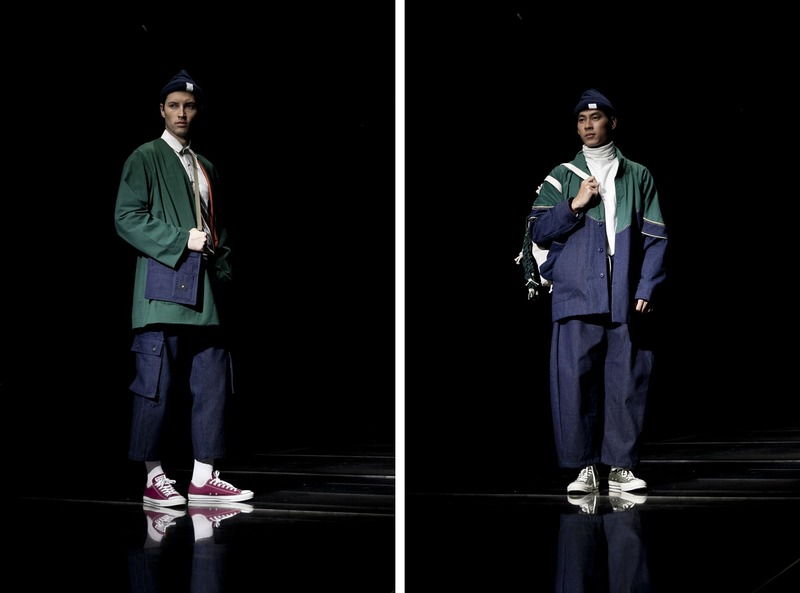 The indigo denim appeared in oversize men's Yukata, wide loose pants, overalls, jacket and parka. Winter mood was consistently shown with two layers with turtle neck shirt, and beanie, added with net sailor bag and canvas tote bag.
Those two creative director signified the nature colour of denim, deep blue indigo, to explain the collection's mood that depicts sullen meaning. The winter collection was assembled with emerald green and pumpkin orange.
No'om No'mi
Soetjipto Hoeijaja, No'om No'mi creative director has expertise in unisex clothing by adapting gender neutral design. Hoeijaja's collection for PIMFW 2018 was "Indigeneousity", a tribute to native communities by highlighting tribal fragments with the nature of the denim. His designs were very structured, stamping the jeans with Indonesian woven patterns that merged with the natural colour of indigo denim, cut in "Y" silhouette that exposed men's upper body, He combined the denim with contemporary tribal printing using repetitive strip-geometrical pattern to sew the similar indigenous textiles but with non-weaving technique.
Hoeijaja's signature look accentuates men's sexuality with eccentric and gender-free statements. In his "Indigeneousity" collection, he deconstructed traditional tailoring for men's jackets, down coats, vests, and tuxedos, turning them into more casual wear by using the denim as the main material. The braided models show some of Hoeijaja's design created with transparent fabric like tulle, and cut-off sartorial which accentuated mele muscle. Rather choosing regular pants, Hoijaja made the pants oversized with a bunch of pockets and tide-men-nine pants (skirt pants). It's another metrosexual piece from Hoeijaja.
Danjyo Hiyoji
Designer duo, Dana Maulana and Liza Mashita finished up PIMFW 2018 with a surprising pieces that popped audience's eyes with the collection titled Hip-Pop. Through their fashion label, Danjyo Hiyoji, Maulana and Mashita presented vibrant design that reflected skate community, featuring a collaboration with an urban artists, Muchlis Fachri a.k.a "Muklay", who participated in the collection.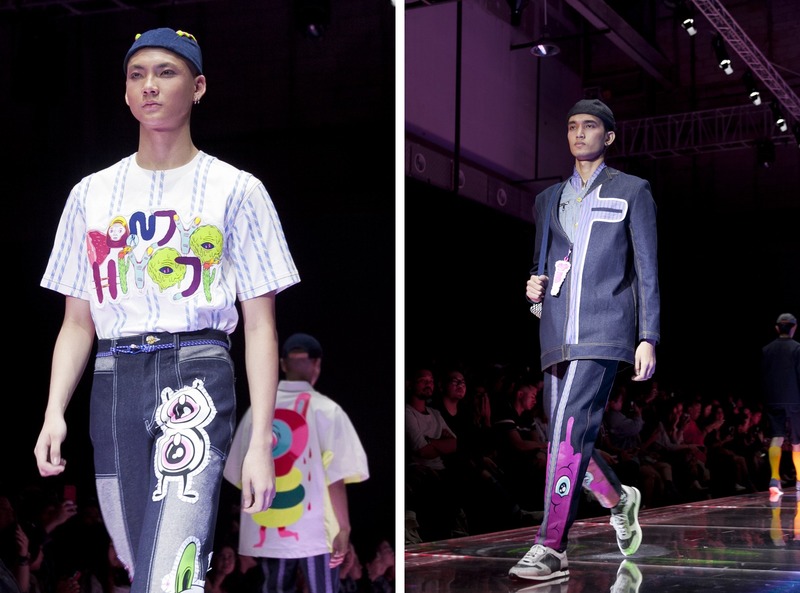 Danjyo Hiyoji tweaked the traditional denim pieces and infused it with woven neon fabrics.
They made more simple RTW tailoring as they put more effort to paint the clothing created by Muklay. Danjyo Hiyoji stood with their DNA—on drawstring, chain, and oversized Japanese silhouette—and Muklay adorned the pieces with Alien-Monster Inc. type of aesthetic. Muklay's neon creation were seen on zip chains, shirts, as well as in denim pants and jacket. It's beautifully done, especially with the challenge of painting art on denim.
Danjyo Hiyoji completed the whole collection with denim caps, PVC backpacks and high socks that are popular among urban skaters. As the closing show to end the men's fashion week this year, Danjyo Hiyoji's is always worth the wait.