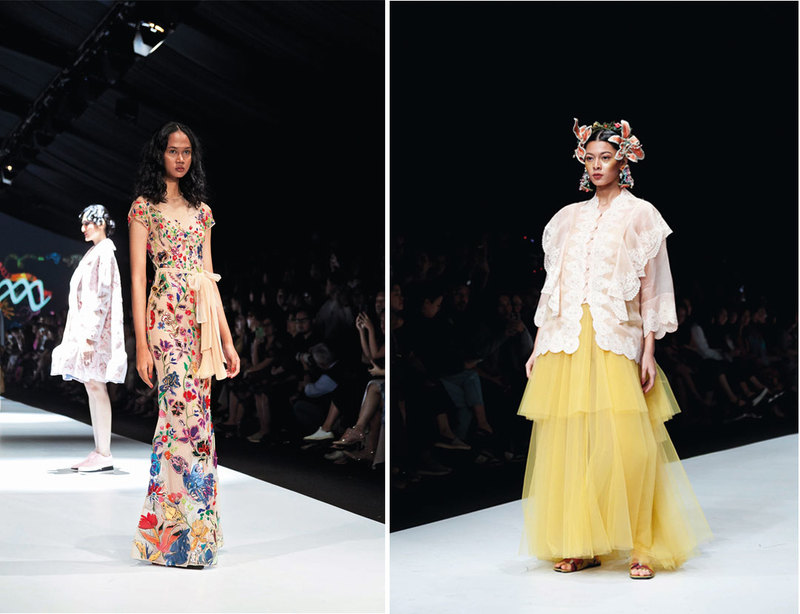 With more than 70 fashion shows from 270 fashion designers and a series of fashionably riveting agenda, the 12th edition of Jakarta Fashion Week (JFW) carried a vision to revolutionise homegrown industry and participates in the global fashion conversation.
The week-long annual fashion celebration returned in October with an ambitious attempt to revive the industry after facing criticism in the last few years. Going fresh and trendy with the new appearance, the 2020 event became the moment to evaluate the homegrown industry to be more relatable for local fashion community.
Set to be a fashion forecast for the upcoming trend and creative hub for its enthusiasts, Jakarta Fashion Week 2020 featured more than 2,800 collections presented on the runway that followed with a list of discussions around emerging issues in the industry and the fashion market for local brands all within the one-week event.
On The Runways
Acting as a beacon for fashion enthusiasts, The Jakarta Fashion Week sets the trend with a modest design that features nude and earthy colour palette with a subtle vibrancy that has a possibility to power up the market next year. The annual has indicated to find its own colour shades for the Spring-Summer 2020 even though Pantone has launched the Color of the Year with Flame Scarlet, Saffron and Bleached Coral Blue.
Among many fashion shows, some notable highlights included the presentation of Sejauh Mata Memandang by Chitra Subyakto that highlighted "Daur" as a recycled collection to criticise the second biggest polluting industry in the world. Using leftover textile, Subyakto sent a strong statement on patchwork showing the phrases "Cinta Bumi" (Love for Earth), "Menolak Punah" (Resisting Extinction) and "Darurat Iklim" (Climate Emergency).
Defrico Audy promoting Ikat weaving might the best way to #MERAYAKANINDONESIA (#CelebratingIndonesia) as an homage to Indonesian textile. Unfortunately, there was no conversation around cultural appropriation in fashion as it has been a rising issue in fashion law.
Striding in unconventional runway, it was such a breeze to see Tangan presented the collection outdoors near Senayan City Lagoon. Aiming to create a different experience with headphones to hear the runway soundtrack, Tangan runway is more accessible to the public and it opened the possibility to organise the show in extensive area that could have triggered creativity from the designer in contrast of having the show inside at the risk of seeming intimidating.
The power of collaboration with commercial brands was good to create reciprocal attitude across the stakeholders. On the other hand, it still magnified the commercial composition and caused a lack of innovation for the specific collaborative collection. People agreed that any show should be taken seriously.
The moment to celebrate four decades of Lomba Perancang Mode (Designer Competition) left a disappointment as it was actually a moment to show and learn the history of innovation from Indonesian fashion design to help redefine the identity of local artistry. It didn't have a major place, but it will probably be much bigger for its 50 year's anniversary.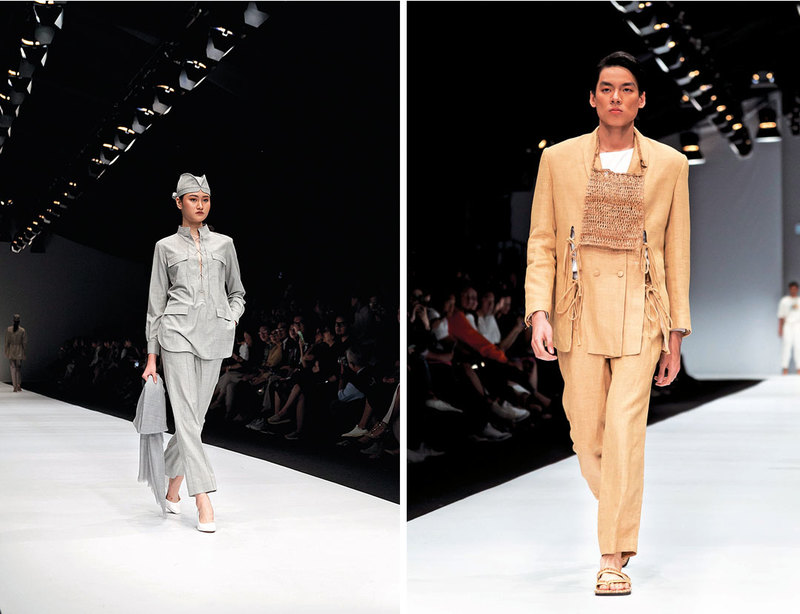 Read also: Jakarta Fashion Week 2020 Kicks Off A Promising Agenda
Besides womenswear, JFW presented ten finalists of the Menswear Designer Competition (LPPM) that announced Bima Wicaksana as winner and favourite contender, along with a few other events focusing on men's fashion. It was a good start that the organiser has responded to the future potential of menswear as market is expected to increase by up to 4 per cent of annual average growth by 2024.
Innovative renting platform Rentique, digital market Stylespace by Lazada, and the new JFW apps was among the proof to develop fashion experience with technology. In the future, technology in fashion could develop the industry in the global market and facilitate circular business model in fashion.
Fashion Forward Indonesia
In the frontline, Jakarta Fashion Week also curated a number of designers to show their collection during Indonesia Fashion Forward (IFF) which involve emerging names, such as IKYK, Peggy Hartanto, Toton Januar, Day and Night, Lekat, PVRA, Andhita Siswandi, Bateeq, Eridani, Major Minor, Rani Hatta and Sean Sheila. Among three different IFF, Toton Januar, Rani Hatta, Lekat and Sean Sheila stole the show with a clear narrative and extensive research seen on their collections. As a fashion incubation with tight curation, IFF should provide information and knowledge for students and fashionista to look up the most emerging figures in fashion. It's a homework that need to be perfected.
This year, the most prestigious fashion show, Dewi Fashion Knights, closed the week of fashion with a special fashion presentation by Adrian Gan, Jeffry Tan, Mel Ahyar and Auguste Soesastro. Compared to last year with Sean Sheila, Rinaldy A. Yunardi, Sejauh Mata Memandang showing a three distinctive focus on Indonesian textile, eco-fashion and avant garde, only Mel Ahyar who came up with bold narrative by addressing the issue of destruction effect on social media and mental health on her latest Spring-Summer collection.
Check out the story and fashion inspiration from Jakarta Fashion Week 2020 on www.nowjakarta.co.id or visit the official website visit www.jakartafashionweek.co.id or follow them on social media at @jfwoffical.