The week-long Jakarta Fashion Week 2019 culminated in a mesmeric runway performance by four designers who presented their masterpiece at the special night for Dewi Fashion Knights. Byo, Sean Sheila, Sejauh, and Rinaldy A Yunardi, were the fashion heroes who enthralled fashionistas though their mature designs.
Dewi Fashion Knights, presented by Dewi Magazine, is the annual show at the Jakarta Fashion Week to honour industry achievers. In our chaotic world, 'Heroes' is the editor's response to the current events. From a fashion perspective, these heroes have a role to create a better world and hope for humanity.
Each designer interpreted the theme of 'Heroes' based on their artistic direction and gave a definitive design illustration that was able to identify their character. This year Dewi Fashion Knights was truly inspiring with shows that captured designs in various perspectives, an Extravagant, tech based clothing, cultural preservation, and sustainable design.
Sejauh Mata Memandang opened the show with its signature contemporary pieces with its flowing textile. Mimosa yellow, ferrari red, and deep black were the colours of the semi modern attire to highlight her recent collection 'Timun Mas". Adapted from Indonesian folklore "Timum Mas", the creative director, Chitra Subiyakto adapted the visual identity from the main character to simplistic batik pattern. It's constructed to the parallel mini-floral batik motif. A total of 15 pieces are designed in Kebaya cutting, Lombok and Bodo uniform. It's another Subiyakto brilliant idea to preserve Indonesian cultural in urban definition.
The brand, which takes inspiration from its signature handbag, Byo took the runway with an eye-opening collection that features an experimental fabric. Tommy Ambiyo Tedji, the man behind Byo, explores his ability with interweaving. He deconstructed traditional Sumatran patterns and transformed it into futuristic sartorial made by texturised polyester fabric. A combination of technology-based production and craftsmanship presented in ready-to-wear design.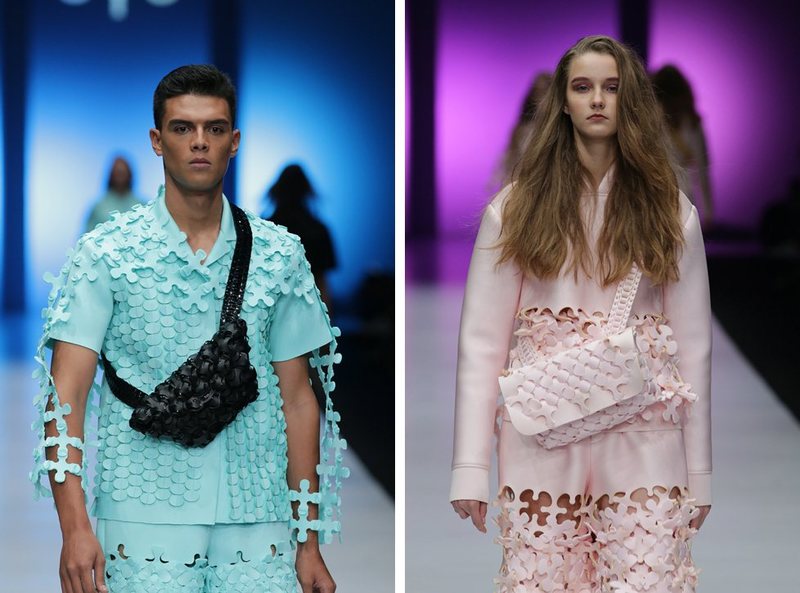 While the dynamic Duo, Sheila Agatha and Sean Loh presented distinctive elaboration of sustainable clothing. Through their label, Sean Shaila, Agatha and Loh took the inspiration from environmental photographer, Chris Jordan who captures waste in his works. The ironic looks by the models are a direct manifestation to the humongous inorganic cesspit caused by the fashion industry, yet the clothes are constructed using the decomposition technique. They used recycled material— plastic, bubble wrap, sack, and similar material.
Dewi Fashion Knights finished up with the runway show with Rinaldy A Yunardi. The extravagant look with dramatic face pieces was reminiscent of Alexander McQueen's early works with a combination of samurai-like face masks. Yunardi—who has had much success with jewellery pieces worn by a number of Hollywood celebrities like Nicki Minaj and Madonna—is never satisfied. Following the theme, he designed 'Heroes' with various face characters to describe women. It's a human characters that depict certain emotion and impression. His work is total luxury, where he always shows an intricate collection that layers the elements as a mission of unity.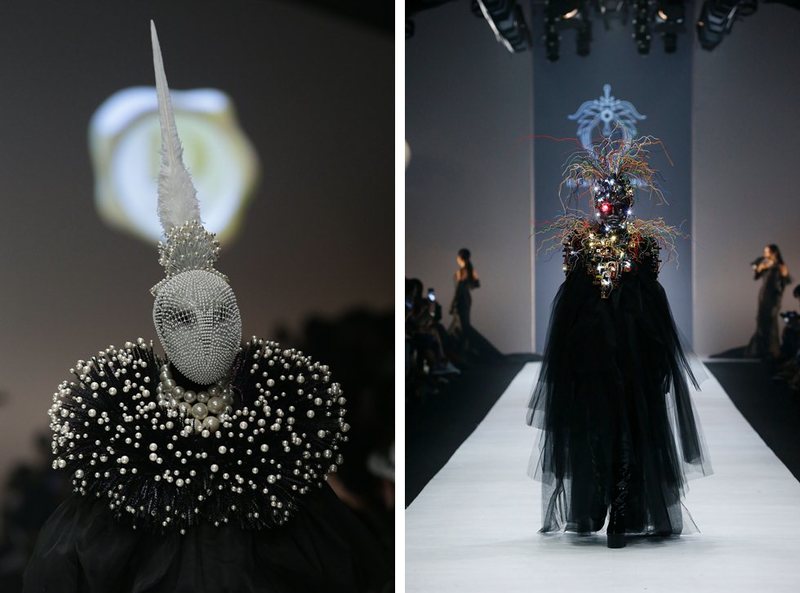 Dewi Fashion Knights has presented a progressive creation by a number of renowned designers such as Tex Saverio, Toton, Sapto Djojokartiko, Sebastian Gunawan, Barli Asmara, and Peggy Hartanto who are now in the top-list of Indonesian fashion designer. The Editor in Chief of Dewi Magazine, Margaretha Untoro defines Dewi Fashion Knight as the stage to prove the designers work as well as to motivate emerging Indonesian designers.