Are you looking for a pair of beautiful shoes to wow your partner, either for your wedding day or a romantic date? Try a pair of custom-made Regis footwear; simple, cute high-heeled shoes or glamorous Swarovski crystals-encrusted sandals – the choice is yours. As the saying goes, gorgeous shoes will make a woman look more attractive.
Not all shoes are created equal – since its inception, Regis Bridal Shoes has been on a mission to create custom-made footwear that is not only aesthetically appealing but also comfortable.
Regina Alifen decided to set up Regis in 2008 after she struggled to find a pair of perfect bridal shoes for herself; made-to-measure wedding footwear was something of a rarity in Jakarta back then. For her wedding, she ordered a pair of custom-made plain shoes from a shoemaker and embellished them with Swarovski crystals herself.
Later, Regina, a shoe fetishist, turned her passion into a business. Regis became the first Indonesian custom-made shoe label specializing in bridal shoes. "In 2008, there were brands that offered made-to-measure shoes in Jakarta, but none of them specialized in wedding footwear," says Regina.
She has neither a formal education in design nor experience in the footwear industry, but that did not stop her from launching her own shoe brand. Initially, she embellished the shoes herself as she received a few orders only per month. Today, she employs craftswomen who decorate the goods - her business has grown steadily, and she receives about 100 orders monthly (very often she receives orders to make shoes for the brides' mothers, too). Regis has even expanded into evening footwear; however, making bridal shoes is this brand's bread and butter, as it makes up 65% of the total production.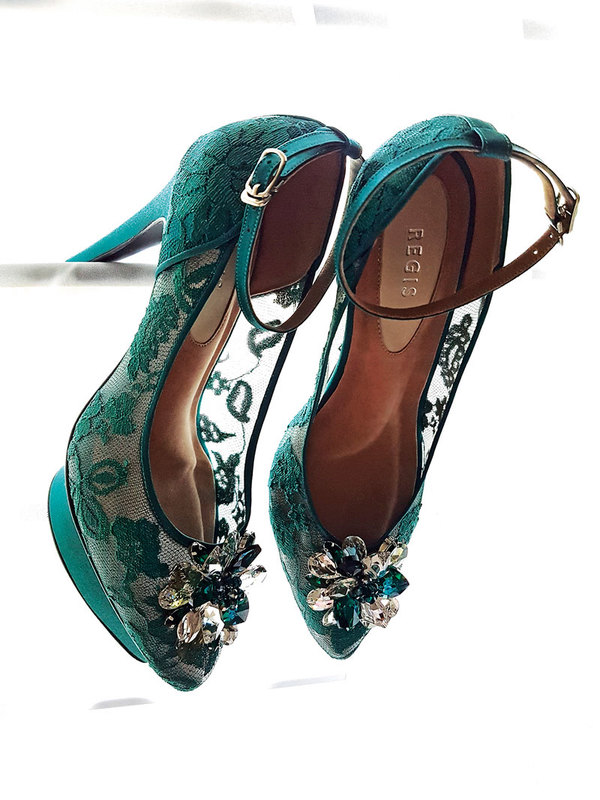 As Regina established Regis to cater to the needs of quality-conscious buyers who are willing to pay extra for impeccable merchandise, her goods bear premium price tags. For example, a pair of simple footwear, say lace shoes, cost Rp 4,800,000, while a pair of Swarovski crystals-encrusted platform shoes is priced at Rp 15,000,000 (these items are the most expensive and literally fully covered in Swarovski crystals).
Regina refuses to use fake Swarovski crystals; if, due to high cost, a client asks her to use the fake ones, she will decline the order, and persuade that client to choose another design sans crystals instead.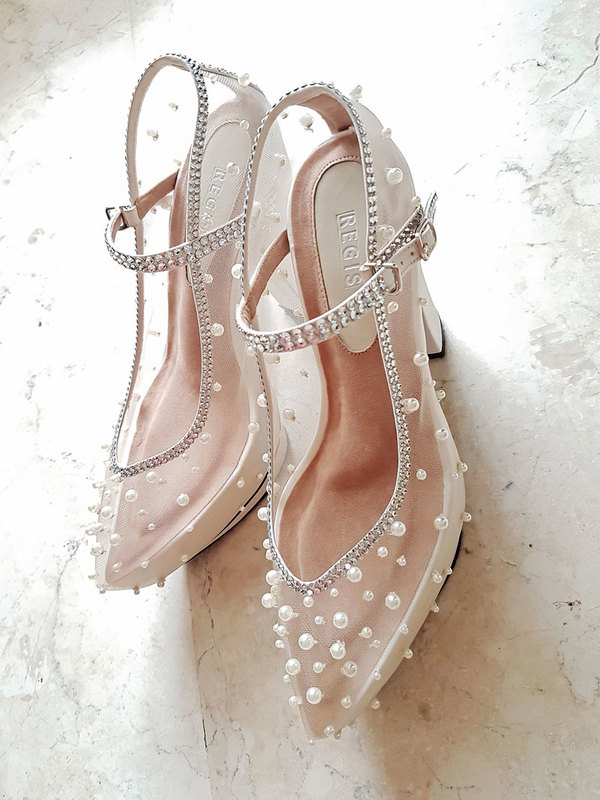 Regina, who prides herself on producing quality items, will use premium materials only, even though this surely affects the price her customers pay – she believes there are always brides-to-be who will splurge on comfortable wedding footwear.
"We offer style and comfort all in on. For instance, our shoes use latex insoles that will make our customers feel as if they are walking on a carpet when they are wearing our shoes. Also, I use quality glue only; depending on the designs, the Swarovski crystals are either sewn or glued onto the shoes, and for the gluing process, we use genuine Swarovski glue which is especially developed for gluing Swarovski crystals, hence you can even safely wash those shoes, if you wish," Regina explains.
The prices of Regis shoes are higher than most (if not all) other local brands. For many customers, price is a determining factor when buying goods; many women, in pursuit of cheaper products asked other shoe brands to copy the shoes based on Regis' Instagram.
Regina says that in fact she has seen shoes, which are very similar in style with hers, but are made with low quality materials and craftsmanship - those shoes, ironically, were showed to her by brides-to-be who initially asked other shoe brands to copy Regis footwear, but then as they were bitterly disappointed at the result, they eventually decided to order the shoes from Regis. "Quality comes with a price," says Regina.
"Other brands may try to copy my shoes, nevertheless, due to the intricacies of techniques and the quality of materials used, they are unable to duplicate my shoes perfectly," adds Regina whose clients include Indonesian fashionable celebrities, such as Andien, Chelsea Olivia and Sandra Dewi.
Regina states that she has no intention to copy another brands' style, as she prefers to create her own designs, rather than emulating others. If a customer asks her to copy a design, she will decline the order, and try to convince that customer to choose from her designs instead.
The customers can either select a design from Regis' Instagram account or ask Regina to create something unique for them (she can also create a sketch based on their ideas), or alternatively, just choose from the range of shoes on display at Regis' studio.
Shoes in all shapes and sizes, which come in a variety of colours and heel heights, fill the shelves of Regis' studio - most of those beautiful bridal shoes will actually also nicely complement cocktail dresses, mini skirts, evening gowns, etc.
Customers are encouraged to try various types of footwear, from wedges to stiletto shoes, as well as different heights of heels (however, in case they change their mind at a later time, they can get their heels cut down shorter by paying between Rp 500,000 and Rp 800,000 per pair). The production time frame varies from 2 weeks to 2 months, depending on the complexity of the design.
Besides quality, Regis is also known for its impeccable service. "We offer repair service to our customers, say, whenever a pearl falls off, they can send the goods to us and we will sew the pearls back on for them, free of charge. We can also clean the insoles, and that service is gratis too," says Regina.
As for bridal shoe trends, according to Regina, transparent footwear is in vogue – Regis' transparent shoes are made of fine mesh, instead of cheaper transparent plastic. The clear mesh shoes are usually adorned with either pearls or Swarovski crystals, or both, depending on the design. Like other materials used to make Regis goods, the fine mesh is of premium quality as well – this brand targets women who are willing to pay more for high quality goods.
Regis' beautiful shoes are indeed on the expensive side for locally made merchandise here – as said by Regina, quality comes with a price. However, instead of custom-made wedding footwear you would wear only once, you may ask Regina to design bridal shoes which can be worn after your wedding on many other occasions – that way, you will definitely get your money's worth.
Regis Bridal Shoes Studio
(BY APPOINTMNENT ONLY):
Radio Dalam Raya # 7 F,
Gandaria Utara, Kebayoran Baru (inside Panorama Tour building)
Jakarta Selatan
WhatsApp:+62 812 189 72 602
Line: regisbridalshoes
Instagram: @regisbridalshoes
E: [email protected]