LEKAT apparel stands out among other Indonesian fashion brands for its uniqueness. It consistently uses beautiful hand-woven Baduy cloth, which is not as prominently known among Indonesians and foreigners, unlike other Indonesian traditional fabrics, such as Javanese batik. LEKAT brought Baduy textiles closer to an international audience when it showcased its collection at London Fashion Week in February 2017.
The growing interest in locally made fashion items which use traditional fabrics has been a boon for Indonesian labels. However, in general, fashion brands prefer to play safe by using popular traditional Indonesian cloths, such as various Javanese batik textiles.
Many foreigners have neither heard nor seen Baduy woven fabrics, while many Indonesians have no idea how Baduy textiles look like. Traditional Baduy hand-woven fabrics have distinctive square and line shaped geometric pattern. LEKAT, which has been on a mission to familiarize Indonesians and foreigners alike with Baduy woven textiles, has been using Baduy cloths in creating its goods consistently since 2013.
LEKAT, meaning "lastingly memorable" in Indonesian language, is the brainchild of Amanda Lestari who loves creating cool, timeless clothing out of the geometric pattern that is featured in traditional Baduy fabrics.
LEKAT is the first fashion label that uses Baduy cloths – this brand has paved the way for woven Baduy fabrics to take part in the glamorous fashion industry. And due to its consistency in using Baduy textiles, nowadays LEKAT is synonymous with Baduy. After LEKAT turned the spotlight on Baduy woven textiles, there are other fashion brands that use them as well - however, they do not use Baduy fabrics in each of their collection consistently.
Also, LEKAT's style is quite distinct from other brands. Its clothes that combine a modern look with an ethnic feel are adorned with fringes or frayed edges, which have become LEKAT's clothing signature feature since its debut collection in 2013.
LEKAT's story started with Amanda's penchant for creating necklaces. She established LEKAT in 2011 and initially used non-traditional textiles to make lovely necklaces. Later, after a famous photographer named Don Hasman introduced her to the culture of the Baduy tribe, Amanda was committed to use Baduy cloths in creating her goods. The jewellery designer even decided to take a plunge into designing clothes as well.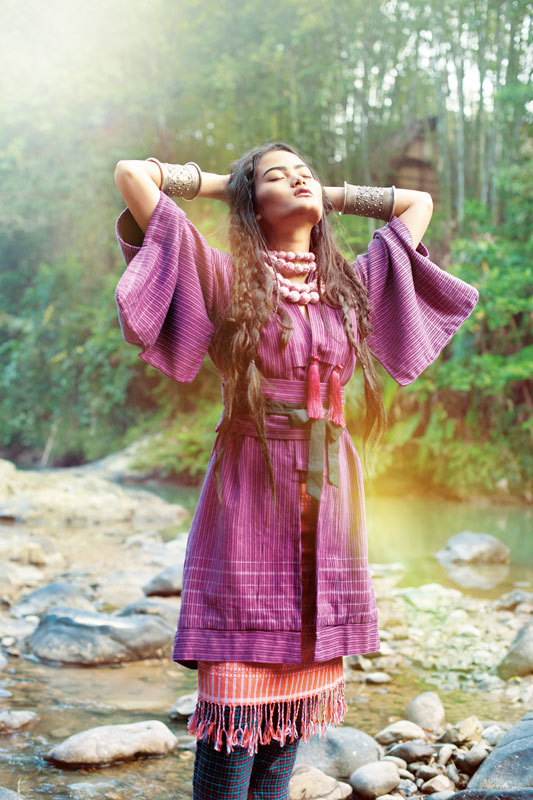 In 2013, to familiarize people with Baduy culture and in conjunction with the launching of her first clothing collection, Amanda held an exhibition at Dia.Lo.Gue Artspace in Jakarta, where the Baduy artisans showed guests the process of making their traditional fabrics as well as introducing their culture.
The Kanekes people (better known to Indonesians as Baduy tribe) live in Kanekes villages in Banten province, West Java. There are two types of Baduy, namely Inner Baduy and Outer Baduy. They are supposed to reject modern conveniences, practice their ancient customs faithfully and live in their own villages without much contact with non-Baduy people. Today, however, Baduy people (especially Outer Baduy) interact freely with non-Baduy, including with "outsiders" who visit their villages.
When they were still secluded, Baduy people only wove textiles for themselves in white, black and dark blue colours. Gone are the days when Baduy women simply hand-wove fabrics in those colours only; today, to make their textiles more visually-appealing for the market and based on the request from their visitors, Baduy women wave their goods in other colours as well, such as pink, yellow and purple.
"It is a time-consuming process to create a piece of hand-woven Baduy textile. The weavers make their yarn from cotton by using traditional wooden spinning wheels," says Amanda. "They also use natural dyes, which are derived from natural substances. The yellow colour, for example, comes from turmeric, while blue dye is obtained from Indigo plants. Then, the textiles are woven by using traditional loom."
Amanda transforms those fabrics into bags, shoes, clothes and even unique necklaces in various shapes and sizes. Women's apparel (80%) makes up most of the fashion items on offer at LEKAT boutique in Kemang, however men's wear (10%) and children's clothing (10%) are also available.
As for prices, clothes, which are entirely made of hand-woven Baduy textiles, are generally priced between Rp 1,500,000 and Rp 3,500,000 per piece. To make the products more affordable, Amanda combines the hand-woven fabrics with other materials, such as cotton, linen and tweed. These clothes, in general, have price tags from Rp 550,000 to Rp 1,100,000.
Amanda brings Baduy textile to a whole new level, by showcasing it to an international audience. After being one of the winners of Indonesia Fashion Forward (a collaborative project between the British Council and Jakarta Fashion Week) in 2015, she was hosted by the British Council to showcase her collection at two platforms, namely Fashion Scout and the International Fashion Showcase during London Fashion Week in February 2017.
At those events, Amanda presented 24 ready-to-wear clothes with 12 items coming out of the creative collaboration between LEKAT and a British textiles print designer named Billie Jacobina whose work focuses on print designing for fashion and accessories markets. Their playful collection, which features pop colours, patchworks and frayed edges, combines Amanda's edgy designs and Billie's bold prints.
Creating distinctively beautiful clothes that evoke a sense of playfulness is, indeed, Amanda's forte. Moreover, generally, LEKAT's apparel has a timeless quality that makes its clothes never go out of style, as Amanda gives more preference to comfort rather than trends that come and disappear again.
After London Fashion Week, Amanda will showcase her collection to an international audience yet again, this time at Paris Fashion Week. Indeed, London Fashion Week has paved the way for LEKAT to take part in Paris Fashion Week. After participating in London Fashion Week, Amanda got useful contacts, recommendations, and was strongly supported, including by Institut Français Indonesia (IFI), to join Paris Fashion Week in September this year.
Interestingly, Amanda's educational background is not directly related to her work: the Creative Director of LEKAT is a graduate of Design & Visual Communications from Pelita Harapan University in Indonesia. Thanks to her creativity and originality, a lack of formal fashion design education has not been a hindrance to make a name for herself in the fashion industry.
For Amanda, running LEKAT has been an incredibly exciting journey – she stated that traveling to various places, including to Baduy villages, Paris and London, as well as participating at prestigious international events are the best parts of her job. When asked about the worst part of her job, Amanda literally said: "Nothing".
LEKAT has become Amanda's labour of love - LEKAT represents her love for Baduy culture, and through her creations, she shares her love with the world.
LEKAT Boutique:
Kemang Selatan 1 # 38
(near Hero Supermarket)
Bangka, Mampang Prapatan
Jakarta Selatan
T: +62-21 718 0663
Online Shop:
www.lekatdihati.com
Instagram: @lekatdihati