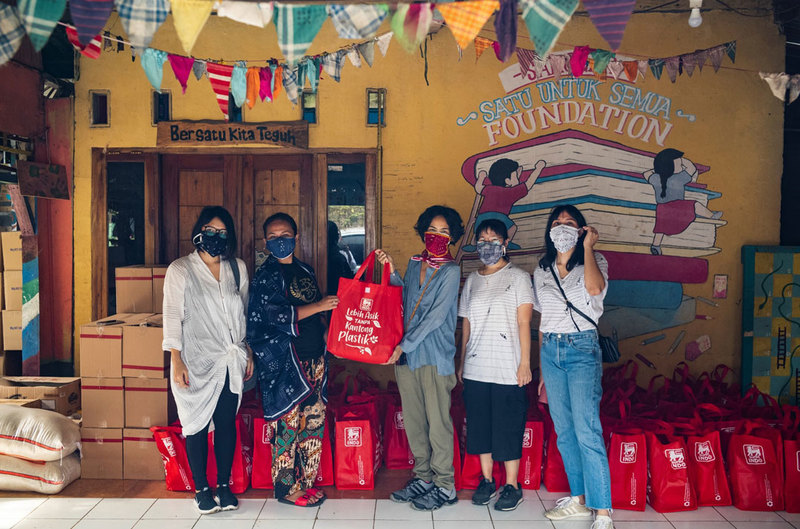 Well-known textile label Sejauh Mata Memandang starts to implement Jakarta's regulations of single-use plastic ban by cooperating with several organisations, such as Greenpeace, Diet Kantong Plastik and Magnifique Indonesia. They tried to hold various activities this month to celebrate the government's first step in making Jakarta a city free of plastic waste, as part of its movement to educate and raise awareness among the society to reduce the use of single-use plastic.
Sejauh Mata Memandang's Founder and Creative Director, Chitra Subyakto revealed that the activities include discussions, Instagram Live interviews, sharing information through social media and becoming a collaborator on the 2020 Plastic Free Parade.
Supporting various actions for environmental preservation has been part of our company's activities. Since the last few times, we have launched a collection of fashion items at different times with the "preservation of the environment" as the main theme. We welcome the Jakarta Disposable Plastic Bag Free action by becoming a collaborator for various activities in July 2020. In the future, we expect that there will be significant behavioural changes by all of us to become more responsible in doing each other's waste management. " said Chitra Subyakto.
In addition, by collaborating with the Bantar Gebang Biji Community (@thebgbj), Sejauh Mata Memandang has provided donations in the form of food and vitamins for scavengers living in the Bantar Gebang landfill area, which was conducted on 2nd July. The activity was then followed by a Bantar Gebang photo shoot as one of the most vital faces of the city of Jakarta by Davy Linggar, where the results of the photo will be exhibited.
According to Chitra Subyakto, this activity will be a routine activity going forward and the company will produce special edition masks of which part of the proceeds will be used for donations. Themechanism would be by selling one mask one can benefit by donating food to one scavenger for one month.
"Fashion and clothing manufacturers also contribute in creating production waste and are proven to be one of the biggest waste contributors in the world. The form of the activities of Sejauh Mata Memandang is part of our awareness of environmental balance. We hope that in future more fashion brands will take similar actions to reduce waste production." concluded Chitra Subyakto.