Margaretha Novianty and Zico Halim challenge themselves in creating Tangan's latest collection which draws inspiration from the fast-moving world and social change. By embracing its imperfect sartorial and handmade tailoring, Novianty and Halim manifest societal change through clothing.
At the recent Plaza Indonesia Fashion Week, Novianty and Halim further explore their approach in Tangan by offering a look that goes against precise tailoring, unusual silhouette, and fabric matching. Since day one highlighting the potential of hand-tailoring and accentuating beauty in imperfection, Tangan "Shift" Spring/Summer 2019 Collection is feminine with disruptions in its casual flair.
Tangan aims to highlight current issues and phenomena in modern culture that provokes and even encourages such deliberate movement in creating a bigger impact. Be it in politics, daily conversation or even the way people set their goals, the philosophy of shift evolves and often changes unpredictably. This collection depicts inconsistency of mind by showing a multiple fabric to enhance the sartorial. Business attire with organza and tulle, reconstructed collar with a drawstring. There are looks that create a certain female persona by only working with the fabrics, cuts, and its construction.
Novianty and Halim show the evolution in self-expression in the changing world. The fact that the clothing is mostly tailored in unfinished pleat, it is not elitist and far from the idea of classic couture. This is the other way on illustrating working women. Hence, this collection showcases individual pieces. A total of 25 looks serve as a reference for the new era of working women in modern society.
The collection, which was created in collaboration with Jakarta-based artist Lianggono Soetanto, was exhibited in a pop-up installation to further narrate its story. Lianggono captured the changing perspective as well as self-reflection on how people's minds capture memories that could be different ways as humans live in different times and realities.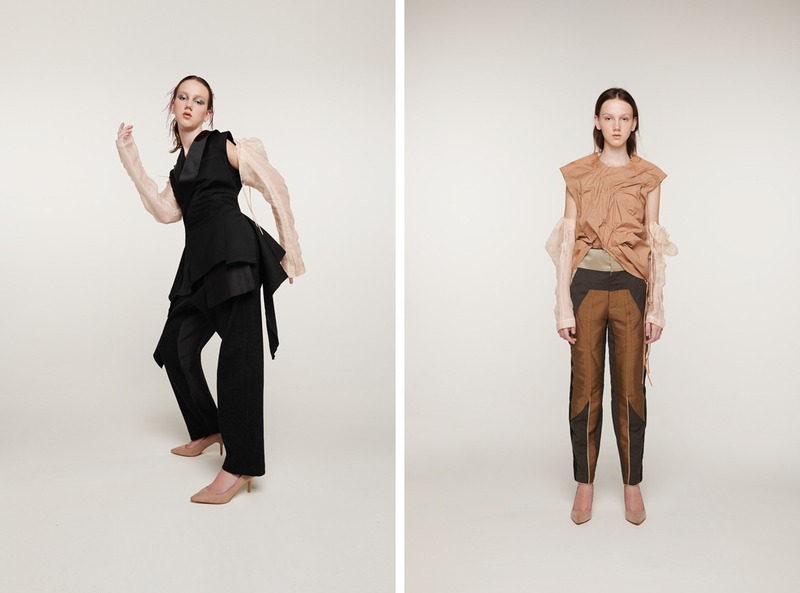 This collection can be deep as it can be from the designer's narrative but it's a fresh look for urbanites and women who are never afraid of showing their flaws.