Upgrade your wardrobe smartly by joining the growing fashion movement of renting ready-to-wear collection on Style Theory, Tinkerjoy and Rentique.
The average middle-class person spends an average of IDR 1.5 million per month on clothing needs. Most Indonesian fashion lovers choose to purchase fast fashion products for a more affordable price compared to designer collections. Many of the fashion pieces end up being worn only once or twice for certain occasions before it's just left on the wardrobe.
This consumption habit among people has affected the environment as the industry has contributed 500,000 tonnes microfiber in a year that threatens the ecology, according to the research by Ellen MacArthur Foundation about A New Textiles Economy. As the urge to establish a more responsible industry rises, many young thinkes in Indonesia is starting to introduce the concept of smart wardrobe through digital renting platform that promotes slow fashion movement to fashionistas and the general public.
As easy as having it on screen available on any smartphone or computers, fashion lovers are able to connect with their personal stylist, pick a collection from Indonesian designers and rent the best one for any occasion. These are the most trusted digital renting platforms that offers limitless wardrobe without having to leave clutters.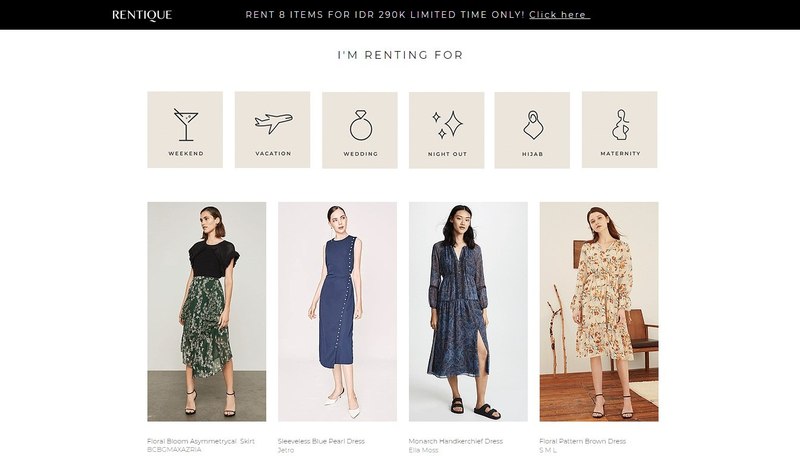 Introduced during the Jakarta Fashion Week in late October, Rentique had led the campaign for Sustainable Fashion Forward through the digital platform that allows one to refresh their wardrobe with more mindful spending. Featuring designs from Jii by Gloria Agatha, Reves Studio and Tertiaenda which was on the catwalk last month, now available for rent, Rentique also offers collections from other local fashion designers which are categorized for different occasions from vacation, wedding, night out, hijab and maternity style.
Founder and CEO Dea Amira aims to present a solution for women challenged with fashion options and budget. Starting from IDR 80,000, fashionistas could rent designer collections for 4 to 8 days. Rentique DreamCloset is a subscription based service that offers rent for 8 pieces including dress and accessories for one swapping in a month. The renting service is guaranteed through a partnership with delivery and laundry service. In the future, Rentique also expects to provide a collection that curates more sustainable fashion products as an initiative to encourage good business in the local industry that includes its reusable packaging.
Visit the website on www.rentiqueid.com or download the app on the App Store and Play Store.
After a big success building the preloved market for luxury goods to Indonesian, Tinkerlust, an Indonesian curated fashion marketplace also had a session to introduce their new renting platform Tinkerjoy at Jakarta Fashion Week 2020. Taking part in the same mission with Rentique, Tinkerjoy invites one to have their own style journey with their digital personal stylist that will guide one with an experience to have Tinkerjoy stylish Joybox. There is nothing to worry about the size measurement as the team will inform one of the best fitting cloth to be worn for many different purposes.
Starting from IDR 360,000 per month, Tinkerjoy will give one access to an unlimited wardrobe that features the collection from international and local brands. Inside the Joybox, the customer will get five-piece of clothing handpicked by one's personal stylist.
Visit the website on www.tinkerlust.com/rental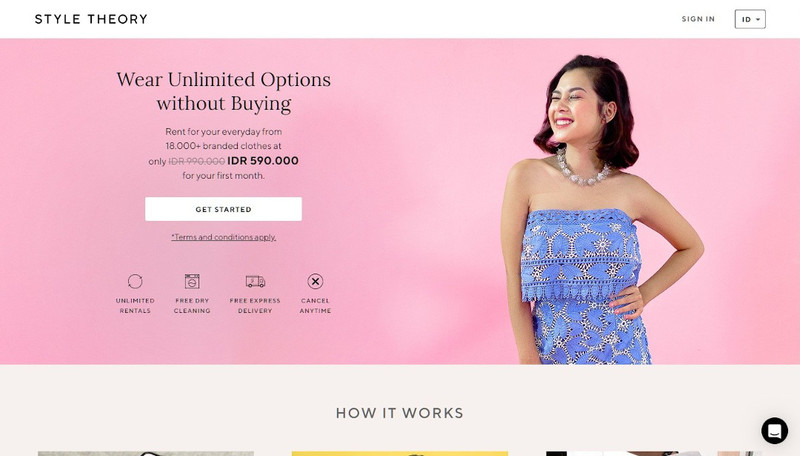 Style Theory is the first subscription-based designer wardrobe rental platform in Indonesia that launched its service at the Jakarta Fashion Week last year. It's the leading rental for stylish clothing that features more than 18,000 collections from the local and international brands including Nikicio, RiaMiranda, Self-Portrait, Tex Saverio and Calvin Klein.
From its first appearance in front of the Jakarta fashion community, Style Theory aims to enhance the way consumers access to fashion and bring a new perspective to sustainable living.
Founders Chris and Raena Lim started the project after they realised how underutilised clothes could be when idling in one's wardrobe. Style Theory has been expanding its business outside Jakarta to promote extensive movement toward slow fashion and mindful consumption. Whether having it on-demand or unlock its unlimited collection, Style Theory offers personal styling and measurement to whom renting the collection.
Visit the website on id.styletheory.co or download the app on the App Store and Play Store.