As part of International Women's Day celebrations, hotels honoured women by creating special events and services, focused on women. This year, Hotel InterContinental Jakarta Pondok Indah features wellness, fitness and nutrition retreats to celebrate the day bringing out the theme 'Balance for Better'.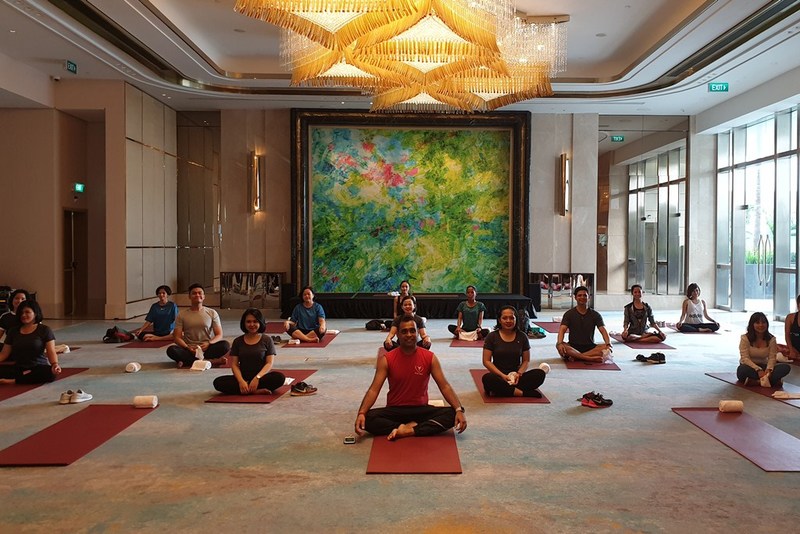 It was a sunny bright day, the journey began with a yoga session with wellness expert Vikash Kumar from India and works as a certified Yoga guru for Real Yoga. The sequence started with a few moments of meditation and opening to in-depth instructions on how to do postures which were believed not only to improve blood circulation but also to calm the mind. The poses were also meant to strengthen the spine and tone the muscles.
Other inspiring programmes included a presentation about Kombucha Tea by Juara skincare followed by a nutrition talk show presented by nutritionist and fitness trainer Ayunova. This involved health and nutrition topics on a variety of trends, and advice on improving health with a good diet. "One should make use of eating healthy and exercise. The consumption of a well-balanced diet and regular exercise can lead to many benefits including increased energy, happiness for mind and body and even a prolonged life", she explained. To end the session, she also encouraged audiences to join a fun cardio dance workout as part of an empowering, mood-elevating experience that was easily to follow.
The retreats continued to a journey to spa amenities by the hotel's very own spa facility Inaria Spa and a scrumptious dinner at Sugar & Spice.
For more information about the wellness and fitness services visit www.intercontinental.com
InterContinental Jakarta Pondok Indah
Jl. Metro Pondok Indah Kav. IV TA
South Jakarta
Tel: +62 21 3950 7355