Like a roller coaster ride, life is full of ups and downs. When we're at the top, we could feel the excitement of fresh air on our face and the wind blowing through our hair. However, as gravity pulls us down to the ground, it's almost as if we lose control.
So it is with life.
When the going gets tough, it's very normal to feel down, overwhelmed or even miserable. For those suffering from depression though, that period of sadness tends to be longer and seemingly endless.
Depression is a silent killer who lives among us. It is everywhere. Studies have found that one in every four people will have an episode of depression at some point in his or her life. But because it's invisible, this mental disorder tends to be overlooked, if not understated.
"Depression is a condition of prolonged sadness that affects how people think, behave and function. It may affect a person's interest in activities, work and quality of life. It can happen to anyone. Today when we use the word 'depression' we don't differentiate between a clinically diagnosed mental illness and simply a state of sadness that may not meet medical criteria. However, the World Health Organization suggests that depression will soon become second only to cardiovascular diseases as the most common health burdens in the world," Mirasol Delmar, psychologist and Director of the TASE Center, told NOW! Jakarta.
Although the symptoms are quite similar, there is a fine line between depression and anxiety, with depression being defined as a form of mood disorder that could be traced to constant anxiety. While anxiety displays tension and nervousness, depression is seen in the lack of energy, apathy and interest.
"Some common signs of depression are low energy, sadness, feeling worthless, poor concentration, diminished interest in activities, isolation or withdrawal, weight changes and suicidal thoughts. All of these may impact other functions in life," Delmar continued.
The problem worsens because many people tend to hide their symptoms of depression. Such stigma, Delmar maintained, is dangerous personally and socially, and can only be rid of with adequate mental health education.
"Depression, like any other form of illnesses, is a reality that we need to accept and proceed to treat. Families and even the workplace should stay open and supportive of depressed patients. Depression is medically or psychologically diagnosed by qualified practitioners, who usually refer to the psychiatrists or clinical psychologists. After formal diagnosis, it is recommended that sufferers go through treatment which may involve medication and psychotherapy," said Delmar.
Consult a psychologist or a psychiatrist if you feel that you need help to cope with any unresolved emotional problem. If the symptoms occur among your loved ones, let them know they have your support. Family and friends can play an important role in the battle against depression.
The dos and don'ts of dealing with people suffering from depression:
DO make an effort to reach out even if the affected person seems withdrawn and reluctant;
DO understand that recovery is possible. Remain positive and encouraging;
DO continue to include the depressed person in family discussions, events and everyday matters;
DO talk openly and honestly about the condition, including expectations, treatment or even hospitalization, if necessary;
DO follow doctor's orders and be strong;
DO let them know you are available to help when they need someone to talk to;
DON'T try and tell a depressed person how to feel or what to think;
DON'T undermine treatment efforts by downplaying the illness;
DON'T ridicule the person for their concerns or fears no matter how irrational they might seem;
DON'T give up on them because your support could mean so much more than you realize.
For more information on depression and get effective help, visit www.tase.co.id.
---
Looking Up From the Darkness
Often, those suffering from depression or other mental disorders don't want to speak up, out of fear that they won't be taken seriously. But when a mental disorder isn't treated, it can often go awry. We have spoken to two people who were on the edge of taking their own lives but thankfully found a way back to the light.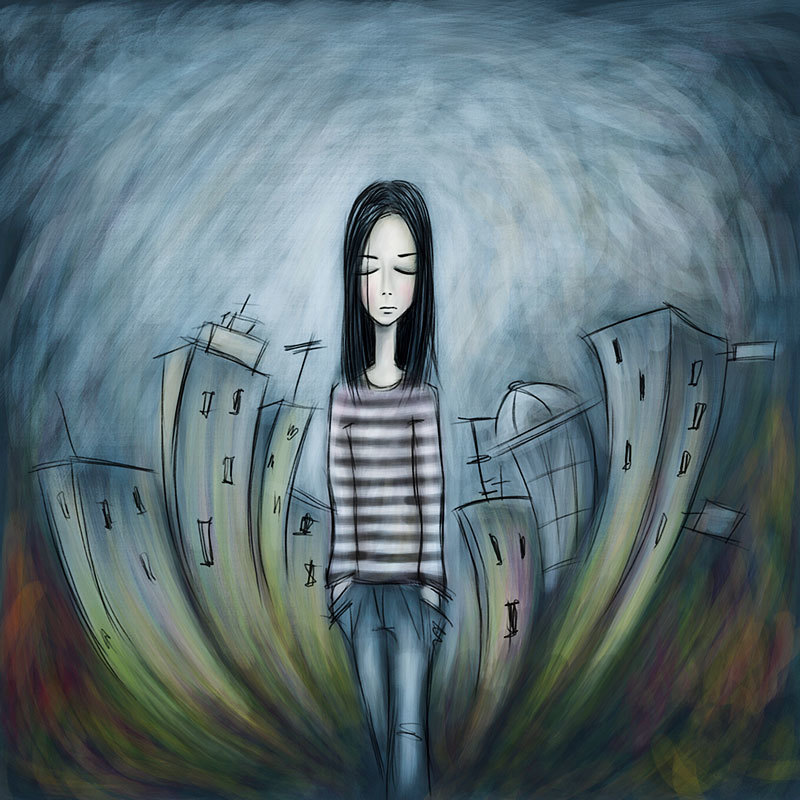 Anonymous woman, 27
The year 2015 was the lowest point in my life. At 25, I was jobless and hopeless. Everyone I knew was either building their career or pursuing graduate studies.
I had applied for schools abroad – Finland, to be exact, since I had heard it offered the best education in the world. To my surprise, I was accepted at two universities there, including the prestigious University of Helsinki. Among thousands of applicants from all over the world, only 15 to 20 make it each year, and I was one of them. That is, by far, the biggest and proudest moment in my life.
But then reality set in. Despite free tuition, foreigners in Finland are required to have a "residence permit", which costs hundreds of millions of Rupiah. I didn't grow up privileged so it was simply unthinkable to ask my parents to pay for my studies. I then applied for a scholarship from the Government of Indonesia. I didn't make the cut. Sadly, the announcement came just one day after my birthday.
My heart sank. Deeply depressed, I lost my appetite, sleep and hope. I was constantly crying. Feeling like a big failure, I soon began plotting for ways to end my life. Every time my parents were out of the house, I'd search for a rope strong and long enough to hang me to death. I also browsed the Internet for a handgun, thinking that would make my death quick and painless. I was merely one click away from making the purchase, but something stopped me. It was the thought of how crushed my parents would be to find their daughter lying dead in a pool of blood at their own home. I could see my mother screaming and crying, my father frantically trying to calm her down while choking on tears himself.
I stopped right there and then.
It dawned on me that the only way I could get out of this situation was by finding a job. This time I wasn't going to stop short at opportunities within the development community. After a long search, I finally found a job that's somewhat related to my passion.
It's not perfect, but it does allow me some financial freedom and the ability to help my parents. That's where I am today.
Mahmur Marganti, male, 43
Two years ago, while standing on the rooftop of the tallest hotel in Bali, I felt a really strong urge to end my life. I remember it was a beautiful afternoon, around 4 PM. I had been staying at that hotel and had gone to the rooftop to take some pictures. But by the time I was there, I felt compelled to jump. I heard a whisper in my ear saying, "You'll experience great pleasure once you're in the middle of the fall. It's something you wouldn't want to miss."
For thirty minutes I stood still, my mind torn. I could vividly see what was going to happen once I decided to jump – my soulless body crushed on the ground, hotel staff running hysterically, my poor family having to hear the news, my corpse being transported back to Jakarta, my wife and three children mourning, my friends and coworkers talking about me. At the same time, I was also strangely expecting the great pleasure of death.
Then suddenly the image of my 10-year-old son Kemal came to my mind. I love him so much and wouldn't want him to grow up without a father. At that moment, I stepped back from the edge.
Rushing back to my hotel room, thoughts came running in my mind. How did I get to such a low point? How was I ever going to get back on track? I fought hard to think straight. In the end I realised, I had to dwarf my problems and not let them tower over me. I also realised that I was being too hard on myself. Yes, my magazine business wasn't doing very well. Yes, that might have led to other fears. But no, I wasn't going to give up. I was going to stand up and be a better person.
Going back to an old habit that I started back in junior high, I picked up my diary and started jotting down my thoughts. I remember it helped me a lot growing up to pen down my problems and record solutions there. I'm sure it will help me again in this tough time.