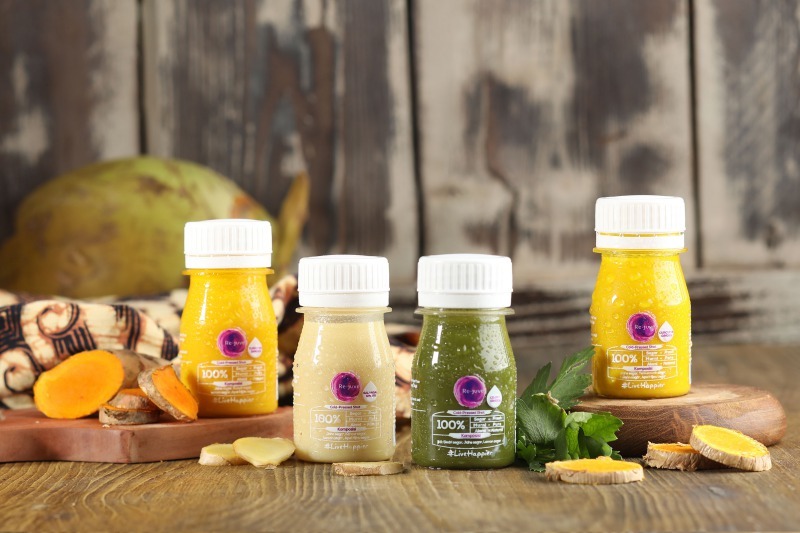 Inspired by homegrown traditional elixir, Rejuve's Cold-Pressed on the go beverage offers the rich and fresh flavour of Indonesian herb and spices.
After launched its tropical summer drinks, Re.juve has launched the latest edition of cold-pressed traditional beverage featuring Indonesian spices and herb as the main ingredients. The popular cold-pressed beverage brand aims to introduces Indonesian heritage to the younger consumer as the country is known as the home of herb and spices that has been using as a traditional elixir since many years ago.
Curcuma, turmeric, galanga, lemongrass, ginger, and celery are now available as on-the-go Re.juve drinks, concocted with other natural and fresh ingredients and it's ready to drink from the bottle. The flavor signature is considered good for one's health as the specific herbs could increase body immune and stamina, as well as warm the body and cure for cold. Galanga and ginger are believed as natural remedies from fatigue and rheumatic pain, as well as healing drinks for one who has flu and digestive problem. Turmeric and galanga are also natural herbs that could maintain the health of the liver, improve the function of the kidney and metabolism, as well as an antidote for inflammation.
Inspired by Jamu, an Indonesian traditional beverage that uses natural herbs and spice, the new cold-pressed drinks presented by Re.juve is produced fresh without any artificial preservative and concentrate, and it's also gluten and lactose-free.
The cold-pressed traditional beverage is presented in different variants of concoction including Almond Kencur, Almon Bandrek, Tropic Sereh, and Tropic Temulawak. For those looking for a light flavour, a combination of fresh coconut water, lemongrass, Curcuma, and organic coconut sugar Tropic Temulawak is suitable for anyone who wants to experiment with drinking modern Jamu. Tropic Sereh, a fuse of fresh coconut water, pineapple, lemongrass, and lemon fruit is also suitable for anyone who avoids strong flavours of herbs and spices.
Re.juve also provides traditional heritage drinks in shots featuring Curcuma Ginger, Turmeric, Ginger, Galanga Ginger, and Celery Ginger. Unlike traditional Jamu, Re.juve shots such as Curcuma Ginger is a fresh infusion of ginger, Curcuma, lemon, and green apple. This Indonesian heritage Re.juve beverage is now available in stores across the region.