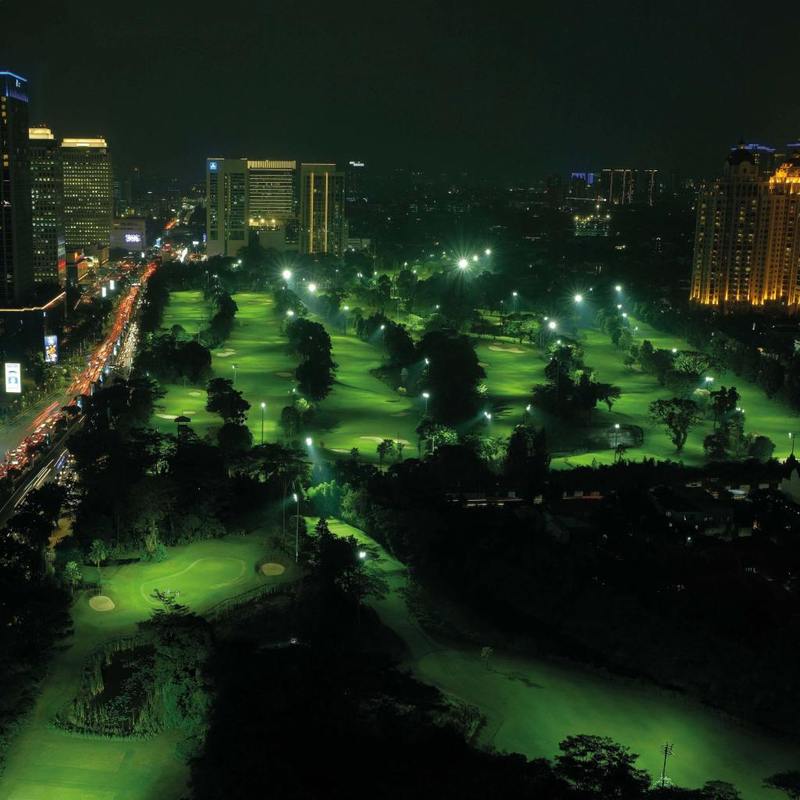 Before social distancing was cool, golf had always been an activity that gives you plenty of space and minimum physical contact. It is only natural, then, for golf to be one of the "safest" sports you can do in these strange times we live in.
I was kindly invited to return to The MAJ Senayan—one of the city's hippest lifestyle destinations in town—to check out more of the many good things I've heard. In addition to a number of seasoned professionals of multiple nationalities ready to help improve your game, The Green Belle driving range is renowned to be one-of-a-kind. That was my first destination to start off the day's session.
The driving range is located at the second level. Arriving at the reception area, I could see that everything about it stands out both technologically as well as aesthetically. The entire range is 600sqm wide, allowing for ample space at each bay for players to warm-up and properly get a feel of their surroundings. The outward driving range is encased in sturdy nets set at a declining angle at the base in order to feed the sophisticated balls collecting device consisting of well-designed water canals that directs the ball to the automatic tee off system. This means no more 'break time' as ball collectors go out to the field and pick up the balls manually.
After each swing, the automatic tee off system uses a seamless motion to feed your tee, which has its height easily adjustable via a small panel just next to it. No more taking time and extra energy to bend down and prep or adjust the tea by yourself. Both the automatic tee off and balls collection system are brought in from Korea, and, to my knowledge, no other driving range in the country offers the same advanced convenience to this day. I had my fun at the Regular Bay. All 18 of them were occupied that day, but thanks to the spacious design, it didn't feel like I was in a full driving range at all.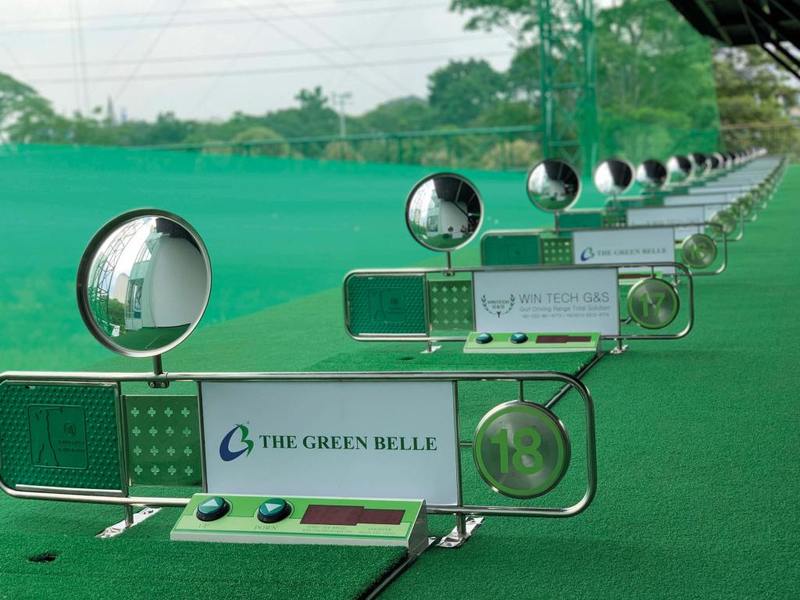 After a while, we went up another level to the VIP Bay area. Yes, there's still more than all that! Exiting the elevator, I have to comment that the hallway looked good enough to be that of any proper hotel. And then, it was no longer just a bay, for each of it was in its own private room, with an indoor lounge completed with comfortable sofas and armchairs and a table to conveniently place drinks and snacks. A floor-to-ceiling glass and a door divided the actual bay area, and there's another innovation there that took my driving experience to another level.
In addition to the same technologies mentioned above, each VIP Bays were equipped with dual recording camera and an LED touch screen that monitors your club impact strength, distance, elevation, and other variables. You can choose to record your swings and play them back instantly. Thanks to these innovations, I found out what I've been doing wrong out of habit: my lower body was far too stiff and my hips weren't swinging properly. I also found out that my backswing are too wide, and that my driver can reach longer by slightly lowering my grip. And just like that I've made major improvements to my game!
Following that very positive warm-up, I went ahead to get a taste of the course. It was getting a bit dark, but that was exactly the point. The golf course had incorporated another Korean technology, this time in the form of Gigatera LEDs. These top-of-the-line illuminations were so well-placed along the fairways and greens that I actually managed to experience, for the first time in my life, night golfing. The key lies in top-notch reflectors and chips manufactured by Samsung, which allows for flicker-free, lightning resistant lighting. The light was very evenly distributed that my line of sight and visibility was clear as day, yet subtle enough not to disrupt my focus by being too bright. Now we can enjoy the famously scenic Senayan Golf.
While I will not disclose my not-so-ideal score that night, the entire golfing experience—from the spacious, advanced driving range to the exciting night golf—far exceeded my expectations.
The only thing left to do after a delightful round of golf is a hearty dinner with drinks, and The MAJ Senayan yet again delivers just what I needed! For dinner, I stopped by the newly launched Cup & Grill, an authentic Korean street food inspired eatery offering a selection of delicious dishes. One of many scrumptious restaurants within The MAJ, Cup & Grill offers real Korean street food, like the Dak Gangjeong (sweet or spicy sauced fried chicken), Jabchae (noodles with vegetables), and the Zzambbong Soup (spicy seafood soup). I really enjoyed the food and loved how they really made them exactly as you would find them in Seoul.
Needless to say, as per Korean culture, we enjoyed many glasses of beer and soju as well and take in the green view of the course by the restaurant's outdoor area. It was a MAJestic golfing experience to be remembered.

The MAJ Senayan
Jalan Asia Afrika, Gelora
T: +62 21 571 0181
IG: @themaj.senayan
Twitter: SenayanNational
senayannational.com