Those with excess income have no problem buying their beloved kids fun and expensive toys, but those less fortunate have to find alternative ways to ensure their kids are entertained enough with toys.
Sanjaya Arifin, or Baba, for short, is one such father who was unable to get a Barbie house for his daughter's fourth birthday gift. At that time, Baba was a security guard for an office building in Sudirman, and his income was only enough for the daily needs of his family. He did not lose his mind, he persuaded his daughter in every way and promised to make a Barbie house bigger and nicer even his daughter would be able to enter and play inside that house. The daughter was delighted to wait for his father to keep his promise.
"I saw i many used cardboard boxes in good condition at the office. It inspired me to create a Barbie house for my daughter from cardboard boxes. I designed it myself, and when it was completed, I posted it on Facebook for fun. It happened in September 2015, and I didn't expect it to get such a powerful response from many of my friends and they started ordering customised creations made from used cardboard boxes," Baba recalls the beginning of his business making cardboard decorations.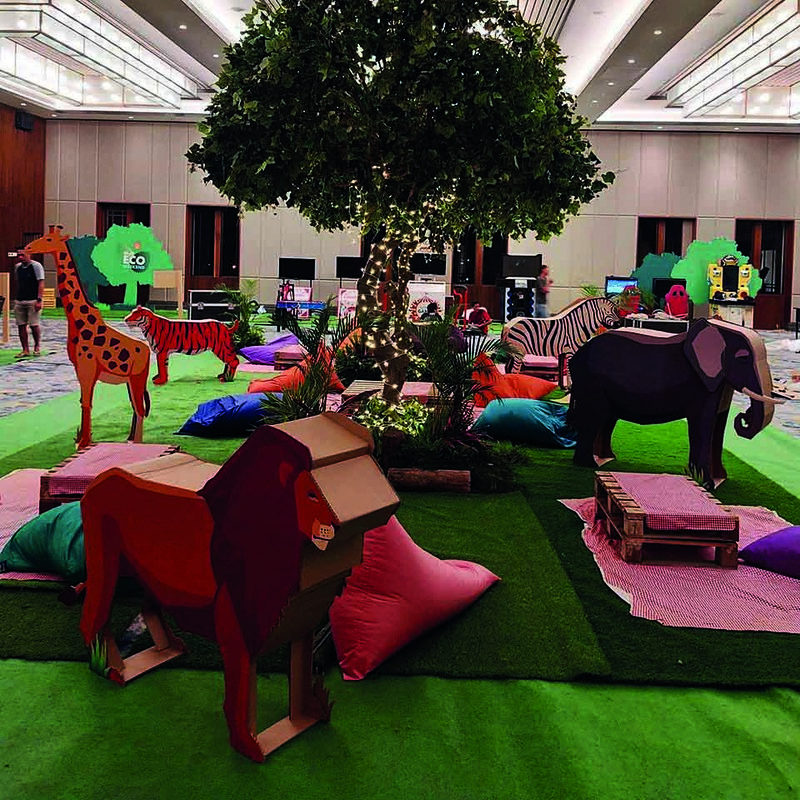 After three months of filling orders, Baba decided to quit his job to start his own business, becoming a cardboard decoration maker and installation designer and established Bumi Kardus. He diligently hunted various places in and around Jakarta for used cardboard boxes in good condition. He also experienced the ups and downs of his business, then immediately swift the business strategy to posting on Instagram (@Bumikardus), trusting in the power of social media.
Since childhood, Baba had always been very fond of drawing and making various forms of toys with any material. Especially for this cardboard-based decoration business, he has created various designs ranging from houses, castle lands as big as 190 sqm, cars, kitchen sets and various toys. One day, a parenting community invited him to collaborate for a smart kid exhibition when he was asked to present an educational mode.
"I made a 5x10 metre cardboard shipwreck in which children can try various obstacles where they have to go through a maze, ducking and crawling, which challenged their motoric skills and made them happy. And the ship can also be used again for three events; we moved it to three points for the community's events. That was like an opening up my business path to creating corporate order installations when they hold exhibitions, workshops and other events." explained Baba.
Baba acknowledged that he learned by doing, including concerning environmental issues in running his business until many communities and big companies that care about sustainability and eco-friendly activities invited him to collaborate. Then, he started to explore and learn about sustainability business, the basic ingredients and the making process of cardboard boxes. His knowledge developed which further established himself to continue in the cardboard decoration business and he is increasingly engrossed in playing cardboard boxes, various cutting tools, cutting nap and glue to compose his brilliant designs as well as coordinating and co-filling ideas with his team.
So far, Baba and his team have designed more than 30 decoration installations with varying designs and level of complexity.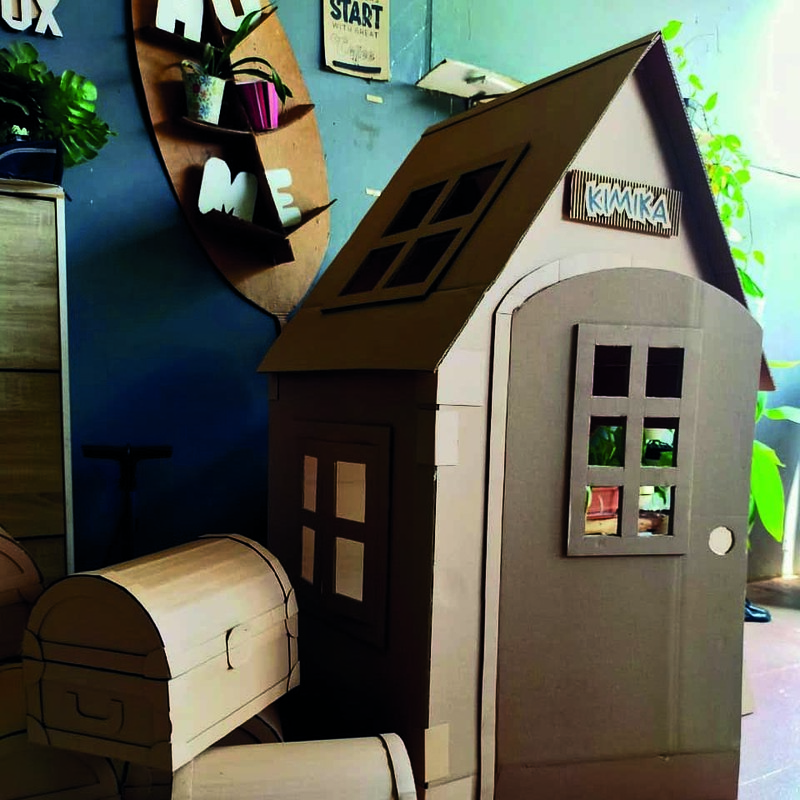 "When it comes to installation decoration, the challenge is to find raw materials for large cardboard boxes. Initially it was very difficult to find them because if I wanted to buy them at the factory they talked quantity. But now they are looking for me to offer the cardboard. Another challenge in running this business is that I have to be patient in educating clients and introducing a lot of what is cardboard raw material. Because when they want a decoration design, I must first translate it into the material because it will be very different, as we know this cardboard has its own uniqueness when it has become a decoration. Research is very important," Baba said.
The advantage of making cardboard decoration is that in addition to being environmentally friendly, production is cheaper than other material production and the level of complexity of the design can be learned. While the weakness is that it is not a weather resistant material, even though there is a treatment for outdoor decoration, it cannot last more than a week.
Back to toys for children, Baba also creates a wide range of toys such as guitars, mixers, robots, buses, animal characters and many more with prices starting from IDR 50,000.
"Children easily damage toys even though the toys are made from hard material. I prefer to make toys that are easily damaged rather than durable in order children can play safely. For me, toys are the canvas of imagination. Bumi Kardus makes toys for children to self-assemble so as to create communication, interaction and collaboration with parents. Let them imagine wildly and have a sense of belonging to the creation of the toy," Baba explained.
Check out more of Baba's creative handiwork at @Bumikardus over at Instagram.