Opened since 2017, Jakarta Aquarium is a popular recreational and educational destination in Jakarta and an ocean wonderland where visitors from all ages could witness the treasure of marine biodiversity and experience a nautical haven on site.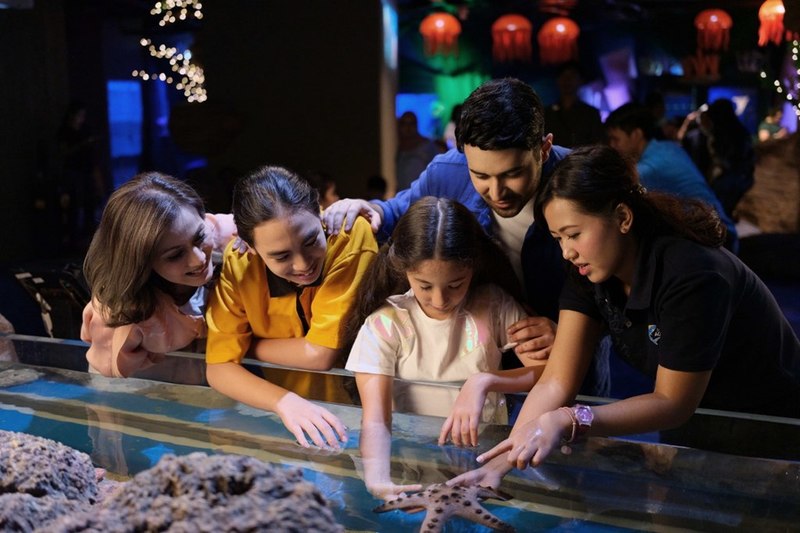 Carrying the motto "Explore, Engage, Grow", Jakarta Aquarium offers tailored educational programmes where everyone can learn about aquatic biota, preservation and conservation combined with a selection of classroom teaching. Student groups visiting Jakarta Aquarium will receive the "Ocean Explorer Guide Book", which allows them to keep track of every discovery and engagement with the amazing ocean biome.
There are a range of areas and programmes to explore, such as Biology Interactive, an interactive programme where guests can learn about aquatic biota appearance by touch, with guidance from fully trained Guest Service Agents. There is a zone dedicated to promote the effort of Reduce, Reuse, and Recycle, aimed to support and educate people to change their habits in the hopes of reducing the amount of waste in Indonesia water. Visitors are invited to make a difference and help clean up the river in Indonesia.
Jakarta Aquarium further champions conservation initiative through its interactive games for children, inviting them to sort trash into four standard coloured recycling bins. Another program designed for children is Aquacamp, a 24-hour onsite learning which revolves around students and teachers interact with aquarist, divers and veterinary technicians. At night, students will be sleeping with the fishes (no pun intended) under a comfortably designed deep-water ceiling.
According to Director of Jakarta Aquarium, Will Owens, Jakarta Aquarium designed the technology throughout the recreational area to create an interactive experience, effectively allowing people to be inspired towards developing a positive future between humans and oceans.
"JAI is not just a placement of aquatic animals, but is an aquatic discovery centre, offering spectacular treats for the public, especially school children. We support and satisfy their curiosity in understanding each animal's characteristics, adaptation and survival skills", Owens added.
Owens invites everyone to find out more about the wildlife and marine biota of Indonesia. The professional team at Jakarta Aquarium hope to open the minds of younger generations by teaching them the importance of nature and their part to play in the conservation of our planet.
As a member of Taman Safari Indonesia, an international leading conservation institution in the country, Jakarta Aquarium put serious commitment to encourage people and offer solutions in avoiding a global environmental crisis threatening the world's marine life. Jakarta Aquarium also supports the Lautku Bersih initiative to encourage people to explore the wealth of Indonesia and to support the preservation of oceans in Indonesia and the rest of the world.
Jakarta Aquarium is open Monday to Sunday, 10am - 10pm.
Jakarta Aquarium
Neo Soho Mall, LGM-LG Floor
Jl. Letjen. S. Parman Kav. 28, West Jakarta
+62 21 1500212
IG: @jakartaaquarium
FB: JakartaAquarium
www.jakarta-aquarium.com