Kakapo's eponymous boutique at Plaza Indonesia is filled with lovely dresses, which combine beautiful materials with superb craftsmanship.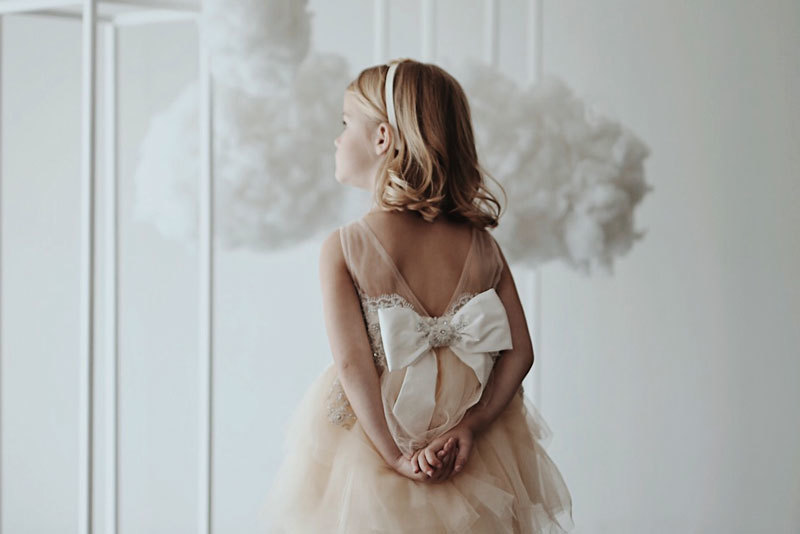 Established in 2010, Kakapo is one of the very few successful Indonesian kids' clothing brands that have their own eponymous boutiques at luxurious malls (its goods are also available at Galeries Lafayette at Pacific Place mall in Jakarta and Trixilini boutique in Singapore).
Indonesia's children's wear market—which is filled with imported and locally-made products— is very competitive; however, there is always demand from little fashionistas (or their mothers) who are bored with mass-market labels and want to stand out from the crowd by wearing gorgeous gowns. Kakapo, which offers both ready-to-wear garments and made-to-order apparel, successfully caters to this niche market.
Kakapo actually offers both casual clothes and party gowns, the latter being this brand's bread and butter, as the glamorous items make up 60 per cent of total production. "Kakapo is a brand synonymous with party dresses," says Tessa Hidayat, one half of the sister duo behind Kakapo.
Kakapo's finest gowns are adorned with Swarovski crystals, which certainly gives these dresses a touch of glamour. "We use real Swarovski crystals only," Tessa says. Among the goods on display, there are garments, which take hours of manual labour, as crystals, sequins and beads are meticulously sewn by hand. The clothing is made of various fabrics, including among others, cotton, tulle, velvet as well as the luxurious jacquard textile that features a raised pattern, which is woven (rather than printed) onto the fabric.
Kakapo is the brainchild of Tessa Hidayat and her sister Della Hidayat; Tessa's first child, Kathryn, was their muse and the reason why they established Kakapo in 2010. Beautiful pint-sized luxurious gowns were something of a rarity in Jakarta back then, thus Tessa had difficulty finding tiny lovely dresses for Kathryn, who was born in 2009. "Kakapo is one of the pioneers of Indonesian premium kids' clothing brands," Della says.
Tessa and Della handle totally different aspects of their business. Della focuses on design, while Tessa—a graduate of University of Sydney where she majored in accounting and finance— focuses on production, day-to-day operations of the business as well as the marketing and sales.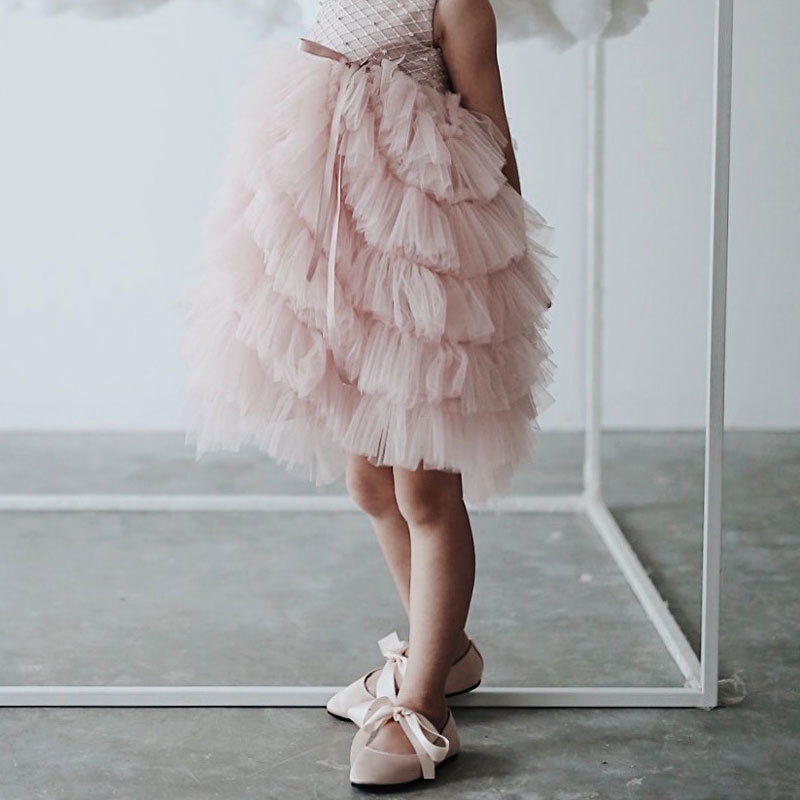 A lack of formal fashion design education has not been a hindrance for Della to create lovely little dresses, which combine elegance and a sense of playfulness.
Della's educational background is not directly related to her work; she is actually a graduate of the Academy of Art University: San Francisco Art School, where she majored in 2D Animation.
Kakapo's clothes are characterised by feminine designs and cool, delicate pastel shades from dusty pink to icy blue. Occasionally, however, Kakapo also offers apparel in bold colours, such as the cute fiery red gowns that I saw at its boutique last month.
Moreover, since its inception, this brand has focused on timeless elegance with feminine touches. Stella and Della believe that "timeless" always triumphs over "fashionable" design. "We do not want to focus on what is trendy today. Instead, we aim to focus on designing clothes that we hope never go out of style," Della says.
By abstaining from over-the-top trends, they hope that the mothers and children who purchase their dresses will still love the design as much in, say five years (or more) from now, as they did on the day they bought theirs. Thus, Stella and Della hope, when the kids have grown up and look at their childhood photos they won't be embarrassed by the clothes they wore as children.
Kakapo's boutique is filled with beautiful feminine clothes, made for children aged from 6-month-old babies to 8-year-old girls. This brand also makes custom-made items, including cute dresses for flower girls and baptism gowns for 3-month-old babies. Currently Kakapo offers girls' garments only, however, launching boys' clothing line is in the pipeline. Della's 11-month-old son, Kennedy, is the inspiration for the future Kakapo boys' apparel.
As for prices, party dresses are mainly priced between IDR 1,100,000 and IDR 2,200,000 – however, occasionally, you can find lavish petite gowns that cost more than IDR 2,500,000 on display. Casual dresses start at IDR 600,000, while prices for blouses and skirts start at IDR 399,000. Made-to-order items start at IDR 2,500,000.
Rest assured that Kakapo garments are not only pleasing to the eye, but also comfortable to wear. For Tessa, one of the perks of having four daughters, including twin girls (aged 9, 6 and 3) is being able to ask little girls to test the mock-up dresses. The little ones, who always give their honest opinions in terms of design and comfort, decide the fate of the garments. "If my kids do not like it, then we will not sell it," Tessa says.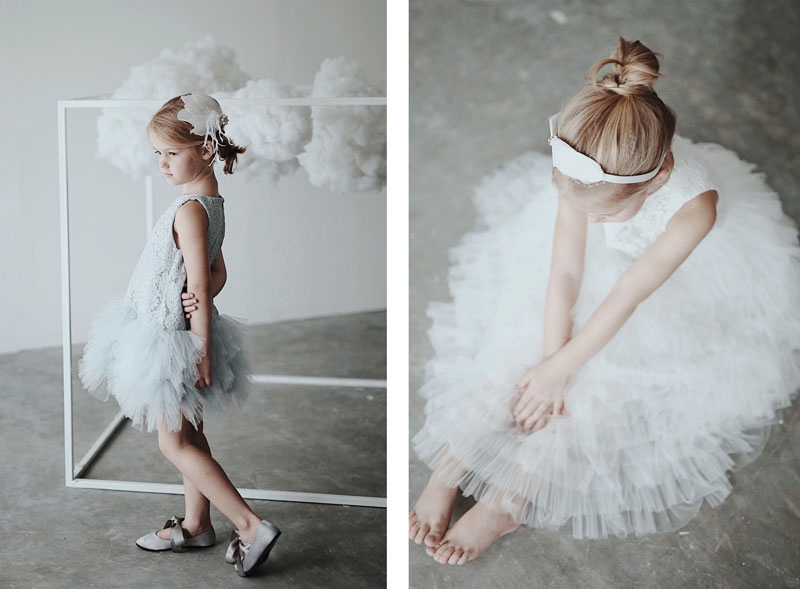 Kakapo also won its clientele's hearts by offering repair service. "For instance, whenever the pearls fall off, they can send the goods to us, and we will sew the pearls back on for them, free of charge," Tessa says. Hot irons that cause burn holes in clothing or other accidents, can be fixed too, however, a fee may be required, depending on the damages.
Chinese New Year is one of the peak periods for these siblings' kids clothing business thanks to their special collections of mother and daughter matching garments. Mothers usually love to dress their daughters as their "mini-me" by buying kid-sized fashion items that resemble their own wardrobe, thus once a year, in conjunction with Chinese New Year, Kakapo offers mother and daughter matching cheongsam (qipao) by collaborating with adult clothing labels. Kakapo ensures that the little ones are able to look as lovely as their mothers for that special celebration.
Regardless of whether it is a busy season, every single product must be impeccably made. For Tessa, the greatest challenge in running her business is ensuring that all Kakapo's handmade clothes share the same quality standard. Moreover, her label should produce a certain quantity of products within a certain time frame. Tessa says that dealing with consistency in quantity as well as quality is the worst part of her job.
Indeed, as any entrepreneur can attest, running a business entails more than meets the eye, and surely the challenge is even greater if your business offers handmade items, as consistency of quantity and quality may become an issue.
At the end of the day, for both Tessa and Della, seeing strangers' children happily wearing Kakapo's clothes at the airports, malls or any other place, brings happiness to Tessa and Della, and keeps up their motivation, too – those moments make all the hard work worthwhile. "It is priceless," says Della with a smile.
For these two busy mothers, Kakapo is more than just a business – Kakapo is their baby, too.
Kakapo Boutique:
Plaza Indonesia Level 3, Unit E52 (Miniapolis), Jakarta
Kakapo goods are also available at:
Galeries Lafayette (Pacific Place, Jakarta).
Trixilini (Scotts Square, Singapore).
LINE: kakapofficial
Instagram: @kakapofficial