Jakarta has been developing parks around the city which can function as outdoor workout spaces. NOW!JAKARTA picks the best city parks and public spaces that feature workout equipment for those who might want to step out of the gym to exercise.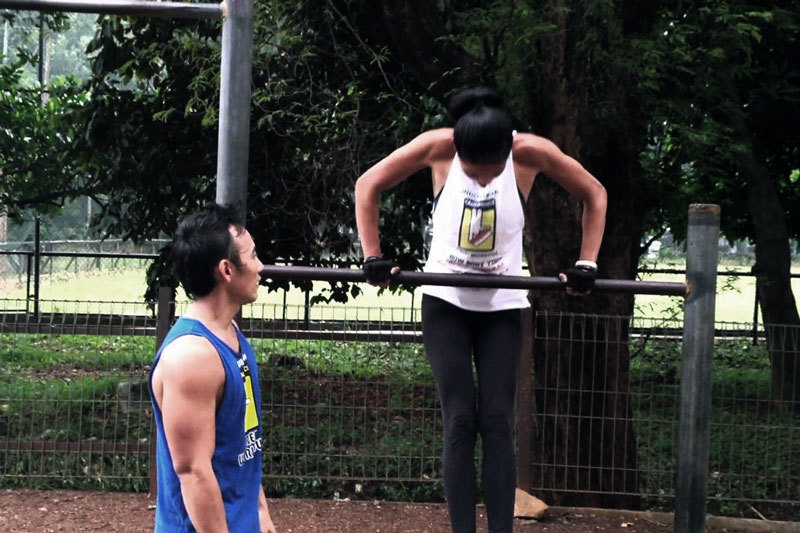 GBK Senayan
Gelora Bung Karno Sport Complex is the spot for outdoor workout enthusiasts as the venue facilitates outdoor workout gear in several spots near the running track. At Gates VI, VII and VIII, you will find a number of spots such as Parc Street Workout, Calisthenics Gym, and Calisthenics Anlage.
Jalan Pintu Satu Senayan, Gelora, Kec. Tanah Abang, Kota Jakarta Pusat
Ministry of Youth and Sport Affairs (Kemenpora Courtyard)
Located in Senayan, the Ministry of Youth and Sport has outdoor fitness facilities around the building. Master Bootcamp is a community who exercises together every Saturday. For those looking for intense workouts, the community will help and guide you. The community which is affiliated with Moving Body Culture, has been promoting healthy movement for Jakartans.
Jl. Gerbang Pemuda No.3, RT.1/RW.3, Gelora, Kec. Tanah Abang, Kota Jakarta Pusat
Taman Menteng
As one of the icons of Jakarta, Taman Menteng is the perfect place to take exercise with its integrated city monument, sports field, culinary and leisure centre. The 24 hectare space also includes the home for Bar Menteng Street Workout (BantengSW), the second largest street workout community in Jakarta. For those who are looking for weekday workout programmes, BantengSW organises daily exercise sessions that will help you build strength and endurance.
Jl. HOS. Cokroaminoto, RT.3/RW.5, Menteng, Kec. Menteng, Kota Jakarta Pusat
Indobarian Method Academy
Street workout community, Indobarian is a pioneer of Calisthenics in Jakarta. It facilitates people to join outdoor exercises that practice body tension, pure strength, dynamics and coordination. After moving from its camp at Gelora Bung Karno, the community established its own workout space at Jalan Madrasah, East Cilandak, South Jakarta. You can join the community by registering for membership or participating in the bootcamp programme. Indobarian Method Academy has complete outdoor equipment with an established street workout programme.
Jl. Madrasah, RT.8/RW.4, Cilandak Timur, Pasar Minggu, South Jakarta
Taman Honda Tebet
Taman Honda Tebet is home to the Street Workout Tebet community which meets to exercise on Saturday and Sunday. The park is equipped with complete street workout gear including high bar, ab benches, and pole bars. If you need help while training, the community will assist you.
Jl. Tebet Timur Raya No.11, Tebet Timur, Tebet, South Jakarta
Ayodya Park, Barito
Similar to Taman Honda Tebet, Ayodya Park is one of the Active Parks in Jakarta that is street workout friendly. There is no particular street workout community at the park as it lends itself to more family-focused exercise or recreational sports. The equipment has instructions on them for ease of use. In collaboration with Coca-Cola, Active Park promotes INDONESIA SeGar (Sehat & Bugar) though its red signature street workout establishment, inviting people to maintain healthy life. It has good views and also features a water fountain in the middle of the park.