The increasing enthusiasm for cycling during the Covid-19 pandemic is increasing awareness about the importance of cycling contributing to a sustainable environment and a healthier lifestyle rather than just being another trend.
Jakarta's lanes and many other big cities' roads are now buzzing with citizens riding bicycles. Indicating a new scene where people are trying to be fitter and healthier from this latest sports movement in addition to bringing a real solution to people's worries about the transmission of the Coronavirus in public transportation and limiting the number of passengers when the large scale restriction is in force.
The Institute for Transportation and Development Policy (ITDP) released data which shows that the number of cyclists in Jakarta has increased by 10 times compared to last year. In October 2019, ITDP reported that there were only 21 cyclists in Jakarta, but as of June this year bicycle users in the city had touched 235 people.
Chairman of Bike to Work Indonesia, Poetoet Soedarjanto sees this phenomenon from two sides. The good news, Poetoet said that sales of used and new bicycles have increased in the past year, indicating that bicycle users have also increased, both as means of sport and mobility. Then, the increasing number of cyclists that the government began to see that bicycles are a means of transportation was then announced by the Ministry of Transportation by issuing Ministerial Regulation No. 59 of 2020 concerning the safety of cyclists on the roads.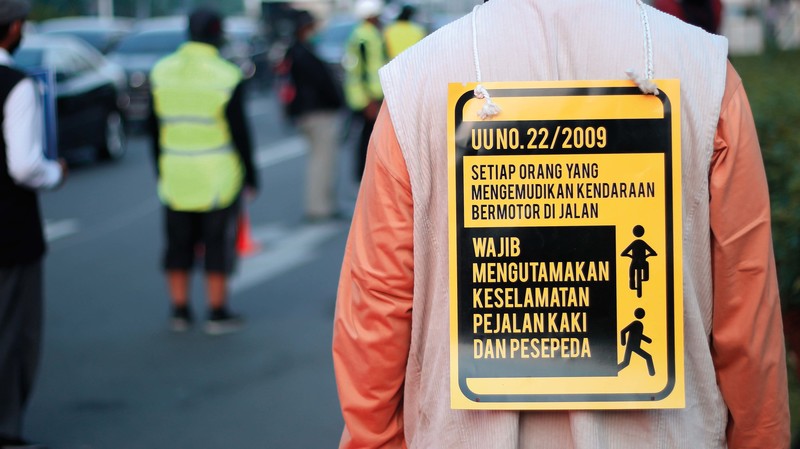 The cycling trend is also marked by the presence of some unscrupulous bicycle traders who have been raising prices arbitrarily. Not an uncommon thing in times of high demand and low supply but rightly Poetoet sees this as bad news. In addition, not all cyclists are disciplined towards traffic rules which can endanger both them and the motorist trying to avoid them. Worse are the cyclists who ignore health protocols. There are still many cyclists who go through areas with a high spread of the virus (red zones) in groups, which certainly is verging on suicidal and dangerous to all their friends and families.
"Bicycles should be used to solve the spread of Covid-19, as is done in many countries. Like in the Philippines where bicycles have become the main mobility tools at this time to prevent crowds. Bicycles are individual because only we ourselves can make sure whether the bike is clean or not and automatically maintains a distance. Well, this is what Indonesia doesn't have yet. For this reason, Bike to Work continues to educate and invite the wider community not to ignore traffic regulations and health protocols. " Poetoet explained to NOW! Jakarta.
With its four-pillar activities, namely advocacy, education, social and campaigning, Putut said that Bike to Work is also quite intense in communicating with the government to encourage the government to make bicycle-friendly policies, not only to the community.
According to Poetoet, because in fact, Indonesia has many major problems resulting from roads, such as air pollution, congestion and a high number of traffic accidents, the Governor of DKI Jakarta has conveyed the fact that as many as 5,5 million the city's residents are affected by diseases due to air pollution which is predominantly caused by motor vehicles. Also, Greenpeace has released that, based on data processed from two PM 2.5 monitoring stations in central and southern Jakarta, in the last month the air quality in Jakarta had more than 22 days veering into the unhealthy category. This means that the people of Jakarta can only breathe healthy air for about five days a month because the air pollution has become so widespread.
"Whether we realize it or not, in my personal view, our country's government has trapped its citizens to enjoy congestion, air pollution and traffic accidents...and it seems that the people enjoy the sweet trap. Why? The government already knows these issues but they are only thinking about building new roads or flyovers which only solve the problems for the short term. Then, the government also proposes a zero percent tax on the purchase of a new car so that people are given the convenience of obtaining the car," said Poetet "As we can see, a lot of lands has been taken over and designated for parking, but the developers ended up building malls on land which was thought to be just for car parks. And society has enjoyed all of it for decades so that the problems of the roads are no longer considered a problem. If we talk about road accidents, the 23,000 people who died last year alone, are not considered a problem. Especially since there is no specific agency dealing with road safety." said Poetoet. But he added that the tendency for people to refuse to bike on the road is due to fear, which may well be justified in the current circumstances and that means that cyclists really need protected roads.
During this pandemic, Bike to Work continues to increase its advocacy, especially to the government regarding the right implementation of Law No. 22 of 2009 about road traffic and transportation and continues to educate the public to reduce their dependence on the use of private vehicles and improve people's better lives by cycling through social movements. Also, as one of the means of communication with the government, especially for Jakarta, is that the two agencies give awards for the best bicycle-friendly buildings since not all building yet welcome and cater for bicycles.
And, special for the International Disabilities Day on 3 December, Bike to Work has two program activities, partnering with several entities: "First, we will create Bike to Work's bicycles where the proceeds from the sale will buy 1,000 pairs of prosthetic legs which we will donate to friends with disabilities. Artificial legs represent mobility. Second, we have a campaign as well as advocacy, we facilitate one of our bicycle activists friends from Kendal who uses a prosthetic leg, he will cycle to Jakarta and use public transportation to meet other friends with disabilities, to inform hat people with disabilities also have equal rights in using mass transportations and tell how are the roads friendly to all users. We also raise funds to make special bicycles for people with disabilities. We all campaign to the wider community." Poetoet stated as he also hoped that people must be consistent in cycling, not only during the pandemic.
Now! Jakarta and its sister organisation MVB, a sustainability advocacy, welcome all these suggestions and pledge their support for the Bike to Work movement. well done!