Expanded facilities and guidance from coaches who were once professional gymnasts help students master complex moves on the floor and beam.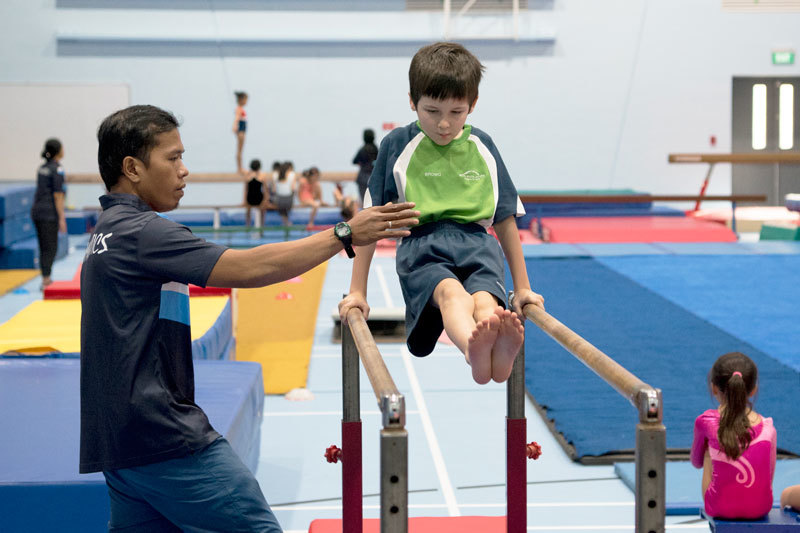 "Sports are a great way to bring people together," Johannes Chun, Sports Facilities Manager at British School Jakarta (BSJ), says. Indeed sports have been an integral part of the school curriculum but more recently it has opened its doors to the community at large. The school's investment in its gymnastics programme is proof of its commitment to training students to the highest level.
The gymnastics programme at BSJ has recently undergone a few changes with new equipment being installed and classes introduced for those outside the school community.
The gymnastics studio is Olympic size with facilities to match. Chun notes that the floor was recently purchased from Switzerland, the beams and related equipment from Gymnova.
Currently there are five levels of progression for students. With five girls currently at level four and six boys approaching level four, the programme is clearly very popular, thanks, in part, to the dedicated coaches.
Head Coach Hesti Diwayanti has put together a team of trainers who were former top athletes in their field, some of whom have won prestigious awards and have since retired from professional competition. "All of our coaches are accredited and qualified gymnasts. They are former national gymnasts, and some are accomplished coaches from Faculty of Sport Science, Universitas Negeri Jakarta," she says.
During our visit, students were in serious training. Small groups, depending on the level, under the guidance of their instructor, practiced moves with remarkable dedication.
"Our coaches have become involved in gymnastics training and coach education programmes across Indonesia, and almost all of them hold certificates that match British standards," she notes, adding that this opportunity allows them to continue their passion for the sport through classes.
It is the dedication of these coaches that help the team win accolades in local, national and international competitions.
Students train before school twice a week and there are afternoon sessions after school every day. On Saturdays it's open to the community and students at any level can participate.
Chun also notes that the gymnastics programme is highly regarded at the school and is among the top sports that students choose to enrol in after swimming.
In addition, providing an opportunity for the community to train in their weekend programmes has opened new avenues for the area to learn more about the school and its many facilities, too.
This summer, plans are underway in collaboration with coaches for holiday camps.
For more information on BSJ's gymnastics programme, email their Head of Sport, Simon Shand on [email protected] For more information on the new Bintaro Gymnastics Club, email Coach Hesti on [email protected]