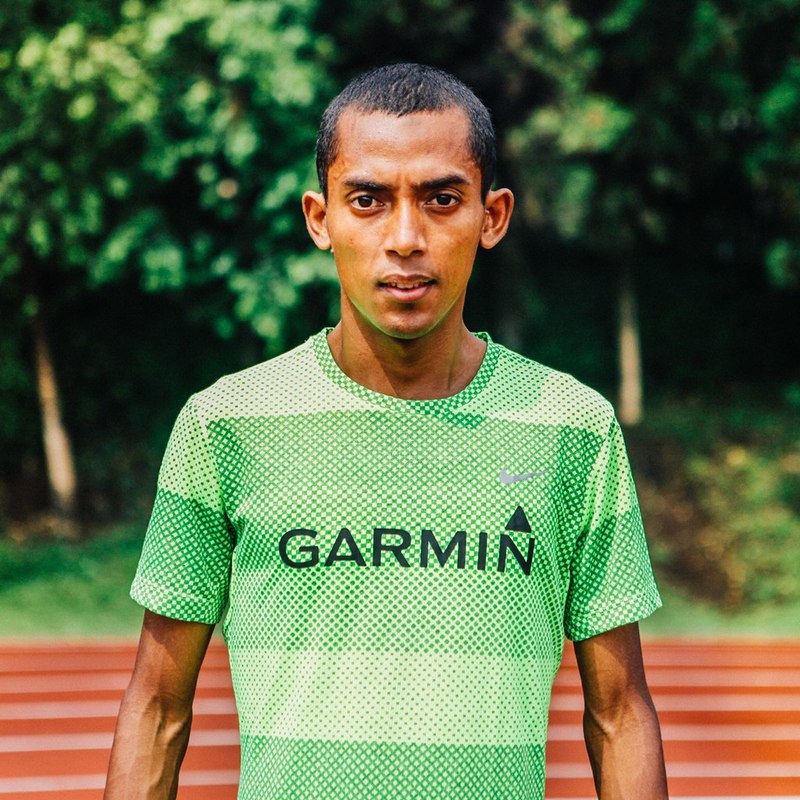 Indonesian runner Agus Prayogo, 34, is a national treasure who has championed long-distance running competitions both in local and international sports events. In his recent appearance as an ambassador for Garmin Indonesia, Prayogo hopes to extend the influence of running as a sport which could motivate people to have a healthy lifestyle and improve one's endurance in life.
A Javanese descent who was born in Bogor, West Java, Agus currently holds the national records for 3,000 metres, 5,000 metres, 10,000 metres and half marathon. As a national athlete who has been running for almost two decades, Prayogo has no plans to stop. Along with the mission to invite people to join the running competition, Prayogo told NOW! Jakarta about his plan to secure a gold medal in an upcoming competition, tips for runners and the meaning of running for his life.
You already made Indonesia proud with your achievement in international competition. If we could rewind, would you mind sharing a little bit about how you fell in love with running?
I have been doing this for almost 20 years since I won my first competition back in 2001 in National Youth Sports Week (PON Remaja). My parents saw my talent and encouraged me to run and join the club. I kept running and here I am now, still doing it.
Last time, you lost the race in Asian Games 2019. What is your strategy to maintain your performance as a long-distance runner in the upcoming competition that you involved in?
I faced a difficult challenge to focus on Asian Games as I was enrolling in military school to pursue my candidacy as a commissioned officer. Now, I can give 100 per cent for the upcoming competition. I have been preparing myself for SEA Games 2019 in Manila which will begin in November.
I have been training with the national team in addition to some personal training in Bandung with my coach. I have just come back from the Gold Coast, Australia for a try-out. I'm constantly beating my personal record and currently hold the national record for half marathon. I will also fly to Wuhan, China, to participate in a Military Olympic. I have been doing these try-outs and competitions to determine the benchmarks in the upcoming race, especially SEA Games 2019 and Pekan Olahraga Nasional (PON) 2020. If there is a race number for Limit B, I will definitely join the qualification for the 2020 Olympic Games in Tokyo.
Can you tell us more about your qualifications in SEA Games 2019?
I will take race categories 5,000, 1,000, and marathon to look for opportunities to secure the medals. Through intense training and focus, I hope I can secure at least one gold medal for Indonesia.
As the ambassador for Nike, what is your latest collaboration with Garmin Indonesia about?
As sports gear, watch and a gadget, Garmin has helped my training routine with all its features which can be used as a parameter and personal trainer on your daily activities including running. Through their initial running competition, I can also train myself while promoting a healthy lifestyle to wider audiences.
Are you planning to stop and start a settled job?
No. For my age, it's a productive time for me with optimum endurance to race in long-distance running and marathon. In the future, I am thinking of joining the military as it is also my passion. I am also interested to be a coach for young athletes trying their best for Indonesia.
What do you think about running, which now has turned into a lifestyle and raising popularity among the urban communities?
I am happy to do that with more and more people who are interested in running today. We could see that every week, there are always races with different concepts and distances. Back then, I have to train alone and it was hard to find clubs or communities. Todya, even though most aren't seriously committed, they had the intention of building a healthy life through running. For me as an athlete, we don't have to wait for the annual competition to improve our running performance.
Today, people don't run only for medals, but it's a social movement where people are conscious about the importance of a healthy lifestyle. People invite each other to participate in positive acts during running and use it as a platform for charity, sports tourism and other activities including the environment. It's not only about the medal.
Do you have any tips for beginners looking to participate in the races?
It's important to find a partner or community who could motivate one to run. Find a personal trainer or set your online training which also can be accessed through the latest gadget. Beginners need to at least train three to four times before the competition. For those who want serious results, they also have to maintain nutrition with more protein. Needed nutrition depends on the race and the distance. It's important to understand our bodies. If it's going to be long-distance, people may need more carbohydrates and more comprehensive training.
What are your expectations for Indonesian runners in the future?
We still have a lack of infrastructure distribution in schools around Indonesia. Many schools don't own running tracks for students to train. With proper infrastructure, we would be able to recognise future talents for athlete regeneration. Today, running competitions in Southeast Asia alone is very tight and getting more competitive. We have stolen international attention with Lalu Muhammad Zohri, who is a frontrunner in sprint. It would be great if we have world champions from long-distance runners.
Cheer for Agus Prayogo as he join other runners in the 10K race on Garmin Run Indonesia on 22 September at Bintaro Jaya Xchange.