Jakarta has more than 30 golf courses to choose from in the city and surrounding areas, making the city a haven for both international and national golfers, of all levels. NOW! Jakarta curates some of the best golf courses and clubs in Jakarta.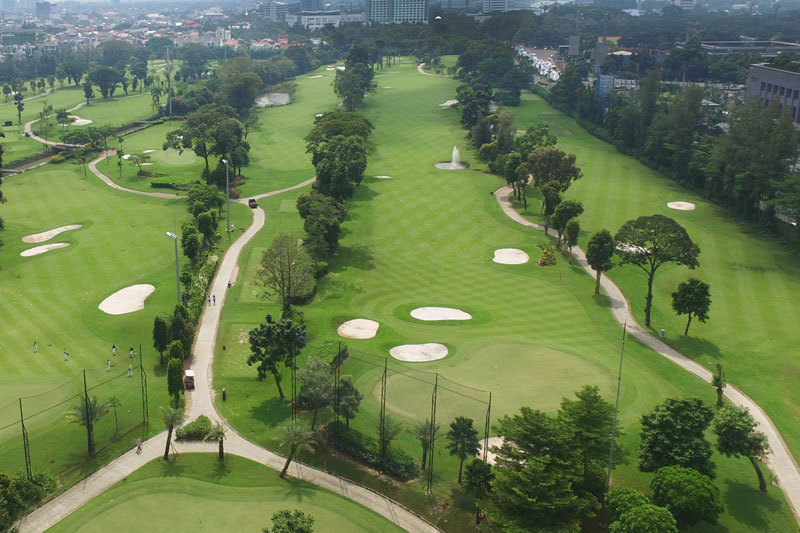 Klub Golf Bogor Raya
Designed by renowned international golf architect Graham V. Marsh, this golf course is the ultimate 18- Hole course in 72 hectares of stunning scenery. It has spacious fairways, but one needs to be accurate on approach because of the many bunkers around the greens. The club has an excellent reputation for hospitality and has very well trained lady caddies to assist your play. Open daily from 5:00 AM to 7:00 PM.
Golf Estate Bogor Raya, West Java 16710.
T: +62-251 8271888/8271392/8271394.
www.bogorraya.co.id
Jagorawi Golf & Country Club
This golf club is just an hour from Central Jakarta via the Jagorawi toll road Jagorawi. There are three highly rated and challenging courses with a total of 45 holes, an Old Course (6023 metres), a New Course (6322 metres) and Z-Nine (2965 metres). There is also a clubhouse, pro shop that provides a wide range of golfing needs and a resort with a driving range situated in the extensive and natural grounds.
Open daily from 5:30 AM to 6:30 PM.
Jl. Raya Karangan, Gunung Putri, West Java 16960.
T: +62-21 8753810.
https://jagorawi.com
Matoa Nasional Golf Course
Located in the quiet and secluded area of Ciganjur, South Jakarta, the 18 hole course is designed to championship standards, representing the best of traditional golf design and the natural splendour of the tropics. The championship course is part of 60 hectare consist with exotic trees and plants. The Idea to make the course to function as an "Arboretum" conservation and preservation area of extinct trees and plants species iprovides the scenery for the fairways and greens of Matoa. Open Tuesday to Sunday from 6:00 AM to 7:00 PM.
Jl. Moh Kahfi I Km. 7, Ciganjur, South Jakarta 12630.
T. +62-21 7870864-66, 7863535.
www.matoanasional.net
Senayan National Golf Club
Despite this course being situated among the city's skyscrapers, it provides a bit of welcome greenery with its botanical garden design with tree-lined fairways which create an unparalleled urban golf experience. It features 18 holes with par 69, and is open to all levels of players. Open Daily from 6:00 AM to 9:30 PM.
Jl. Asia Afrika Pintu IX, Senayan, Jakarta 10270.
T. +62-21 5710181, +62-878 88689843 (reservation).
www.senayannational.com
Palm Hills Golf Club
With Mount Salak as the background, this 18 Hole golf course with length of 6500 metres has a unique layout with many obstacles and difficulties; it is based on very hilly contours and adorned with water barriers that make it an arena for testing skill and strategies. A large lake separates holes 9 and 18. with the other four holes, 7, 11, 13 and 15 requiring golfers to be able to hit the ball across the water.
Open daily from 5:30 AM to 7:00 PM.
Sentul, Desa Kadumanggu, Kec. Babakan Madang, Bogor, West Java 16810.
T: +62-21 87950712.
www.palmhillgolf.co.id
Sentul Highlands Golf Club
Designed by the legendary golfer Gary Player, this golf course offers challenges that span along its 18 holes with natural stones lining every fairway. The course which stands on an area of 85.4 hectares and has a length of about 6,538 metres from the championship tees uses its hilly land with natural local trees to create a world-class layout. There are five tee boxes allow golfers from different levels are able to determine from where they should start their rounds. Open daily from 5:00 AM to 7:00 PM.
Jl. Sumur Batu, Sentul City, Bogor, West Java.
T. +62-21 87960266/681, +62 8111157888.
www.sentulhighlands.com
Riverside Golf Club
This golf club offers an 18 hole par 72 championship course which set along the Cikeas River in Bogor. Designed by golf legend and great white shark Greg Norman, the 90-hectare site offers players of all levels an adrenaline-charged ride. The grand clubhouse, a huge colonial home boasts al fresco dining overlooking the course.
Desa Bojongnangka, Gunung Putri, Cimanggis, Cibubur, West Java 16965.
T. +62 21 8671533, +62 81294249784.
www.riverside-golf.com