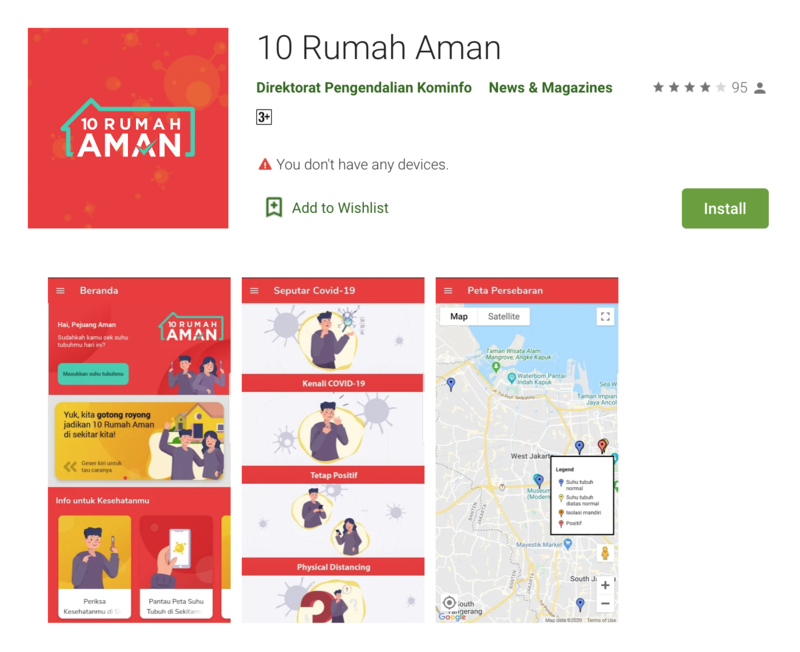 The President's Staff Office and Ministry of Communication and Information Technology has officially announced an application as a reference for all Indonesian people to get together to face Covid-19 through a community based approach.
10 Rumah Aman (10 Safe Houses) is an application recently developed for—and in collaboration with—the government to create a chain effect on the community in breaking the spread of Covid-19. The application was developed through a collaboration of subsidiary companies from various sectors, namely WIR Group (technology companies that focus on AR, VR and AI), Compro, Prixa and Disrupto as well as communications and content companies, Kennedy Voice Berliner.
This application is made based on the unique nature of Indonesian society, mutual cooperation and independence. Through this application, the government invites the community in the home environment community (10 surrounding houses) to take proper steps together as residents who are staying at home in dealing with Covid-19 by getting legal information so that people do not fret when faced with situations when this.
The application is supported by an artificial intelligence (AI) technology that connects map-based data and the surrounding environment through mobile phone devices and can connect to social media platforms.
The application can help the community independently to check their body temperature by using AI-based diagnostic tools and view maps to avoid being exposed to the virus. From its features, people can also take the advantage of sharing foods and inspiring others to maintain their health. The application also provides online stores that sell daily necessities with official prices, such as medicines of health equipment from Kimia Farma, Medic-Kimia Farma, Alfa Group, Alfamind, DAV, Prima Freshmart, Vegetable Box, TaniHub and Rego Pantes from 8Villages.
And continue to follow further steps to keep you and the community stay healthy in this critical situation:
Check and monitor our temperature and the occupants of our homes every day, and update the results in the application.
Perform a self-examination using a diagnostic tool based on Artificial Intelligence (AI) integrated in the application. Next, contact the nearest health center via telephone or instant messaging application if you experience a dry cough and temperatures above 37.5 degrees Celsius or other symptoms.
Share this application with 10 people to protect our family/friends/closest neighbors so that we can remind neighbors about our condition and health via telephone or instant messaging application, so that some households are always monitored for their health.
Implement a healthy lifestyle. Always wash hands with soap or alcohol-based hand sanitizers, keep a safe distance when meeting other people and share the behavior in the application.
Cooking your own food to maintain food hygiene and eat at home.
Distribute our cooking to the needy neighbors or communities so they can stay at home while maintaining a safe distance (social/ physical distancing).
Watch and monitor the distribution map of each individual who has a normal temperature or temperature above normal through the features in the application. And helps monitor individuals who have carried out isolation independently and in the care to avoid exposure to Covid-19.
Buy health care goods, daily needs, food and other things through online sites or through sites listed on safe equipment to prevent going out of the house.
Stay positive during #stayathome in the face of a pandemic, fills free time with productive activities, such as #workfromhome and #learnfromhome and other creative works. Learn the location of the nearest health center and other accurate information related to Covid-19.
This application can be downloaded through play.google.com