Those of us who enjoy art love visiting galleries. But it isn't always possible. Fortunately, online platforms Artsy and Etsy offer a digital experience that might just make up for not being able to visit in person.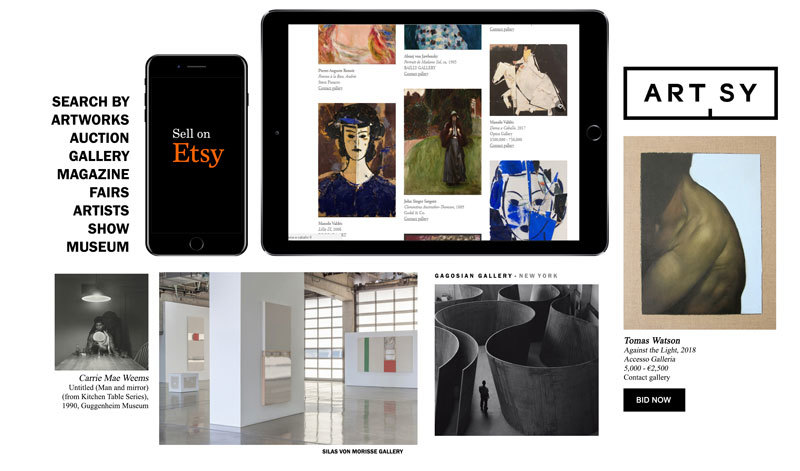 Headed by Carter Cleveland and former Christie's executive Sebastian Cwilich, Artsy is a free online platform designed to connect collectors to art. It aims to expand the art market and support more artists globally.
Artsy currently features over 800,000 works of art and 70,000 artists. It builds a database that draws connections and map relationships among works of art. Provided by galleries, museums, and institutions across the globe, more than half of the artworks are available for sale and range in price from USD 100 to over USD 1 million, with new pieces added daily.
Artsy partners directly with the world's top galleries, 7,000 museums, and 60 international art fairs and auction houses, and provides collectors and enthusiasts a central resource to learn about and purchase artwork from anywhere in the world. By utilising a search engine, Artsy is a comprehensive art library and marketplace supported by the Art Genome Project to discover specific objects including art movements and information about the piece of art.
The artwork is classified into different categories, complete with detailed information about the works, including artist overview, price and colour.
Artsy has established an online auction where one can bid directly from their smart phone. It also has advisors to help buyers find art they might be interested in. Art enthusiasts can also find information on upcoming art fairs and exhibitions as well as news about the art scene in their area.

Etsy is the another global art e-commerce for unique handmade and creative goods, including jewellery, home decor, art and vintage treasures. Founded by Robert Kalin and his other three partners, Etsy is an online medium for emerging and creative artists across the globe who want to sell their products.
The platform connects art sellers and buyers directly, without a gallery, so it can charge lower fees. The process is transparent, which allows sellers to exchange advise and tips and grow their name, too.
Etsy is a home for independent artists who want to market their work worldwide. The company aims to empower artists, art entrepreneurs, designers, and curators in the global community. In 2014, the company connected 1.4 million active sellers with 19.8 million active buyers, and has generated over 33 million buyers in 2018.
By bringing a human touch to an online platform, buyers can connect with artists on the website, follow them just like one does on social media, and discuss art with them.
The prices are affordable and range from double digits to a few thousand dollars.
For more information visit www.artsy.net and www.etsy.com