Since its launch in 2014, Jakarta Smart City aims to find solutions and solve a variety of urban problems by utilising integrated information and communication technology in all public sectors. The city government has been working toward digitising a number of projects, collaborations, and investment in infrastructure.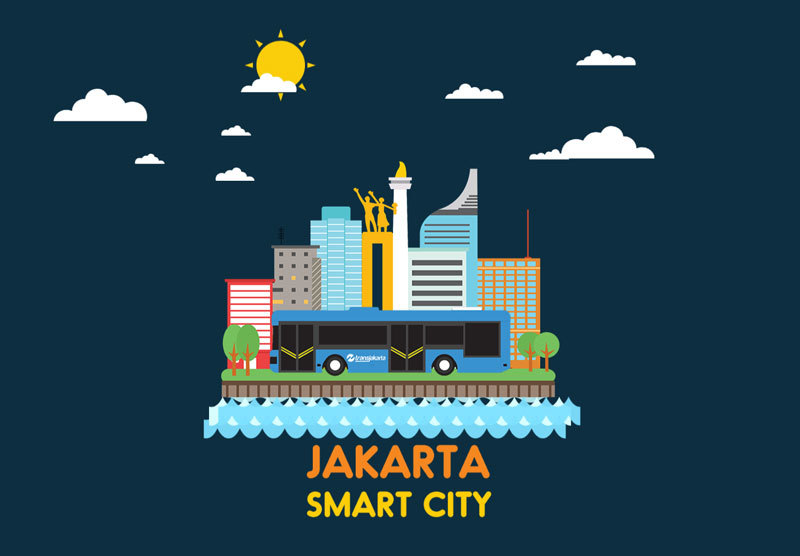 As the first step to build the base of the smart city ecosystem, former Jakarta Governor Joko Widodo and Deputy Governor Basuki Tjahaja Purnama had 3,000 closed-circuit televisions (CCTV) installed across the city's roads and also an IDR 3 billion investment in Google to develop a map of Jakarta.
According to Solution Architect Ericsson Indonesia, the Internet of Things (IoT) has a vital role in developing Jakarta as a smart city by investing in hardware,infrastructure, internet networks, and computer applications. Those elements will be able to run a various bits of information effectively.
Currently, the city government has been developing the Smart City in physical projects through smart lighting, smart parking, waste management, connected manholes, and smart electricity. Jakarta Smart City officers have been working toward the government's vision of creating Smart Governance, Smart Economy, Smart People, Smart Mobility, Smart Environment, and Smart Living.
In the short-term, Jakarta Smart City is expected to improve public and government interactions, especially by providing optimal online records for public needs as well as to facilitate citizens to easily voice their opinion about Jakarta. The Smart City portal has been established as a platform where government officers at any level can connect, as well as invites citizens to be active participants.
As part of efforts to achieve a better connected city, Jakarta Smart City has introduced two pilot mobile applications, QLUE and Quick Response Public Opinion (CROP), which connects the Jakarta city government with its citizens.
QLUE is a social media application that can be downloaded on smart phones, allowing the public to make direct reports with real-time photos on events like traffic congestion, violation of laws, natural disasters, floods and more, in order to get a quick response from Jakarta's officials and law enforcement. On the other hand, CROP is an application that comes in handy for Jakarta Provincial Government officials as it provides information about any complaint filed by citizens so they can be addressed immediately .

So far, the local government has collaborated with 11 tech companies including QLUE, iJakarta, Waze, GO-FOOD, Trafi, Zomato, Indorelawan, Nodeflux and Tokopia to participate in making smart city ecosystem accessed from mobile application.
Work in Progress
Jakarta might be taking the lead in implementing a Smart City ecosystem (other cities include Bandung, Semarang, and Surabaya). On the other hand, though, funds for facilities and infrastructure procurement can sometimes be challenging. The local government continues to build Jakarta Smart City through mobile applications to make accessing public services easier through collaboration with start up enterprises
Based on its website, Jakarta has engaged more public and private sectors to help supporting Smart City through launching programmes and online platforms. For example, BERiDE was introduced last May as a platform which allows users to submit their ideas for city development or entrepreneurship, connect them with related institutions and investors to make a further discussion.
Recently, OK-OTRIP was introduced as a multifunction card which can be used as cross transportation mode with one payment card. By highlighting "One person One ticket", OK-OTRIP has sold around 4,000 card during the trial period.
JACK Up (Jakpro Gas Converter Kit Utilisation Programme) aims to provide green energy by introducing fuel converters to replace fossil fuels with gas. Department of Environment of DKI Jakarta Province launched the e-Waste programme to process electronic waste in the neighbourhood, including the development of technology for flood prevention.
There is also Info Pangan Jakarta as the platform to monitor consumer good price on traditional market. JakEVO becomes the perfect solution for avoiding complicated bureaucracy by opening access for people who want to register their business and also for SME licensing for elated government offices. Even more, Jakarta residents can register their funerals online. Amazing!
Challenge
Unlike New York or London, Jakarta is a city in transition, similar to Bangkok which has a significant population growth through urbanisation, which poses a challenge to the development of infrastructure. Regarding Smart City development, Jakarta faces a few challenges.
As the idea of 100 Smart Citys in Indonesia expands on a national scale, Jakarta has been struggling to secure funds for rare and expensive hardware as well as adjusting the budget for continuing Smart City programmes at the Regional People's Representative Assembly (DPRD).
The coverage area of Information Technology is the crucial point for inclusive access toward the luxury of living in the smart city. Most importantly, citizens must be prepared to create simultaneous interaction between the government and themselves.
_______
This article is originally from paper. Read NOW!Jakarta Magazine June 2018 issue "City of the Future?". Available at selected bookstore or SUBSCRIBE here.