For the last couple of years the Netherlands has been ranked consistently in the Top 5 of global technology and innovation hubs. The Netherlands ranked 3rd in the Global Innovation Index, after Switzerland and Sweden. Meanwhile, the Netherlands has been ranked 4th in World Economic Forum's Global Competitiveness Index, with the support of its tech readiness and innovation ecosystem.
International tech-based companies like TomTom, WeTransfer, and Booking.com can be traced back to their Dutch roots. Its recent ambition to become the West Coast of Europe has gained popularity among international media.
So it is time to compare notes on these exciting developments with Rob Swartbol, Ambassador of the Netherlands in Indonesia.
What makes the Netherlands thrive in developing innovation?
We, the Dutch people turn challenges into opportunities. The Dutch people are known to be creative, efficient, and thinking out-of-the-box. We are also quite pragmatic and result-driven.
Let us start from the roots. Literally, Netherlands means "lower-lands". The land has been developed below sea levels, battling challenges with a combination of common sense and innovation. Imagine being one of the most populated country on earth, with half of its population living in areas below the sea level. The only way to survive and even strive is to come up with innovative solutions for daily challenges. Whether these challenges have to do with water management, food security, dense population, congested cities, the Netherlands have been able to present solutions that are not only suitable under local conditions. They are suitable globally. For instance together with Copenhagen, Dutch cities Amsterdam and Utrecht rank in the top-3 of "most cycling friendly cities in the world" thereby providing sustainable solutions for traffic congestion.
The threat of major floods –too much water- and at the same time lack of clean water sanitation has resulted in world-class technology in flood management and clean water technology. While other countries treat too much water as purely a threat to be kept outside, we have developed technologies to allow the surplus of water to work for us instead of against us.
The Netherlands care deeply about social challenges in the world. We believe that innovative technology can break barriers and improve our daily lives. For instance, Dutch startups and companies come with tech-based solutions towards many issues, such as online ticketing (Booking.com), payment system (Adyen), file transferring (WeTransfer.com), food delivery (Takeaway.com), and turning heat into energy (Nerdalize).
Our tech innovation always keep up with global developments. For instance, a Dutch company, ZENS, introduced their range of wireless smartphone chargers. With smart and simple thinking, ZENS perceived how people try to deal with the mess of cables and plugs, and captured the opportunity to develop a wireless charger, as mentioned in their website makezens.com (an interesting and creative name; can be read as "makes sense").
Since we believe in the potential of sustainable innovation, the next important step is to support the environment. However, this support cannot only come from the innovators themselves, but needs to involve many stakeholders.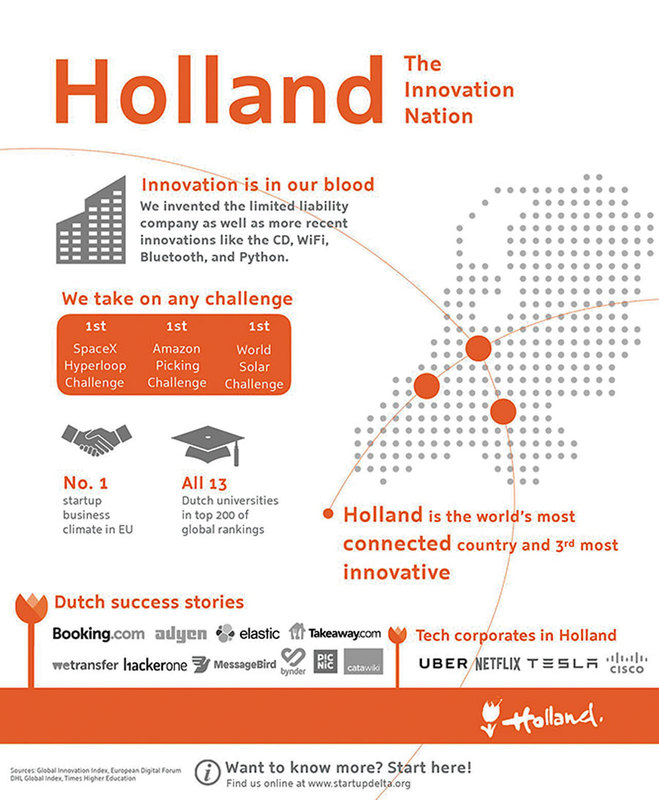 How does the Government support this?
International trade is a must for a small country like the Netherlands. So entrepreneurship across borders has become an important part of the Dutch economy. Therefore, supporting entrepreneurship is a crucial aspect, and the government is very keen to support ambitious entrepreneurs and startups.
It is essential to create a fully supporting ecosystem to encourage innovation and creation for the entrepreneurs. As the regulator, the Dutch government offers incentives and attractive policies to support the Dutch startup ecosystem. The government therefore has come up with the Ambitious Entrepreneurship Action Plan. This action plan enables entrepreneurs to have a better access to all supporting variables like capital and market.
We also believe that integration between all partners will definitely accelerate the quality of the ecosystem. The Government provides support to not only Dutch innovators, but also international innovators. We make the Netherlands interesting and appealing for international innovators to expand their businesses here as well. Important elements for a favorable investment climate are a well-educated workforce, stable fiscal climate, easy access to finance and an excellent IT and airline infrastructure. By creating this integrated ecosystem, we have been successful in attracting foreign investments for instance in High Frequency Trading (HFT) that requires world class IT infrastructure. We want the Netherlands to thrive as the "Digital Gateway to Europe" while also becoming the "Secure Gateway to Europe" with expertise on cybercrime and cybersecurity.
As a part of the action plan, the government also provides the "startup visa" to international innovators willing to develop their business in the Netherlands. This visa provides opportunity for non-EU innovators to produce their innovative creation, together with an experienced business mentor, or a so called facilitator, like internationally-recognized, Amsterdam-based, startup incubator Rockstart.
The government also provides assistance and guidance for Dutch companies to expand internationally. We provide many instruments like coaching, research, and many types of funding schemes. We connect Dutch businesses to our network abroad through the Embassies. We sincerely believe that people-to-people relationships, listening and understanding what counterparts want, will remain an important part of doing business across the globe.
With the Netherlands providing one of the best ecosystems to support startups, the Government wants to push the potential of startups as the drivers of innovation. The government is reachable digitally, such as through the national portal www.business.gov.nl to be connected easily with the entrepreneurs.
Initiatives start not only on the national level like Startup Delta, but also on the local level, such as "Founded in Holland", "Startup Amsterdam", "Startup Utrecht", "Founded in Groningen".
What about the Startup Delta?
Supported by Dutch ministries, Chamber of Commerce, and other stakeholders, the Startup Delta, has been established to provide greater support to the Dutch startup ecosystem.
This public-private partnership, with Prince Constantijn van Oranje as its envoy, aims to accelerate the startup ecosystem in the Netherlands. Startup Delta believes in connecting people; breaking the constraints by being a hub for startups to grow their networks. The Startup Delta offers support and guidance to potential startups, as well as connecting startups with stakeholders.
Their action plan contains their intention to be a one single startup hub, which helps open the access to capital, networks, and markets for startup companies. They build partnerships between startup incubators, government organizations and the private sector.
The Startup Delta actively promotes Dutch startups in the international arena. They proudly promote 53 Dutch startups this year to CES Exhibition in Las Vegas. Startup Delta organized the "Holland Tech Square", a pavilion presenting Dutch wide-ranging innovative tech products from gaming, security, e-commerce, health, audio, robotics, and mobility. The Netherlands once again proved how its creative innovations can advance our daily activities and solve challenges to society.
___________
Tex was provided by the Dutch Embassy in Jakarta.. This article is originally from paper. Read NOW!Jakarta Magazine February 2018 issue "Season of Love". Available at selected bookstore or SUBSCRIBE here.