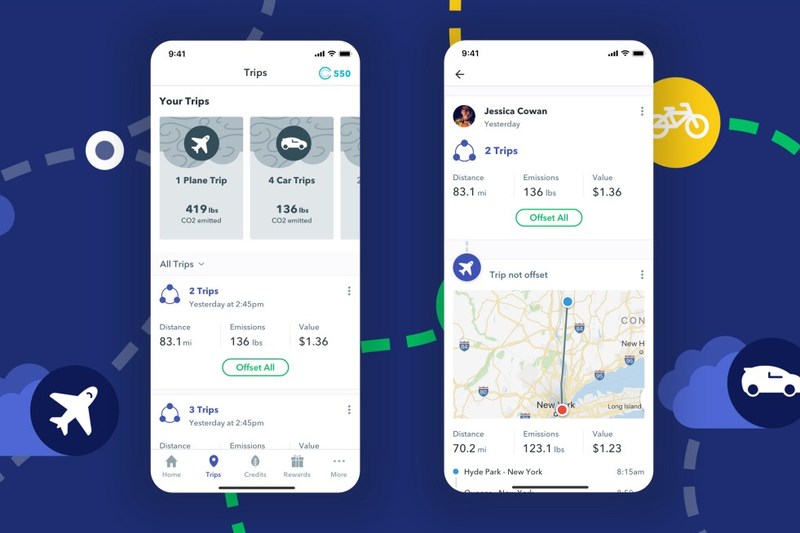 Only a few people who are familiar with the carbon calculator, a technology that allows us to measure their carbon footprint, our personal CO2 emission that directly contributes to climate change.
Our daily waste that most people recognise goes in the dumpster but actually our waste is more than that and yes, it's quite complicated. According to New York Times's A Year of Living Better, a carbon footprint is the total amount of greenhouse gas emissions that come from the production, use and end-of-life of a product or service.
Not to make it confusing, it's basically the waste of our lifestyle measured by the total miles we travel by car, bus, train, and plane, the energy we use at home, our shopping, and the composition of our diet. Those factors are contributive elements that release accumulative CO2 emissions which cause global warming and climate change, according to The Nature Conservancy.
Carbon calculator is a digital measurement that allows us to identify the amount of waste people emit. The score will tell us if our carbon footprint is at an excessive level or not. If you lessen your personal carbon footprint, you lessen your personal environmental impact. The more we are aware about our carbon footprint, the more we care about climate justice as the impact of changing climate could harm many of global citizen wherever we are.
In the last few years, tech developers have been advancing this technology and its already available on web-based calculators. To raise awareness and make it more convenient, some start-up companies have offered the calculator in the form of mobile apps which can be easily downloaded on Google Play or AppStore.
Here are a few Carbon Footprint calculator mobile applications for your daily use to measure personal emissions.
Capture: Carbon Footprint & CO2 Tracker
Developed by Climate Technology Solutions, Capture is a carbon footprint tracker that helps us learn more about carbon emissions and carbon footprints from daily lifestyle. Capture can help people to achieve a sustainable lifestyle, whether through sustainable travel, reducing your dietary carbon footprint, or removing CO2 by offsetting the CO2 emissions one can't avoid. There are many categories of life where our daily actions result in CO2 emissions, and Capture is starting with helping people to reduce carbon emissions from everyday travel choices.
---
GoGreen: Carbon Tracker
Through GoGreen, everyone can measure and track your own carbon footprint, identify trends in your energy consumption and take the necessary steps to reduce your carbon footprint. GoGreen is different from other carbon footprint measuring apps because the app uses data from bills rather than relying on estimates or averages. GoGreen accurately calculates carbon footprints each month and doesn't simply give one a one time estimate.
---
Carbon
Carbon is a good start! The company Springful, the developer aims to inform and inspire people to minimise the carbon emissions caused by their energy use. Their algorithm asks some questions about our energy lifestyle and gives you a unique Carbon Score. It determines which power plants your energy comes from and identifies how much CO2 they produce. It also knows how much CO2 your car produces, so it tallies those up to give one a good idea of how much CO2 your energy use produces.
---
Joro: Your Climate Action Plan
Joro makes climate action accessible and personal. Take action with a community of people having collective impact, starting with steps to improve your own carbon footprint. Improve your score by 7.6% this year to align your personal emissions with the Paris Climate Goals. The App will guide one along the way with a company personalised approach. With curated tips and advice, save carbon to earn trees and have a measurable impact on the environment. To get started, answer a few questions to estimate your carbon footprint. Next, get accurate, automatic carbon tracking based on how one spends money by connecting your credit card.
---
Carbon Down — Go Carbon Neutral
With Carbon Down, you can take effective individual action to address climate change, and will have the tools to enact wider change. Carbon Down, Inc helps people understand, reduce, and offset personal carbon emissions. With a short carbon footprint calculator, the app helps you understand CO2 emissions. Individuals can go green with the app offerings of gold standard carbon offsets for unavoidable carbon emissions. By supporting company vetted projects, users can protect forests, plant trees, fund renewable energy, etc., while removing personal carbon emissions from the atmosphere.
---
OffCents
Newly Released in 2020, offCents rewards you for offsetting carbon emissions from travel! Track and offset your carbon footprint by purchasing or earning verified carbon offset credits. Through the in-app market place of rewards save money or receive free eco-products for taking action. offCents procures carbon offset credits for you from projects that are scientifically verified for their emission reductions. offCents is also committed to making you carbon negative through our carbon-negative campaign.
These Carbon Trackers are available worldwide on Google Play and App Store. Choose the most convenient app that could be your daily tacker to reduce your personal carbon emission and you can do even more by joining one of the very active climate movements.