As smartphone companies keep improving their products' camera features, the newest Vivo V7+ series provides everything customers may expect from a front camera in their smartphone. The selfie camera is a major specification from V7+ with a clearer pixel depth resolution. PT Vivo Mobile Indonesia claims that the V7+ is the world's first and clearest selfie smartphone with a 24 megapixel camera so far.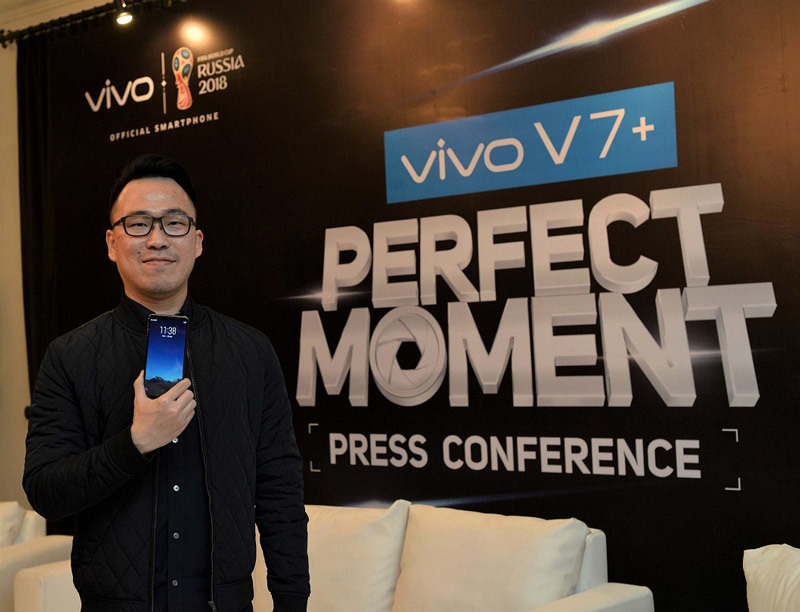 Vivo seriously aims to become the major player in the market alongside Oppo. The Vivo V7+ launch was shown live on nine TV stations and additional media platforms, which included appearances by Indonesian brand ambassadors Agnez Mo, Afgan, Tulus and many more. But what exactly makes the new V7+ so special for selfie lovers?
The 24 megapixel camera is considered to produce a clearer picture by supporting Selfie Softlight. The colors look more realistic and have an actual contrast. Vivo V7+ brings selfies to another level as it perfects the photography algorithm to make a breakthrough resulting in natural-looking selfies.
Vivo V7+ has a 5,99 inch screen size with a FullView Display. The screen with 18:9 ratio provides a cinematic experience as it is 12,5 percent wider from the prior 16:9 version. Users also have better interface while playing games. The whole screen ratio on V7+ display is 84,4 percent and 2,15 mm thin bezel. If you just want to relax, the Vivo V7+ setting can be changed to Game Mode. This feature allows you to block calls and users can play games as long as they want without any distractions. Therefore, besides being the perfect fit for selfie lovers, the Vivo V7+ also entertains your eye while streaming on Youtube or playing games.
The selfie camera may be the focal point of the Vivo V7+, but it offers much more than that: its Face Access Technology adds a new level of security. The hardware is fast enough to handle multiple task managing with CPU octa-core Qualcomm 450 and 4 GB on RAM. The Hi-Fi AK4376A audio chip males for a theater sensation.
Vivo V7+ is now available to order in two color options, black and gold. Customers are able to buy and order V7+ through official online stores and selected e-commerce. It is priced at IDR 4.699.000 (exclusive offer).