It was a warm Tuesday evening in Jakarta on 18 September, where excited participants gathered at the culinary event of the year, the event that honours them as the crème de la crème of the best dining establishments in town. Proudly hosted by NOW! Jakarta and American Express as the official card of BRBCA, the grand new look of the Golden Ballroom of Sultan Hotel & Residence Jakarta welcomed over 175 guests from more than 70 culinary outlets to a dazzling and stylish evening of appreciation.
The winners were selected by over 40,000 votes from more than 30,000 voters who had voiced their opinion on which of the 144 entrants were deserving of these accolades. The NOW! Jakarta Best Restaurant, Bar and Cafe Awards honoured these fine establishments, who through their impressive service delivery, dedication and creativity brought deserved recognition to their proud brands.
The theme of the eveing was "White with a touch of Gold". Fresh fruit and vegetables adorned the stage as well as appearing the decoration, to reflect the industry trend to fresh produce ,the evening was as relevant and stylish as one would expect from NOW! JAKARTA. The Sultan team served a delectable buffet and canapes and was paired with excellent wines from Two Islands, beer from San Miguel and softdrink from Coca-Cola Amatil Indonesia. Entertainment fitting to the occasion included great performances from Truly Entertainment, a fun plating game and doorprizes which included two return tickets to HongKong from Garuda Indonesia as the main prize, all of which added to the evening's stylish flair.
69 beautifully custom china-bone plates from Wedgewood (PT. Doulton) were presented to winners from 20 main categories, 7 Editor's Choice and 2 sustainable awards. The award plates were handed out by Perriz Azwir, Director, Business Development Partner Card Services Asia of AMEX, Bara Pattiradjawane, BRBCA Celebrity Guest Chef, Stefan Pitterling of PT. Doulton and Alistair Speirs, Founder of NOW! Jakarta.
" This is an important and significant event for us, " Speirs said. " We recognise the significance of the culinary industry in the cultural make-up of a city and in its desirability as a destination, and want to help to develop its quality and visibility through this competition."
Special thanks go to Garuda Indonesia for giving away two tickets at the awards, Sultan Hotel & Residence for the delicious food and professional service, PT. Doulton for the award plates, San Miguel, Two Islands and Coca-Cola Amatil Indonesia for the drinks and of course the main sponsor of BRBCA 2018, American Express.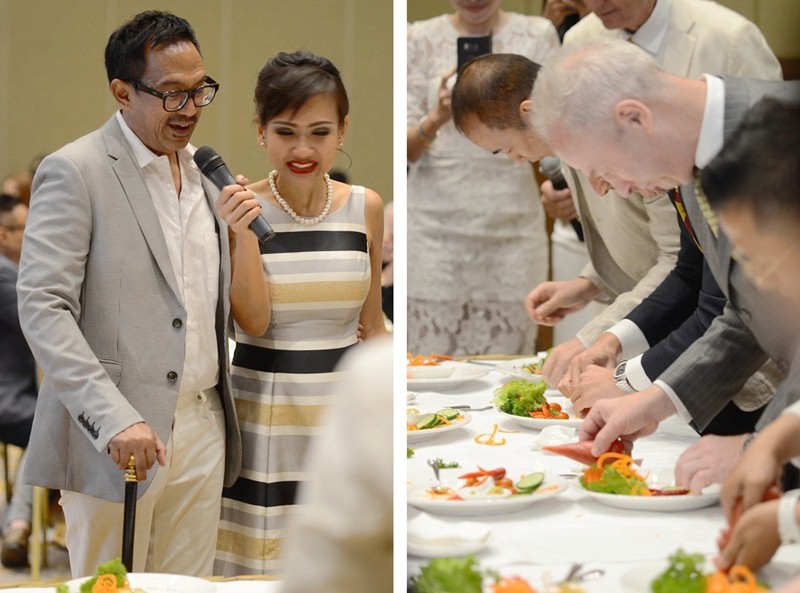 Editor's Choice Awards
Best Cocktail List: The Writers Bar by Raffles Jakarta
Best Brunch Cafe: Monolog
Most Multicultural Restaurant: Lara Djonggrang
Best Fusion Restaurant: Henshin by The Westin Jakarta
Best Eurasian Bar: Eastern Promise
Best Fine Dining Restaurant: Alto Four Seasons Hotel Jakarta
Best Modern European Restaurant: Monty's
Chef of the Year: Rinrin Marinka
Most Sustainable Hotel: Shangri-La Jakarta
Most Sustainable Restaurant: Potato Head Family
Industry's Choice Awards: Bistecca, Akira Back, Cassis Kitchen
Reader's Choice
Best Asian Restaurant
Winner: So Thai
First Runner Up: Nam Thai Kitchen & Bar
Second Runner Up: Jittlada Royal Thai Cuisine
Best Indian Restaurant
Winner: Ganesha Ek Sanskriti
First Runner Up: Queen's Tandoor
Second Runner Up: Bambaiya by Queen's Tandoor
Best Chinese Restaurant
Winner: Jia By Shangri-La Hotel Jakarta
First Runner Up: Teratai Chinese Restaurant
Second Runner Up: Li Feng By Mandarin Oriental Jakarta
Best Indonesian Restaurant
Winner: Le Gran Cafe by Hotel Gran Mahakam Jakarta
First Runner Up: Bogor Cafe by Hotel Borobodur Jakarta
Second Runner Up: Grand Cafe by Grand Hyatt Jakarta
Best Multiple Japanese Restaurant
Winner: Sunny Side Up
First Runner Up: Pepper Lunch
Second Runner Up: Kintan Buffet
Best Single Japanese Restaurant
Winner: Kahyangan Japanese Restaurant by Pullman Jakarta Indonesia Thamrin
First Runner Up: The Japanese by Sari Pacific Jakarta
Second Runner Up: Nishimura by Shangri-La Hotel Jakarta
Best Vegetarian/Organic & Health Food Outlet
Winner: Mars Kitchen by Chef Marinka
First Runner Up: Gizzi
Second Runner Up: Blue Terrace by Ayana Midplaza Jakarta
Best Mediterranean Restaurant
Winner: Al Nafoura by Le Meridien Jakarta
First Runner Up: Sea Grain Restaurant at Doubletree By Hilton Jakarta
Second Runner Up: Warung Turki by Turkuaz
Best Italian Restaurant
Winner: Rosso by Shangri-La Hotel Jakarta
First Runner Up: Ambiente Ristorante by Aryaduta Jakarta
Second Runner Up: Bruschetta Italian Restaurant by Hotel Borobudur Jakarta
Best French Restaurant
Winner: Lyon by Mandarin Oriental Jakarta
First Runner Up: Amuz Gourmet
Second Runner Up: Garcon Bistro, Bar & Patisserie
Best American Restaurant
Winner: Up in Smoke
First Runner Up: The Holy Crab
Second Runner Up: Frank's Bar & Smokehouse
Best Steak & Grill Restaurant
Winner: Skye
First Runner Up: Holy Smokes
Second Runner Up: Riva Grill Bar & Terrace
Best International Concept Restaurant
Winner: Catappa Restaurant by Grand Mercure Jakarta Kemayoran
First Runner Up: Sana Sini Restaurant by Pullman Jakarta Indonesia Thamrin
Second Runner Up: Collage All Day Dining by Pullman Jakarta Central Park
Best Multi Cuisine Restaurant
Winner: Busaba
First Runner Up: Patio Venue & Dining
Second Runner Up: Sperta by Grand Kemang Hotel Jakarta
Best Cafe
Winner: Mokka Coffee Cabana
First Runner Up: Starbucks Reserve
Second Runner Up: Aprez Cafe The Energy
Best Hotel Cafe
Winner: Spectrum by Fairmont Jakarta
First Runner Up: Jimbaran Lounge by Ayana Midplaza Jakarta
Second Runner Up: Open Restaurant at Doubletree by Hilton Jakarta
Best Tea & Coffee Shop
Winner: Peacock Lounge by Fairmont Jakarta
First Runner Up: Fountain Lounge by Grand Hyatt Jakarta
Second Runner Up: Seruni by Ambhara Hotel Jakarta
Best Cocktail, Whiskey & Wine Lounge
Winner: Plumeria Lounge by Grand Mercure Jakarta Kemayoran
First Runner Up: Sambal Tapas Outdoor Bar & Lounge by Bandara International Hotel
Second Runner Up: Mr. Fox
Best Pub & Sport Bar
Winner: Tavern Restaurant & Pub By Aryaduta
First Runner Up: Tiga Puluh Music Bar & Lounge by Le Meridien Jakarta
Second Runner Up: Paulaner Brauhaus by Hotel Indonesia Kempinski Jakarta
Best Live Music Venue
Winner: B.A.T.S. by Shangri-La Hotel Jakarta
First Runner Up: Cafe de Hooi
Second Runner Up: Double Doors
_______
This article is originally from paper. Read NOW!Jakarta Magazine October 2018 issue"A Jakarta Smorgasbord". Available at selected bookstore or SUBSCRIBE here.