As a child, Cosmas Gozali's family presumed he would follow in his father's footsteps and pursue studies in medicine. But he preferred Legos and drawing, which eventually led to a career in architecture. With an impressive portfolio of designs both in Indonesia and overseas, he is known for his contemporary style. NOW! Jakarta spoke to him about his work.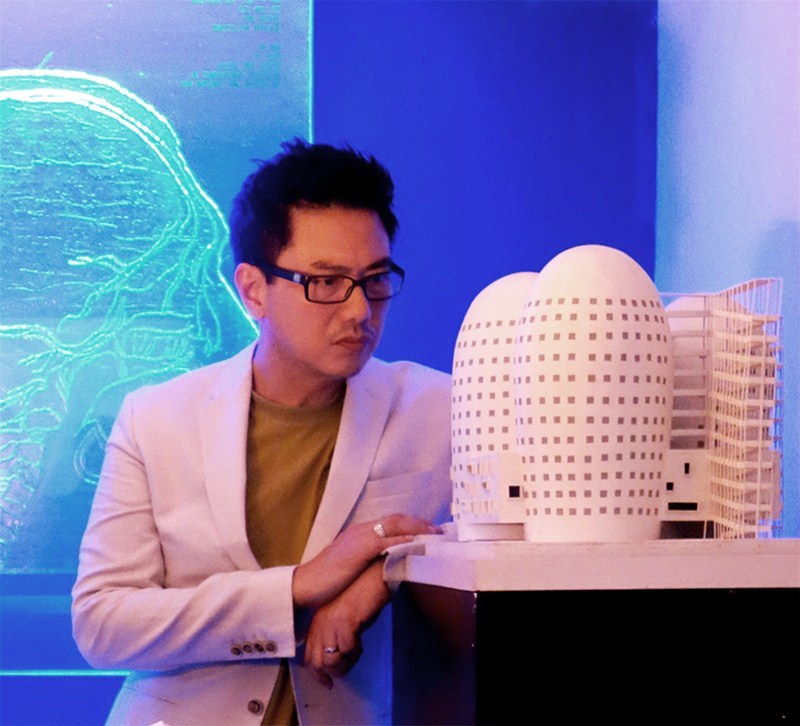 What inspired you to go into architecture?
When I was young, Jakarta did not have many entertainment places like it does now. However, every weekend we would visit Gramedia, the book store because I loved to read, or we would go around Menteng and Kebayoran in our Fiat. During those trips, I was astounded by the beauty of the buildings and houses we passed, and wondered who and how those people created and built such nice buildings and houses. It was then I realised every time I saw houses and buildings, I became excited and felt a calling to architecture.
Coupled with my love for art, and also for Math and Physical Science, my decision to become an Architect was taken when I was only on the fifth grade.
My father then openly shared that being an Architect might not give me the best future, and he was hoping I would consider IT as my career choice. Nevertheless, with my strong conviction, I did not give up my calling, and after I graduated from Kanisius High School I went to Vienna, Austria to study architecture.
How has your experience overseas inspired and shaped your designs?
As an Architect who graduated from Technishe Universitat Wien, Austria, my designs carry a strong German character which must be simple and functional.
In addition, coming from Europe which has 4 seasons and after personally experiencing a few very cold winters without seeing much sunlight, I appreciated the sunlight enormously when I came back to Indonesia. Therefore, in my designs I always try to bring the brightness and natural-outside feel into the space inside. Despite plenty of sunlight inside the building, it doesn't necessarily make the space hotter, as long as we create a good cross ventilation for the air to flow.
With my many travels to many countries, I pick up many global ideas but on the other hand, I could see more uniqueness and attractiveness of our local cultures and this leads me to always bring our local philosophy and culture in my design in my attempts to promote our culture and distinctiveness globally and hence, I call my effort 'local globalisation'.
What are your thoughts on the future of design in Indonesia and how can design in the country's major cities - especially Jakarta - become more environmentally conscious?
The future of design in Indonesia will definitely be greatly affected by the world. [Indonesians] are travelling more because of cheaper transportation, and the progress & speed of social media which make information exchange easier; this will certainly affect the world of architecture as well. "Copying" from various corners of the world cannot be avoided.
On the one hand, the effects of globalisation make everywhere & everything almost the same, but on the other hand, many people are also aware with the diversity and uniqueness of our culture and thus, appreciate our culture even more.
Young people of the future prioritise personal and individual freedom. They want shapes that are freer and in accordance with their personalities, so these consequently will create various architecture forms which increasingly diverse. As globalisation is unavoidable, and to ensure we do not lose our identity, these trends must be exploited by Indonesian architects through cultivating the richness and diversity of the culture we have, and while it fits the present and future needs but also keeps the locality growing and adds uniqueness.
I believe the awareness to protect nature has grown in our society. Jakarta and other large cities populations start to miss nature. Education and public awareness make them more conscious of maintaining and protecting nature from destruction, and of course the right Government regulations and policies will accelerate the development process to create buildings and houses that more environmentally friendly while balancing technology and nature.
Who are some of your inspirations? And your favourite designers?
Since my university years, I have always been admiring Le Corbusier because of his principle in architecture of "Promenade on Architectura", namely travel in space. I always apply this principle in my work, which is to focus on what feelings or space experiences we want to get in every step we take in the architecture that we design. The balance proportion and "human scale" also form the basis for design, so that the building or space can be comfortable for its users.
Then, another theory which became very important for me when I have to design at the non-urban area is architecture that approaches and integrates with nature which I learned from the "Falling Water House" by Frank Lloyd Wright.
In the course of my career, of course there were many other architects who I admired, such as Zaha Hadid, who for the first 20 years of her career almost always won competitions, but her works were not built because at that time, technology had not been able to answer Zaha Hadid's design requirements. However, this situation never made her give up and despair, until finally when the technology was able to answer, Zaha Hadid's works immediately were built and found spread throughout the world. This spirit of not easily giving up is what I really admire.
Another well-known architect which I have a high regard is Frank Gehry who pushes and forces building techniques to develop by leap and bound because of the material needs of his free and wild design forms.
What are your thoughts on the future of architecture, especially here in Jakarta?
Architecture in the future will be very challenging and interesting, because the current and future generations will be aware of the lifestyle and will quickly get bored with what they have, which may be caused by the movement and exchange of information that is too fast - so they always want something different; and along with the development of building techniques and materials which catching up fast, this can help fulfil the desires of that generations. The challenge will be that many new things need to be created in a faster pace.
Paradoxically, the longing for more nature is increasing, so incorporating natural elements in architectural works or forms of organic architecture will be a sure development. Jakarta will be greatly affected by the effects of globalisation, coupled with the continued growth of our economy. It will make Jakarta a playground for architects and developers who will develop more unique architectural works but it will make limit land availability and increase value, which will make it more challenging for architects. Perhaps the architectural designs which we have only seen so far in science fiction movies are no longer a mere fantasy, but soon they will become a reality in our lives.
---
This article is originally from paper. Read NOW!Jakarta Magazine March 2019 issue"Architecture, Property, and Design". Available at selected bookstore or SUBSCRIBE here.