Economic necessity led Esti McMillan to dabble in the relocation services market. The year was 2003 and companies operating in Indonesia were hiring staff from overseas en masse. So, she tapped into her network - developed thanks to her children's international schools - and began showing houses to expatriate families, recent arrivals in Jakarta.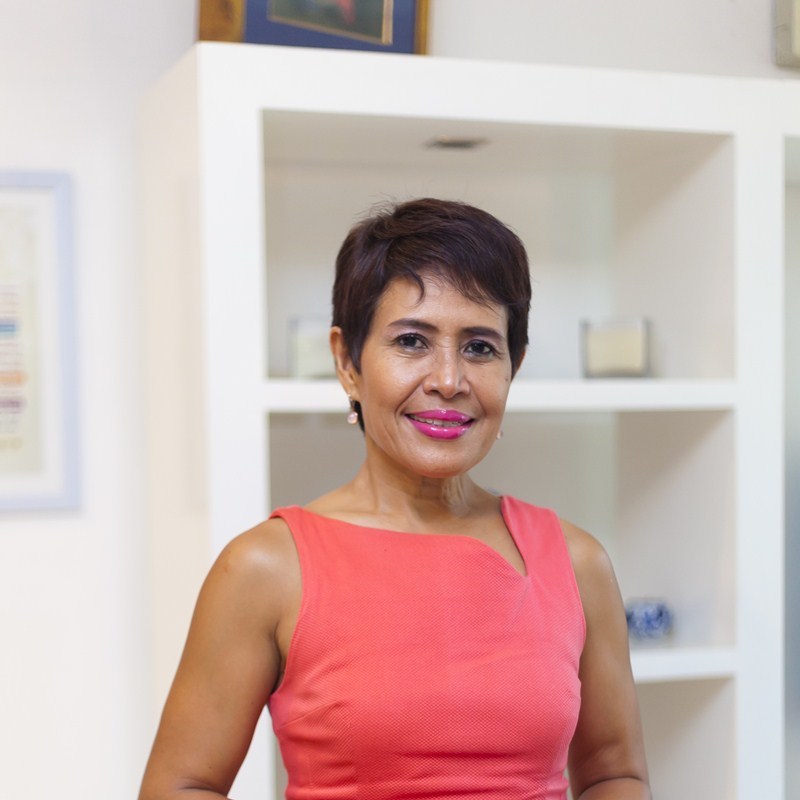 Armed with her experience living overseas for more than a decade, she was able to connect with foreigners coming to the country for the first time and finding properties that met their needs. Satisfied clients talked to their friends and slowly, almost exclusively by word of mouth, demand for Esti's services increased and she founded her own company, EMC Indonesia.
"I'm a one stop service" she tells me as we settle in to talk about her work. She doesn't just show houses but also provides advice to clients on schooling for their children (her own children attended some of the city's best international schools), ideal neighbourhoods to settle in that are ideal for their commuting and living needs, and much more.
When bringing in employees from overseas, most companies provide relocation services through contracted partners, Estie notes. Her services, however, are more boutique. What sets her apart is her ability to connect with her clients on a deeper level. She speaks to her clients - all of whom are referred to her through her vast social network - about their needs and tailors the house hunting experience accordingly.
"I am aware of both the Eastern and Western cultures, so I feel I am in a good position to guide them when they arrive. So they are well informed about their options," Esti says.
Expatriates from Western countries have different needs, she notes, such as large, airy, well-equipped kitchens. "Indonesian families prefer the wet kitchen outside, their maid cooks for them and serves them inside, so it's different," she says, also noting that expatriate families enjoy gardens, large bathrooms and plenty of natural light and terrace space.
"A big part of my job is to help my clients manage their expectations," Esti says. "Jakarta is a different city from others. In developed countries, you can live anywhere, it doesn't make much of a difference. But here, it matters. You have to be close to the school, to work, to other expatriates, but at the same time the houses have to be a certain way. So this creates limits," she adds.
Unlike most agents, Esti chooses the homes that she knows her clients will like. "Usually I show them three to five houses, sometimes just one or two. These houses are carefully chosen and I know they match their specifications so they don't need to see 20 houses and waste their time - or mine!"
Kemang, Cilandak and Cipete are most favoured by Europeans, Australians and New Zealanders, most of whom look for homes with great floor plans, huge kitchen spaces and gardens. They tend to place home comfort over proximity to schools and offices. Americans, on the other hand, appear to favour Pondok Indah, choose function and practicality over aesthetics. "Floor plans there are not as great, gardens are almost non existent but it's not far from Jakarta Intercultural School" she quips.
These are challenging times though. The Oil and Gas boom that fueled the expatriate drive into the city through much of the 2000s has faded out. One can see the evidence in largely expat areas of the city with the plethora of "for rent" signs placed outside these veritable mansions. Esti bemoans the fact that her business has faced challenges since 2015. The mild pick up in 2017 saw a slight increase in demand but more recently it has taken an unpredictable turn.
"It used to be a quick turnaround. Landlords could rent out houses for three years here, three years there. It was like an auction. These days it's a lot harder," she says.
More recently the industries that are most seen here are banking, e-commerce and infrastructure. Her clients are now younger and are coming in from other countries such as Korea, Japan and India.
Esti hasn't had any clients from China yet but as the market evolves and the city sees more professionals from the economic powerhouse arrive, that could well change. And Esti will be right there, helping orient them in the complex, unpredictable labyrinth of Jakarta's housing market.
---
ESTI'S TIPS FOR HOUSE HUNTERS

Be open: Make a plan, but have a back up but don't be too rigid with expectations. Jakarta requires a bit of flexibility
Culture Shock: Watch YouTube videos and documentaries, have a look at a few neighbourhoods online. Esti's website has a gallery of images of neighbourhoods for potential clients to consider before they begin the process of finding the right home.
Don't sweat the small stuff: Once you've settled on a property, trust that you'll have an excellent relationship with both Esti and the landlord. But as detail-oriented as one may be - and Esti is picky about details - it's important to accept certain flaws. Many in the service industry here don't have professional training so if certain surfaces aren't the right shade or texture of the colour you want - ultimately you're just in the home for a couple of years.
Visit Esti's website at www.emcindonesia.com
---
This article is originally from paper. Read NOW!Jakarta Magazine March 2019 issue "Architecture, Property, and Design". Available at selected bookstore or SUBSCRIBE here.