Like all business cycles, there are boom times and bust in the real estate market. How is the market doing in Jakarta?
Five years ago, Jakarta's property market was tracking upwards. Attracted by high rental yields and rapid price gains, foreigners were making do with short leases or uncertain ownership structures and buying up rental investments in new high-rise developments.
Today, things look very different. As the economy experiences a slowdown in global commodity demand, foreign buyers have all but pulled away and prime prices in the resale market have fallen 20 to 30 per cent from their peak. Another major concern is that fewer expats are taking the top jobs in Jakarta and many of the city's large employers have cut back on hiring expats for senior and management roles.
While it may depend on whom you ask, property is still undervalued and we are about to enter a time of growth in the market once the government changes the regulations of foreign ownership. But that has been a long time in coming and the regulations are not yet very transparent nor favorable compared to other countries in the region. This has resulted in investors taking a more wait-and-see approach.
However, the potential is there and in this city of 30 million people some foreigners have taken the leap and decided to invest as Indonesia has a huge consumer market and a growing middle class, which has resulted in a property shortage in some areas.
But the market is stagnating. Weaker demand from Chinese investors and the introduction of a 20% luxury tax for properties worth more than USD 750.000 are two reasons the demand and occupancy rate has recently decreased by double digits.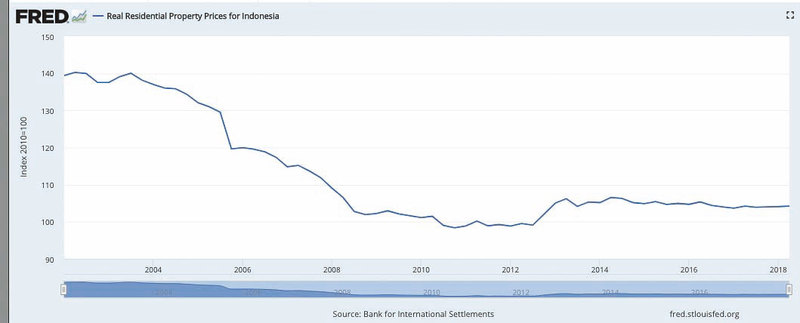 As shown in this illustrative graph from The Federal Reserve Bank of St. Louis, the average price increase has slipped from 14% in 2013, down to around 3% in 2017 and 2018.
Despite the numbers in the above chart, political uncertainty, lower occupancy rates, the luxury property tax and a drop in GDP per capita, there are promising signs that may result in stronger market growth in the coming years. For example, economic growth has been consistent and above 5 per cent for the past five years.
In addition, Indonesia is going through rapid urbanization with quickly developing hubs like Jakarta adding to real estate demand. In general, developers consider the foundation of Indonesia's economy to be quite strong. They believe that the property industry will probably grow in line with Indonesia's economic projections, which is expected to be stable and improve in the long term.
Four skyscrapers projects are currently located in Jakarta, namely Thamrin Nine Tower 1, Millennium Office Tower, World Capital Tower and Regent Residences at Mangkuluhur City, according to the non-profit organisation Council on Tall Buildings and Urban Habitat (CTBUH). Collier's sees an increased demand to build offices, particularly in well-established business districts such as Jakarta's CBD. This is especially true for large, overseas developers that are still looking for good locations to build in the city.
According to a report by DBS Bank published in the first half of 2018, there have been significant year-on-year increases in the pre-sales market (37 per cent) compared to the first half of 2017. The report shows that demand in 2018 improved across all residential segment, with a slight improvement in rental yields, as well as in price increases. The average rental increase for apartments in Jakarta in 2018 was 3per cent – 4per cent, and will remain the same until 2020, according to the report, and the average asking price for apartments increased by 2.5 per cent in the first half of 2018, compared to the first half of 2017.
Most projections for 2018-19 show that after a long downward trend the market is entering a recovery phase. Several factors indicate a market recovery in 2020 and beyond. Still, price increases and the market growth will most likely remain moderate for the near future.
One can't make a quick profit in the Indonesian property market just yet. Even if real estate is cheaper compared to other places in Southeast Asia, prices are still growing slowly. One needs to wait for higher returns while the market is still in its recovery mode.
Indonesia is continuing its growth toward becoming an economic powerhouse in Southeast Asia and attracting investors from overseas. With low prices, political stability, and the upcoming completion of mega infrastructure projects in Jakarta and other urban centers, the country has the potential to be a good option for foreign investors. However, the main driver of the property market growth will still be dedicated to Indonesia's quickly growing middle class.
Information for this article is from a survey of publications on the Jakarta real estate market from www.asiapropertyhq.com, The Jakarta Post, www.ft.com, www.colliers.com/id and JLL Indonesia Research.