Nowadays, education tools are available in the palm of our hand. As technology companies create learning software for mobile platforms, education has become more accessible where the students can learn material from anywhere and at anytime. Applications help students improve their performance at school and helps them prepare for university.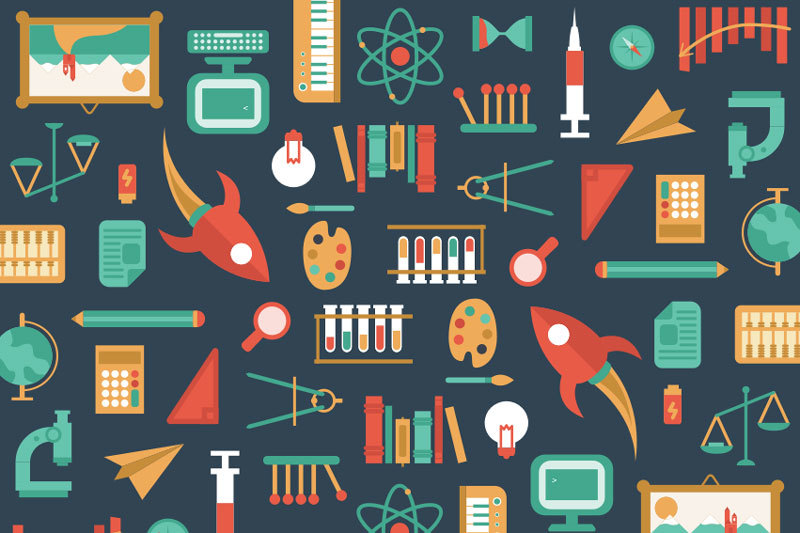 A recent study, "Digital Study Trends Survey", conducted by McGraw-Hill Education in 2017 concluded that more than 75 per cent of students today use modern devices such as smartphones and tablets to enhance their academic performance. More than 60 per cent of the respondents to the survey used in the study said they found the use of technology helpful in supporting classroom activity.

Some educational applications have been developed specifically for high-school students, and some for graduating college students, with most created to improve cognitive and soft skills. There are also mobile applications for activities beyond scholastic reach such as training in design and music production.
Students can also create educational plans, learn a language, or even research material for their classes. Plenty of applications also provide a platform for teachers to conduct classroom sessions and assign exams online.
The following are a few of the apps developed for students:
Ruang Guru
Ruangguru is the largest and most comprehensive technology company in Indonesia focusing on education-based services and has over 6 million users. It has managed more than 150,000 teachers offering services in over 100 subject areas. Ruangguru is committed to being a partner for local governments to provide quality education through the Learning Management System (LMS), also adapted from the National Curriculum.
As the most popular online tutoring application in Indonesia, users can practice their lessons— ranging from maths to science — through multi-platform services such as educational videos, practice questions, private lessons, and exam preparation. There are lessons for various levels ranging from elementary to senior high school where students are tutored by teachers across Indonesia.
Khan Academy
Khan is an international educational application which allows access to over 4,000 educational videos in maths, computer science and music among others. The application also provides comprehensive information on the different admissions process of colleges and best university in the world.
Users can watch video lessons from the collection of over 10,000 videos which provide explanations in natural science and social sciences. Over 40,000 interactive Common Core aligned practice questions are included with instant feedback and step-by-step hints, which make Khan Academy as the most established education application.
Classting
Similar to Ruang Guru, Classting uses English as the main language of instruction. In Classting, users can create classes with teachers, discuss material in chat rooms, and even watch video content at different grade levels from kindergarten to college. Through the application, parent can also participate in the classroom.
StudyBlue
StudyBlue is an online studying platform for high school and college students. The website allows users to upload class study materials, create electronic flashcards to study and share with others, as well as practice quizzes. StudyBlue allows students to store their notes in the cloud and to connect with other students who are studying the same subjects.
Ck-12
The application is established specially for maths and science where the user can find more than 5,000 lessons and concepts. All content is created and curated by teachers, for students. Ck-12 is a resource adapted from the K12 STEM education programme, which develops skills in science, technology, engineering and mathematics through different methods.
Duolingo
For those who want to learn new language in a fun way there's Duolingo. Students can learn English, French, Spanish, Italian, Portuguese or other languages with the help of speaking exercises and games. The language-learning website and app offer 68 different language courses across 23 languages, with 22 additional courses in development. The application also has a level or a round that allows the user to learn while playing with colleagues or friends. Users can use the programme to help prepare for exams like the TOEFL.
TED
Many people may know TED (Talk Education) as the name of organisation that hosts inspirational presentations for the global community by conducting TED Talks with unique speakers across the globe. There are several apps from TED, one of which is the most downloaded apps TED and TED Talks. An application of stunning talks including scientists and inspirational figures. This app has been downloaded over 10 million times. For those who are thirsty for inspiration and motivation in life and education, TED is definitely a great knowledge resource to open broader mind and add more knowledge. Even though TED is not adapted from formal education, the platform become popular among young scholar, high school and college students who want to learn about professionalism and success.
My Study Life
Another application is My Study Life which allows users to replace paper planners and migrate it online by making use of planners including for exam reminders and due dates for assignments. What this app does is keep track of all the programmes and activities that have been compiled on several different platforms with synchronisation tools. Users can also manage their classes with the help of existing schedules.
Scribd
Scribd is often considered like Netflix for books where users can access more than a million books, audiobooks and other academic documents including research papers. Users can also store a book they want on their mobile device. Scribd could be personal library where reference materials are stored in one place. The documents can be used to prepare for assignments and exams.
Elevate
To support the user's formal education, Elevate enhances cognitive skills. This is a brain training programme designed to improve focus, speaking skills, processing speed, memory, maths skills, and more. Each user is provided with a personalised training programme that adjusts over time to maximise results. The more one trains with Elevate, the more one's critical cognitive skills can improve. It is designed to boost productivity and subsequently self-confidence. Based on the company's tests, students who have used the app at least three times per week consistently have reported dramatic gains and increased confidence.