As we struggle to keep normal life going in the depths of the resurgence of the Covid Pandemic, we decided to dedicate our latest issue of NOW! Jakarta to the future of this city, and the whole idea of Building Back Better as a "Smart City". Then I came across this research report which made our hopes for a quick fix and a bright future, rather sad.
I was particularly sad to read that Jakarta has been ranked as the world's most environmentally vulnerable city, with climate change, pollution, heatwaves, earthquakes and flooding being the key threats to the Indonesian capital's residents and businesses, as reported by Asia News Network last week.
Jakarta was named the "worst-performing city in the ranking", followed by India's Delhi – each of which houses more than 10 million people, in a study of the world's 576 largest cities conducted by UK-based business risk consultancy Verisk Maplecroft. So without knowing anymore about the qualifications of this consultancy or their methodology, we assume that they are reasonably accurate and honest, which makes it even worse but still hardly a surprise.
Indonesia's financial hub and most densely-populated city scored particularly poorly in terms of air pollution, earthquakes and flooding. "With rising emissions driving weather-related risk and populations growing in many cities across the developing world, the risks to citizens, real assets and commercial operations are only going to rise," wrote Verisk Maplecroft Head of Environment and Climate Change, Will Nichols in the report published in May.
For example, flooding in Jakarta in 2020 forced more than 34,000 residents to leave their homes and, according to Indonesian Entrepreneurs Association (Hippi) chair Sarman Simanjorang, and cost an estimated one trillion rupiah ($70.05 million) in economic losses as stores were closed and supply chains disrupted.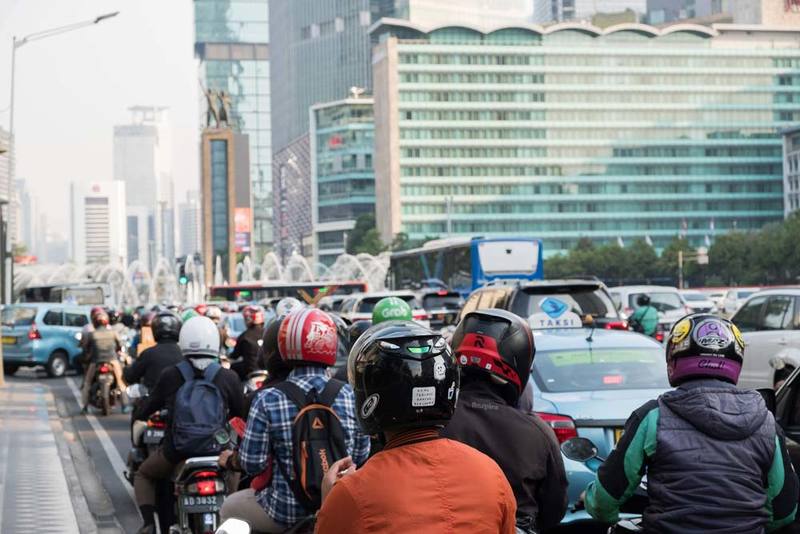 It's easy for the Jakarta Government to say, as they did "traffic congestion and air and water pollution are common in large cities worldwide. The Jakarta administration has implemented measures to curb these problems, but cooperation with neighbouring regions remains important." Yes we know other cities are affected too but that is not an excuse nor is the lack of cooperation with the surrounding provinces. We have been talking about that for decades, and surely by now agreements have been reached?
"Controlling water pollution in rivers, for example, requires the Depok, Bekasi, Bogor [West Java] and Tangerang [Banten] administrations to curb water pollution in their respective areas because our rivers are connected," the Head of Jakarta's Environmental Agency said. But again, we know that, what actual action to control this has taken place
According to one source, Jakarta's environmental risk is so dire that Indonesian President Joko "Jokowi" Widodo admitted in 2019 that it was one of the main reasons the government wanted to move the country's capital to East Kalimantan. "We need to stop overwhelming Jakarta with overpopulation, traffic congestion and water and air pollution. We have to tackle these problems," Jokowi said at a press conference at Merdeka Palace on August 26, 2019. We agree entirely but perhaps that will not actually solve the problems?
Firstly we have seen above that the water pollution comes from outside Jakarta flowing down the rivers. Secondly the whole air pollution problem will not just go away by removing the small section of the population related to the government. Here is the bigger picture.
Rapid urbanisation and chronic traffic are contributing factors to poor air quality in the Indonesian capital, alongside nearby coal-fired power plants, according to the Center on Energy and Clean Air (CREA). Air quality monitoring of fine particle matter (PM 2.5) by the U.S. embassy in Jakarta in 2019 showed there were 172 unhealthy days, more than 50% of the year.
Despite social restrictions, Jakarta's air quality has not significantly improved during the COVID-19 pandemic, with satellite imaging showing power plants in neighbouring provinces operating as usual, noted CREA in an August 2020 report, which analysed transboundary air pollution in Jakarta and its surrounding areas.
CREA identified 136 registered industrial facilities, including power plants, in high-emitting sectors in Jakarta and within a 100-kms (62-mile) radius of the city borders. Coal-fired power plants, it said, expose people to toxic particles, some microscopic, such as PM2.5, ozone, from nitrogen oxides and heavy metals like mercury.
So we take out the government employees and their vehicles and we are still left with both air and water pollution. So sadly this is not the solution and in my humble opinion, taking some 200,000 hectares of unpolluted land in E Kalimantan for the new capital, may result in even more disruption to the archipelago!
One drastic solution was sought by a group of concerned citizens which may be another way to approach this. There are 32 plaintiffs in a citizen lawsuit against the Indonesian President, the Ministers of Health, Environment and Home Affairs, and several regional leaders, demanding they fix the unhealthy air they- and we-breathe, and the Central Jakarta district court had been expected to rule on the 2019 lawsuit on Thursday 20th May, but this had been postponed because judges needed more time to consider their ruling.
If this is successful then drastic and immediate action will surely follow, and perhaps the same route could be taken by those who are affected by the polluted waters. But why do we have to resort to such tactics? Why is it not the over-riding and obsessive task of the top government officials to safeguard the health and safety of every citizen? Something that they work at night and day trying to find the best solutions? It seems not. But beware of too much criticism these days since the reaction in recent times has been to close down the critics rather than seek solutions. So despite the embarrassment of the public shaming involved here, we may see the doors being closed rather than opened.