In the year of 2021, the Bantar Gebang landfill in Bekasi may be closed because it may not be able to accommodate more of Jakarta's garbage. This year, DKI Jakarta Provincial Governor is aiming to increase waste reduction by 20% and waste handling by 80%, and they are inviting people of Jakarta, especially restaurateurs and cafe entrepreneurs to support and take responsibility together.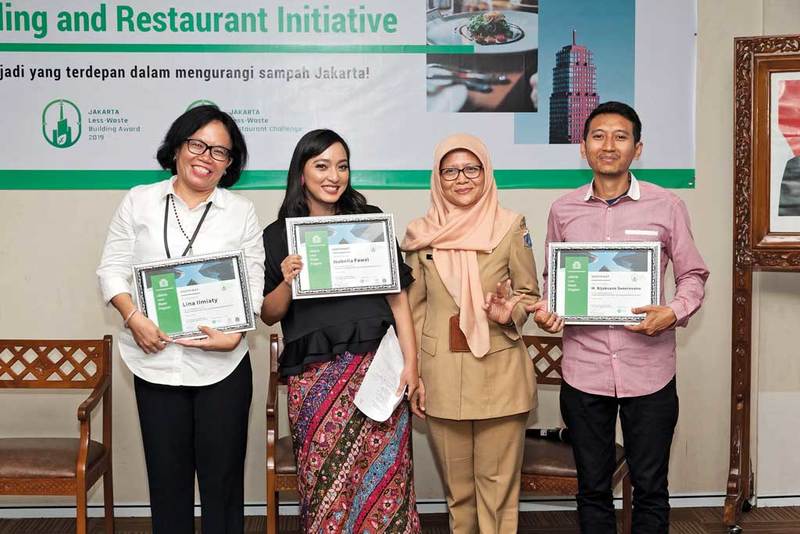 On 30 April at the DKI Jakarta Governor Office, a number of F&B enterpreneurs gathered in a Jakarta Less Waste Restaurant Initiative workshop held by DKI Jakarta Provincial Government through the Department of Environmental Services in collaboration with Waste4Change, MVB Indonesia, and Green Building Council Indonesia.
The objective was to socialise Jakarta Less-Waste Restaurant Challenge 2019, which invites entrepreneurs and business owners, particularly in in F&B to participate in improving the city's waste management. The workshop featured prominent speakers, such as William W. Wongso (culinary expert) and Dr. Novrizal Tahar (Director of Waste Management of Ministry of Environment and Forestry RI).
Why targeting restaurants and cafes? Business and commercial area is the second largest waste contributor in the city. According to a 2001 data from DKI Jakarta Cleaning Services (Dinas Kebersihan DKI Jakarta), household wastes contributed 60,5% of the city's waste, while 28,7% came from commercial areas and 10,8% came from public and social facilities. 52% out of the 7,400 tonnes worth of waste transported every day to Bantar Gebang is food waste—both food leftover and food production waste.
Jakarta is home to 6,105 eateries, and the country itself is named the world's second largest food waste producer after Saudi Arabia according to Food Sustainability Index developed by The Economist Intelligence Unit. The same study stated that one individual throws up to 300 kilograms worth of food each year. It is now time to change and review our food waste management more strategically.
In an attempt to encourage better waste management, Jakarta is inviting 100 restaurants and cafes in Jakarta to take the initiative in reducing waste in its business activities. After registering online (closed in May), participants will be monitored monthly to review their progress in changing the amount of waste produced. The participant will also receive waste management counsel from Jakarta's Environmental Agency and other experts.
Winning participant will get the highest level of recognition in the form of environmental stewardship by the governor of Jakarta, which will be announced in November 2019.
If you are interested to know more or are looking to participate in this award, please contact Nindi from DLHDKI at +6282 8859 8440 or Faiza from Waste4Change at +62857 9391 1912 before 28th of June 2019.
---
This article is originally from paper. Read NOW!Jakarta Magazine May 2019 issue "Can Jakarta Really Change?". Available at selected bookstore or SUBSCRIBE here.