As the capital celebrates its anniversary, NOW! Jakarta takes a look at how Jakarta has developed into its new face with a special emphasis on the city's surrounding areas.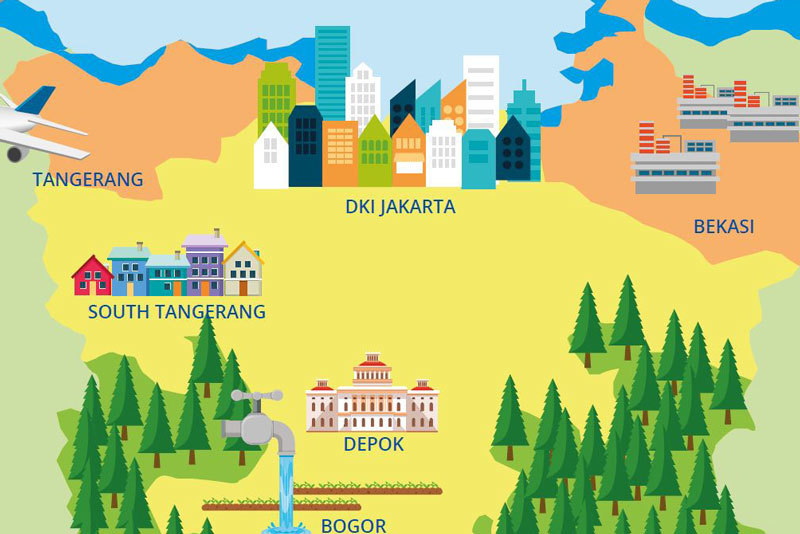 The population of Indonesia, based on the 2010 national census, stands at 237.64 million, comprised of more than 300 distinct ethnic groups. Java is home to around 60 per cent of the Indonesian population with roughly 80 per cent of the country's economic activity centralised in Jakarta's metropolitan priority areas namely Bogor, Depok, Tangerang and Bekasi (collectively known as JABODETABEK).
Jabodetabek has seen waves of social, economic and political development. The growth of the metropolitan area —and its surroundings—has been discussed since 1950. Under the establishment of Local Preparation Bureau for Development in JABODETABEK Metropolitan Area in 1975 and issuance of Presidential Decree on Development of JABODETABEK Area in 1976 the plan has since escalated that Jakarta's satellite cities are set to be developed into a sustainable zone.
Its movement, according to the amendment of Spatial Planning Act (Presidential Decree No. 54/2008), is 20 years and covers the urban fringes with the intention of strengthening integrated urban fringes level development ranging Jakarta, Bogor, Depok, Tangerang and Bekasi.
Having committed to aiming to accelerate both economic growth and environmental preservation in the metropolitan areas, provincial governments set up a series of strategic plans to achieve the mission. First, to strengthen unified development in the greater area regarding integrated planning area.
Second, foster the progress which will take into account of long-term environmental capacity growth in terms of sustainability. This involves policies to protect water and soil, water security with groundwater, flood control and disaster management. And finally, promote adaptive, inclusive and integrated regional economic growth in consideration of public welfare and sustainable development.
With this in mind, the development of Jakarta's surrounding area has been fully implemented with the advancement of its urban structure, featuring New Jakarta Orbital Highway which reduces 50 per cent of travel time within a 20-30 km radius from Central Jakarta and developing suburban sub-centre along the highway such as Serpong, Cinere, Cimanggis, Cileungsi, Setu and Tambun.
DKI Jakarta
National Capital, Government, Business Hub

Bogor
Water Supply & Sanitation, Hill Area, Agriculture University
New settlement (Legenda Wisata, Kota Wisata, Sentul City)

Depok
Universities

Tangerang
International Gateway Airport, Industrial & Manufacturing Hub
New settlement (Alam Sutera, Bintaro Jaya, Bumi Serpong Damai (BSD), Lippo Village, Pantai Indah Kapuk (PIK), Paramount Serpong, Summarecon Serpong

Bekasi
Industrial & Manufacturing Hub, Gateway to Central & East Jakarta
New settlement (Deltamas, Grand Wisata)

Industrial Hub
Pulogadung, East Jakarta; Jababeka, West Java; Sentul, West Java; Karawang, West Java; Lippo Cikarang, West Java
Agricultural sectors are dominated by landscaping with about 70 per cent of land use within Jabodetabek. Rice fields are the main crop lands representing about 30 per cent and spread out within Bekasi, Tangerang and Bogor regencies. As the urban development cannot be prevented, it is necessary to think that agricultural sectors can be integrated into other sectors within the urban development strategies. Integration of agricultural growth in urban development in this case can generate better urban ecosystems and can have a greater impact on urban poverty reduction.
Forest areas, on the other side, make up to 5.6 per cent of the study area situated in the southern side of Bogor Regency. Settlements are shown mainly in DKI Jakarta covering 24 per cent area, whereas industrial estates are mostly concentrated in East Jakarta, North Jakarta and West Jakarta.
Transportation system will be of use of the essential key in actualising such urban structure, giving it a fundamental stress on the expansion and development of existing urban transport network – railways, Bus Rapid Trans, MRT, etc. At once, it draws a concurrent progress line towards environmental conservation in the southern Bogor Regency, the water source of metropolitan area.
Although this metropolitan area spatial plan is expected to be city development strategies of overall urban regions, adjustment of interest between different levels of government is essentially required as the local governments (specifically in the cities and regencies) are disposed to greater authorities since government decentralisation.
Source: MPA Master Plan Study Team based on JABODETABEK MPA Strategic Plan (Presidential Decree No. 54/2008) and Ministry of Land, Infrastructure Transport and Tourism, JAPAN (MLIT)
_______
This article is originally from paper. Read NOW!Jakarta Magazine June 2018 issue "City of the Future?". Available at selected bookstore or SUBSCRIBE here.