Rumah Lunar offers furniture that is made from solid wood, including teak and sonokeling (Indian Rosewood), which can last for generations – each item is meticulously handcrafted by using traditional craftsmanship. One would never guess that many of the beautiful handmade wooden products are actually made from up-cycled items.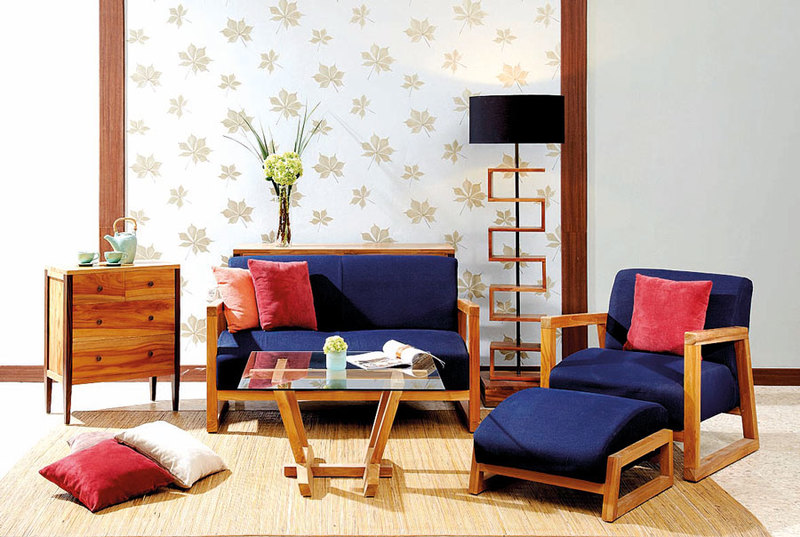 If you have a penchant for wooden furniture, drop by Rumah Lunar's gallery in Kemang – its exquisite goods are crafted from real, solid wood rather than pressboard. This brand uses various wood including teak, trembesi (rain tree aka samanea saman), mindi (melia azedarach) and the luxurious sonokeling (dalbergia latifoli aka Indian rosewood). However, teak products, which make up about 80 % of the goods on offer, are the bread and butter of this brand.
Rumah Lunar was established in 2007. Its handmade items, which are created by using craftsmanship that has been passed down from generation to generation, are created in Yogyakarta that is considered home to many of the best furniture makers in Indonesia.
Rumah Lunar's wooden furniture and home accessories come in an eclectic mix of designs, from Scandinavian to Japanese, and retro-looking pieces are on display amid contemporary ones. Among the goods on offer, there are products, which are simple in design yet visually appealing due to the beauty of their wooden materials. And each piece of wood is unique as no piece of wood has exactly the same grains, thus every single wooden item is actually a one-of-a-kind product.
At Rumah Lunar's gallery, feast your eyes on the wide variety of beautiful goods, which can jazz up your home: wall mirrors, shelves, floor mats, lamps, room partitions, stools, benches and tables. While you are there, feel free to ask to see their catalogue, which is filled with photos of products and their prices – due to space limit, surely they cannot showcase all of their goods at their gallery. You can custom-made your furniture and home accessories; however, kindly note that intricately ornate pieces are not Rumah Lunar's cup of tea.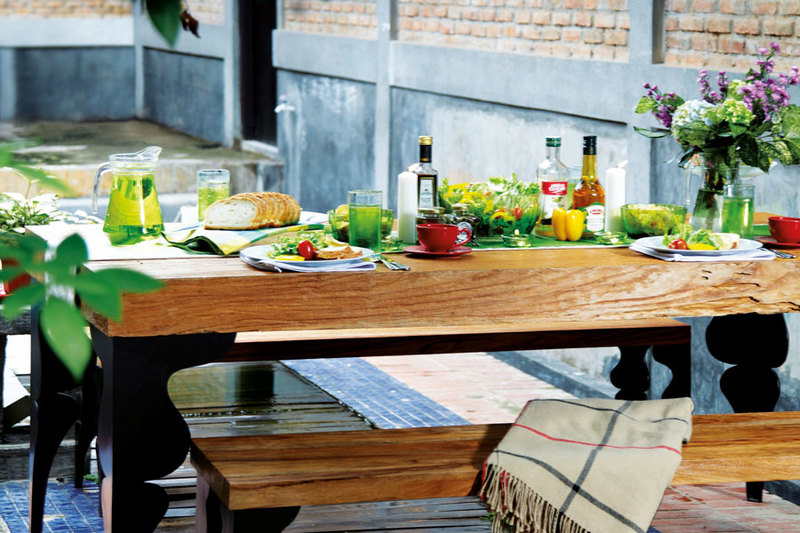 This brand, which is famous for its aesthetically pleasing eco-friendly items, wins ecologically conscious customers' hearts by using water-based wood finish, which contains fewer Volatile Organic Compounds (VOCs) than the oil-based one.
In line with Rumah Lunar's mission to offer eco-friendly products, this brand commits to create wooden items without waste whatsoever. According to Nita Muriana, Marketing Manager of Rumah Lunar, every part - from trunk to branch - is usable. There is no wood piece that is too small to be used. Small wood pieces are artistically used to decorate lamps, cabinets, chairs and room partitions, among others. For instance, the sliding doors of a stylish shoe rack are actually made of small pieces of waste wood.
Moreover, to make its wooden goods, besides using fresh-cut lumbers, Rumah Lunar also uses reclaimed wood from old houses and buildings that are being destroyed as well as from old railway sleepers. At the gallery, I saw a simple yet lovely large wall mirror, which is framed by reclaimed teak from an old house. Another fine example of repurposed objects is a three-drawer teak chest whose drawers were actually made of old railway sleepers (IDR 9,200,000).
This trend, called up-cycling, is different from recycling, as in up-cycling the item is not turned into what it was before. Instead, waste and useless materials are converted into different things instead of simply throwing them away.
These up-cycled products bear premium price tags, as nowadays, due to high demand, reclaimed wood actually costs a lot of money to obtain - there are buyers who believe that old wooden materials are of better quality than the modern ones, thus items created of reclaimed materials is prized for its quality. At the gallery, the two large mirrors, which use reclaimed teak from old houses, bear price tags of IDR 5,500,000 and IDR 7,950,000.
Besides wood, Rumah Lunar also uses unusual materials such as water hyacinth and sea grass in creating its products. The wavers neatly transform those durable, strong aquatic plants into sought-after goods, from laundry baskets to floor mats. Rumah Lunar also combines water hyacinth and sea grass with wood, turning them into colourful, groovy items, such as stools as well as coffee tables.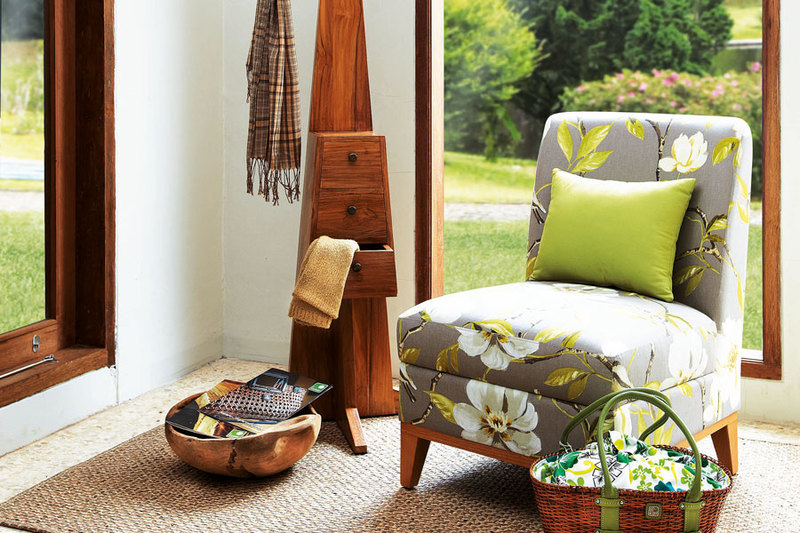 Regarding the prices, the "Danish" sonokeling bench is IDR 6,000,000, the "Carra" rectangular teak dining table has a price tag of IDR 6,750,000, the "Plaque" teak chair costs IDR 3,100,000, the retro-style teak shelf is IDR 14,000,000, the water hyacinth coffee table is IDR 800,000 while its matching stool costs IDR 450,000 and a funky lamp, which is created of the old railway sleeper, costs IDR 1,290,000.
Rumah Lunar, in a nutshell, offers solid wooden products, which are not only pleasing to the eyes, but can also be handed down from generation to generation.
A word of warning for wood enthusiasts: Rumah Lunar gallery showcases countless beautiful wooden furniture and home accessories, which makes it very hard to choose just one or two items.
RUMAH LUNAR
Kemang Timur Raya # 43B, Jakarta Selatan
T: +62-21 7181951
WhatsApp: +62 813 841 78959
Instagram: @rumahlunar
_______
This article is originally from paper. Read NOW!Jakarta Magazine March 2018 issue "Design for Living". Available at selected bookstore or SUBSCRIBE here.